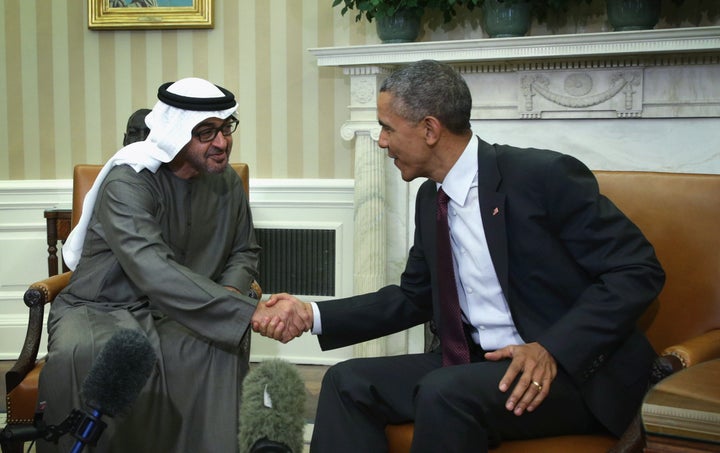 WASHINGTON -- A Libyan American whose father and brother are being detained by an American ally with a track record of torture believes the U.S. government is knowingly downplaying the matter as her family suffers.
Amal Eldarat told The Huffington Post that her father Kamal and brother Momed, who were arrested by security officials in the United Arab Emirates, are being deprived of basic medical care, were forced to sign confessions they didn't understand, and received inadequate access to their attorneys.
"[The State Department] contacted me and told me that unfortunately, my brother had lost his hearing from the torture in his left ear and that they're ensuring that he gets access to medical care, and that didn't take place," Amal Eldarat told The Huffington Post on Thursday. "My brother was complaining nonstop about the pain in his ear and the damage that has caused to his eardrum, and the U.S. Embassy in Abu Dhabi kept telling me that they're pushing to ensure he gets access to an ear specialist. Now, 17 months later, my brother's lost his hearing in his left ear."
UAE security officials arrested the Libyan Americans, among other residents with ties to Libya, including a Libyan Canadian, in late August 2014. The country is now charging them with aiding groups it considers terrorists in Libya, and it is citing as evidence confessions that each Eldarat signed while in detention. The family says those signatures were the products of torture and threats, and Amal Eldarat repeated Thursday that her family's involvement in Libya was limited to humanitarian work in the country after a civil war broke out there in 2011.
She maintains that her father and brother should not even be tried, because the law they are currently accused of violating was not published in the UAE public gazette until after they were detained. The law was approved by the UAE's president on Aug. 21, 2014, and it appeared in the gazette in September, Amal Eldarat said. Her father was arrested on Aug. 26., and her brother on Aug. 27.
The State Department is telling her "that consular services' scope of work is very limited to ensuring that my dad and my brother get a fair trial," she said. "Fair trial? They're being charged under a law that violates the UAE constitution."
Forced disappearances and torture are commonplace in the UAE, particularly among individuals suspected of Muslim Brotherhood links, Human Rights Watch said in January.
Asked if she thought the U.S. government believed the allegations the UAE was making against her father and brother, Amal Eldarat said, "I don't think they think it's legit, but they're silent."
Though American diplomats on the ground have followed developments in the case, the State Department has spoken rarely of the Eldarats during their 17 months in detention.
Eldarat made her remarks in an interview on The Huffington Post's "So That Happened" podcast. Skip forward to 41:25 below to hear the full conversation:
Kamal Eldarat is originally from the city of Misrata in western Libya. He left Libya for the U.S., obtaining political asylum in 1987 because Washington judged that he had a well-founded fear of persecution by the Qaddafi government.
The Eldarat family has lived in the United Arab Emirates since 1997. The UAE is a close American partner in the Middle East, key to the U.S. air force's capabilities in the region and involved militarily in U.S.-led operations in Afghanistan, Syria and Iraq.
The UAE has taken a strong interest in Libya since the popular uprising and international intervention there in 2011 toppled the government of President Muammar Qaddafi. It has been wary of political Islamists who have gained influence since then, and has backed anti-Islamist political and military factions in the east. It considers the Muslim Brotherhood -- whose Libya affiliate is an important player in western Libya -- a terrorist organization. Libya watchers say the UAE has been funding and arming the anti-Islamists for years, with support from the fiercely anti-Brotherhood regime in Egypt. Qatar and Turkey, supporters of the Brotherhood's gains following the Arab Spring, have been supporting the other side.
Last year, The Huffington Post revealed that President Barack Obama had personally secured a commitment from the UAE and Qatar to settle their differences in Libya. U.S. officials have said that the instability between the two rival factions, who now run two parallel governments, has enabled the mushrooming of extremist groups, and the so-called Islamic State now has thousands of fighters in Libya.
Top players in Misrata have supported the militia aligned with the Islamists in the west, Libya Dawn, because many of them suspect that the forces in the east seek to impose another version of the Qaddafi regime.
Amal Eldarat told HuffPost she saw a connection between the Aug. 26 arrest of western Libyans, including her father, and an Aug. 25 New York Times article that exposed UAE and Egyptian bombing of western Libya and prompted protests in that region. "We feel like these charges are politically motivated," targeting Libyans with ties to the West, she told The Huffington Post.
Eldarat said her family collected humanitarian assistance for Misrata in 2011, but that it was inaccurate for the UAE to allege that her father or her brother had supported forces there who helped the Brotherhood.
The controversy has threatened the image of the UAE, whose ambassador has spent years carefully presenting his country as an essential, reasonable and stable partner to the U.S. On Feb. 25, The Washington Post published his rebuttal to coverage of the Eldarats' case.
"Just as in the United States, these are very serious charges in the United Arab Emirates. And, just as in the United States, the defendants received a hearing, were represented by legal counsel and were allowed to contact their families and U.S. diplomatic representatives," Yousef Al Otaiba wrote. "As noted in the State Department's 2014 human rights report, the UAE's 'law presumes defendants innocent until proven guilty.' Along those lines, Kamal Eldarat and his son Momed are being provided all of the due process guarantees under the Constitution and laws of the United Arab Emirates."
Amal Eldarat disputed that portrayal.
She said her father and brother did not have access to a lawyer or their family until Jan. 18, 2016, when they were told they were being charged over ties to Libyan groups.
Her father and brother spent their first four months in detention in a secret UAE jail her brother described to her as "the most technologically advanced haunted house, [with] lighting and noises and buzzing sounds and torture," she said. "It was horrific."
She is also worried about the quality of the evidence being used in the UAE court, saying it is limited to hundreds of pages of signed confessions -- "with insane confessions."
Her brother Momed told her he signed the confessions without knowing what they fully meant, because his Arabic is poor. (Many wealthy expats in the UAE and other Gulf countries are educated in English rather than Arabic. Shezanne Cassim, another U.S citizen who lived in the UAE and was detained by its security services, has said he was also forced to sign an Arabic confession despite his poor grasp of the language.)
Her father, meanwhile, stood up at their last court appearance on Feb. 29 and yelled at the state witness, the Eldarats' interrogator, telling him to admit he had obtained the confessions by threatening the Eldarat family.
Amal Eldarat said she is determined to remain vocal about her family members' treatment, because staying silent for months -- which she had done on the advice of Emirati and American officials -- did not garner results.
"I would like the U.S. government to push and ensure that my dad and my brother get a fair trial," Amal Eldarat told HuffPost. "And hopefully if we get a fair trial, then I know that they will be released."
UPDATE: A State Department official on Tuesday emailed The Huffington Post a comment regarding the U.S.'s efforts to help the Eldarats.
"We understand that on January 18, 2016, the UAE Supreme Court formally charged Kamal and Momed Eldarat with three counts of cooperating with and providing material support to terrorist organizations. We are concerned about several aspects of the Eldarats' case—the allegations of mistreatment, their health issues, the lack of access to legal representation, and the lack of consular access at the start of their detention," the official wrote. "We have raised all of these issues with senior leaders in the UAE government. We continue to call for an expeditious resolution to this case and a fair and transparent legal process, in accordance with local law and international norms."
Popular in the Community