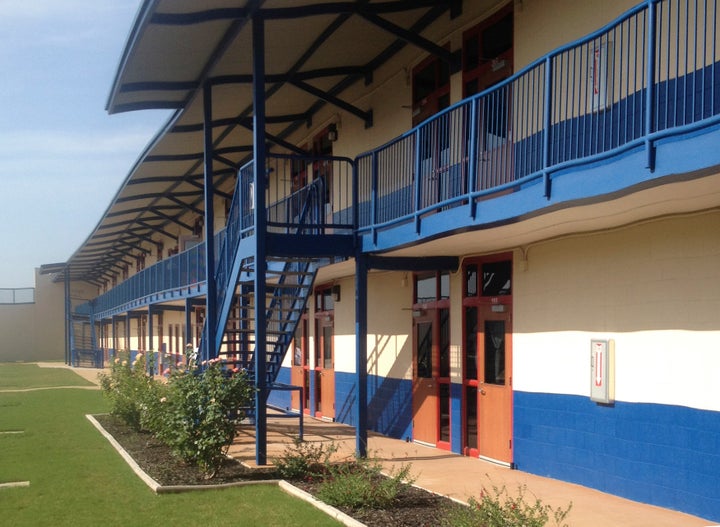 WASHINGTON -- Newly implemented policies already keep the Obama administration's family detention system from violating the law, the Department of Justice argued in a court filing submitted late Thursday night.
The Obama administration is fighting to continue detaining Central American women and children, even after a federal judge in July called the practice "deplorable" and ruled that the mothers and kids should be released. The filing argues that by veering away from using family detention as a deterrent to future Central American migrants, the Department of Homeland Security has already complied with U.S. District Judge Dolly Gee's order, so that order should be reconsidered.
Lawyers for the government say Immigration and Customs Enforcement no longer locks up women and children in family detention for the sole purpose of deterring other migrants, and that the agency is now releasing families at a faster rate so they can pursue asylum claims or contest their deportation cases from outside detention. Under the new policies, the DOJ's filing says that most detainees will be locked up in family detention for an average of 20 days.
"The Court's Order almost exclusively analyzed and addressed detention policies and practices that no longer exist," the filing says.
At the same time, the lawyers argue that the federal government should be allowed to keep using family detention centers as holding facilities while determining whether apprehended migrants traveling as families qualify for asylum claims, or whether they should be detained because they present a security threat or flight risk. Gee's order, the lawyers say, doesn't give them enough flexibility to detain and quickly deport people who shouldn't be allowed to stay in the country.
"This proposed order, if adopted, could be understood to require DHS to release into the interior all families seeking to illegally enter the United States -- even if they possess no legitimate claims for relief or protection from removal -- if their removal takes longer than three to five days to execute," the filing says.
Lawyers also warned that undoing family detention could lead to an uptick in illegal crossings, although a court ruled in February that the federal officials can't detain asylum seekers just for the purposes of deterring other migrants.
In response to the crisis, the administration expanded family detention capacity at the Karnes County Residential Center in Karnes, Texas, and constructed the entirely new South Texas Family Residential Center in Dilley, Texas. Both centers are run as for-profit enterprises by private prison corporations. Ratcheting up family detention marked a reversal for the administration, which had largely abandoned the practice back in 2009.
Gee's ruling last month against family immigrant detention built its main argument around the effects of detainment on children. Gee ruled that the government had violated pieces of a 1997 settlement that requires officials to either release immigrant children or hold them in the least restrictive environment possible.
She gave the government until Aug. 3, which was then extended until Aug. 6, to show cause for why she should not implement certain remedies within 90 days. Those remedies would include requiring the government to "make and record prompt and continuous efforts toward family reunification and the release of the minor" -- if possible, to a parent, including one with whom the minor was apprehended.
As of Wednesday, there were 1,439 women and children in family immigrant detention, according to ICE -- 156 people in the Karnes facility, 1,202 people in the Dilley facility and 81 people in a government-run center in Berks County, Pennsylvania.
Many members of President Barack Obama's own party have called for him to shut down family immigrant detention entirely. Last week, 178 House Democrats signed a letter saying the practice should be ended.
Former Maryland Gov. Martin O'Malley, who is running for the Democratic presidential nomination, has been particularly critical of Obama on the matter, saying in a statement earlier this week that the facilities were "internment camps" and "contrary to everything for which our country is supposed to stand."
Other candidates have not been as vocal. Former Secretary of State Hillary Clinton spoke against detaining children in May, but her presidential campaign did not respond to requests for comment on whether she believes the facilities should be closed. Nor did the campaign of Sen. Bernie Sanders (I-Vt.), who is also running for the White House as a Democrat.
The Obama administration has made reforms in response to the criticism, and government attorneys say Gee hadn't taken those reforms into account when she issued her ruling. Most recently, Homeland Security Secretary Jeh Johnson announced in June that the agency would release women and children who had been found to be eligible for asylum or other relief, so they could live freely while going through the process to either win reprieve or be deported. ICE began to free more women and children in mid-July under that policy.
Popular in the Community