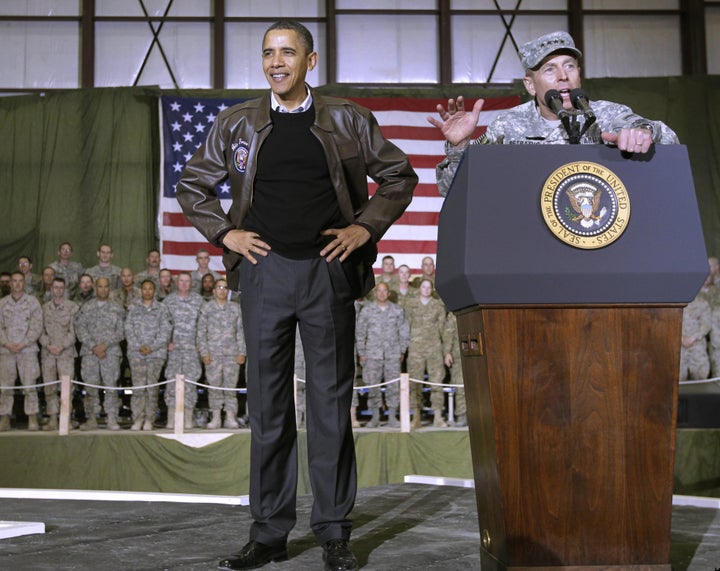 WASHINGTON -- President Barack Obama is currently considering a proposal to significantly increase Afghanistan's national security forces beyond their existing expansion targets, and three Democratic senators recently back from the region are urging him to move forward, arguing it is "critically important to the faster reduction of American forces from Afghanistan."
Senate Armed Services Chairman Carl Levin (D-Mich.) said Tuesday in a briefing with reporters that the White House may seek to expand the Afghan National Police and Afghan National Army by a combined 78,000 on top of their standing targets, which have been a combined 305,000 soldiers and police officers by October. Afghan security forces grew by approximately 70,000 in 2010.

Levin and fellow Sens. Jack Reed (D-R.I.) and Jon Tester (D-Mont.) returned a few days ago from a trip to Afghanistan, Yemen and Iraq. During Tuesday's briefing, Levin said the July 2011 date to start withdrawing U.S. troops from Afghanistan has been the "action-forcing mechanism which it was intended to be."
The Armed Services chairman endorsed the additional increase, noting that it has the support of Gen. David Petraeus, Joint Chiefs of Staff Chairman Adm. Michael Mullen and Defense Secretary Robert Gates. On Monday, Levin said, he brought up the matter with Obama, who told him it is currently being debated in the White House:
And so, when I had a few moments with President Obama yesterday at the White House, where he was presenting a program for military families, I told President Obama of our visit to the -- the three of our visit to Afghanistan, and I told him that we strongly supported this increase in Afghan forces.

He told me that it was under consideration at that very time. As a matter of fact, I believe Admiral Mullen told me yesterday that it was being considered yesterday afternoon.

I urged the president strongly and with very direct words that this needed to be done to enhance the possibilities of success of our mission and to speed up the reduction of our forces so that that important part of our mission, which is the build-up of Afghan forces to take responsibility for their own security, can be improved and enhanced.
Levin said Obama didn't explain why the proposal was on hold. The senator speculated that Pakistan may be concerned by further expansion of the Afghan army. Plus, "There's obviously always a budget issue, which is being addressed," he said.
The plan is expensive: It would cost the United States another $6 billion next year -- nearly twice as much as previously planned -- and could increase how much the international community has to commit to Afghan security forces in the long term. Additionally, as The Washington Post reported last week, the plan has "raised concern among diplomats in Kabul about the quality of recruits and the sustainability of an increasingly costly security apparatus financed almost entirely by international donors."
Obama is expected to request around $12.8 billion for 2012 for the buildup and maintenance of Afghan security forces. Last year, "Congress gave the training command $11.6 billion ... a record sum that surpassed the largest yearly aid package that Iraqi security forces received after the 2007 U.S. troop surge."
Levin said he told the president the proposal was "urgent" to approve, because both the size and quality of the Afghan army and police are critical to the success of the mission over there. "We don't know the exact budgetary impact because we don't know how the costs -- the additional cost would be divided between Afghanistan, between other members of the coalition and ourselves," he said. "We probably would get the lion's share of the additional cost."
Popular in the Community