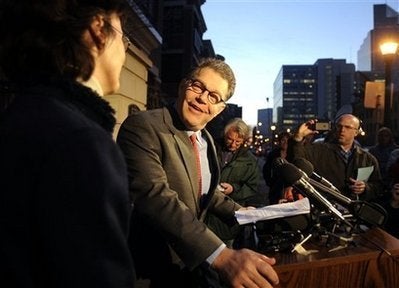 The Obama administration stated its support on Tuesday for a three-judge panel ruling that Al Franken had received the most votes in the Senate election in Minnesota. But spokesman Robert Gibbs wouldn't go so far as to call for Franken's seating.
"I haven't talked to the President about that action," Gibbs said about the possibility of Senate Majority Leader Harry Reid putting the Democratic challenger in Congress, "other than just to say what the three judge panel ruled as it pertains to this case and who received the most votes." It was one of the first -- if not the first -- comments on the recount from the White House.
On Monday evening, a Minnesota panel ruled that Franken had won the most votes at the conclusion of the recount process. Former Senator Norm Coleman will almost certainly appeal the decision to the state Supreme Court, an action that would prolong the already lengthy race even further.
Asked for a response to the ruling, Gibbs said the administration's position was the same as the panel's. He added that the White House looked forward to having another Senator (not Franken by name) in Congress.
"On behalf of the administration, we would state exactly what the three judge panel said," Gibbs told reporters. "And that was that the election was conducted in their terms fairly, impartially and accurately. And that Al Franken received in that election the most votes. We look forward, hopefully soon, to having an additional U.S. Senator representing the people of the state of Minnesota."

REAL LIFE. REAL NEWS. REAL VOICES.
Help us tell more of the stories that matter from voices that too often remain unheard.