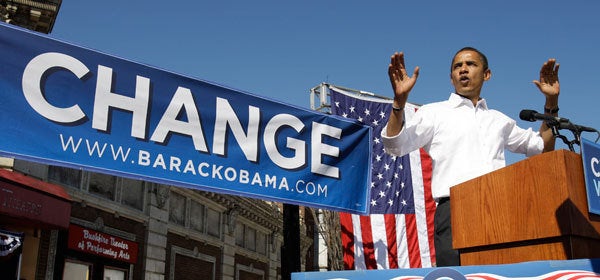 With the presidential campaign approaching its final stretch, Barack Obama finds himself in an enviable position.
One official close to the campaign said that September's fundraising haul set a new record, surpassing the $66 million Obama raised in August. Another aide, asked about the campaign's take, would only describe it: "big."
Moreover, the assault that John McCain has launched against Obama's character - including repeated criticisms of the Illinois Democrat's association to former Weather Underground member Bill Ayers - has largely backfired. Obama sources shared internal campaign polling figures that show a sharp fall in positive feelings for the Republican ticket. Following the most recent spat of negative ads, they say, McCain's unfavorable rating has gone over 50 percent, notably higher than anything detected in recent public polling.
Gov. Sarah Palin is faring just as poorly if not worse. In New Hampshire, an official with knowledge of internal polling says the Alaska Republican's favorable rating has nosedived to 36 percent, with 56 percent viewing her unfavorably.
Even within Republican circles it seems there is a growing sentiment that McCain's recent strategy has had a blow-back effect. On Sunday, the Weekly Standard's William Kristol called the negative tactics "stupid."
"The main thing to say about these negative ads -- which, I don't think, almost none of them has been across the line -- they haven't worked," he said on Fox News Sunday. "Obama's favorable rating is as high as it's been in three months. It's actually gone up in the last month. So it's a stupid campaign."
Conservative writers George Will and Paul Gigot, as well as more than a handful of Republican officials, expressed equal amounts of doubt or disparagement with how the Arizona Republican has handled his campaign in recent days.
And yet, the McCain campaign seems content to double down on its recent course of action. On Sunday night it was announced that the Republican National Committee would make a new push - in the form of a web video - to raise the Ayer's issue.
At this point, Obama might welcome the move. His campaign's data suggests that the remaining undecideds are those voters who tend to be non-political -- a group that does not respond well to negative advertisements. As such, much of what Chicago headquarters plans to do going forward will echo the economic message it has pushed in recent weeks.
There will, however, be one new ripple. On Monday, Obama's communication's shop is expected to go on the offense on issues of voter protection after a week in which Republicans cried foul about registration efforts in various states and painted the community organizing group ACORN as a criminal enterprise.
Obama aides will attack Republicans over efforts to disenfranchise voters in several states, and announce a voter protection campaign involving hundreds of volunteer lawyers around the country.
Popular in the Community