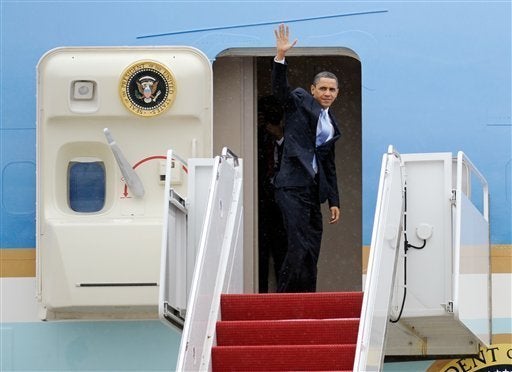 President Obama will be stopping in his adopted home state of Illinois on Wednesday, as part of a whistle-stop "White House to Main Street Tour" that will swing through the Midwest.
He has invited all of Illinois's statewide elected officials to join him in the Mississippi River city of Quincy, including embattled Senate candidate Alexi Giannoulias.
Giannoulias was invited in his official capacity as state treasurer, not as a Senate candidate. But some are wondering just how strongly the President will be supporting his party's top-of-the-ticket candidates in the state.
Last Friday, the Giannoulias family bank was closed by federal regulators after suffering huge losses during the housing market collapse. Mark Kirk, Giannoulias' Republican opponent, has made the failure of Broadway Bank -- and the "shady" people to whom it loaned money -- a central theme of his campaign. Kirk has been ahead in the polls in recent weeks in the race for the Senate seat that Obama himself occupied just 16 months ago.
Also in attendance Wednesday will be Governor Pat Quinn, who's also preparing for an unexpectedly tough electoral challenge. Bill Brady, a state senator from Bloomington, narrowly escaped the GOP primary, beating his next opponent by only around 200 votes. But the far-right Republican now holds a double-digit lead over the governor in some polls.
Both candidates are hoping for whatever support they can get from a president who remains relatively popular in the state despite his party's struggles. So far, Obama has kept his distance in both of the races, but NBC Chicago reports that last week, as the news about Broadway Bank was breaking, the White House "said they would help the Illinois Democratic ticket 'up and down the ballot'."
The Sun-Times's Washington Bureau Chief, Lynn Sweet, reports that the event produced some tension between the White House and the Giannoulias campaign:
I know there is chatter out there that Giannoulias was somehow snubbed by the White House over the Quincy event that started last week, when Giannoulias said Quincy was not on his schedule. The chatter was fueled by the failure last week of his family-controlled Broadway Bank.

But now, Giannoulias will indeed be joining the President tomorrow. Just how much the President makes of his presence, though, remains to be seen.
Popular in the Community