After meeting with family members of victims of the shooting in Aurora, Colo., President Barack Obama on Sunday told the moving story of two young women who survived.
According to Obama, 19-year-old Allie Young and her best friend, Stephanie Davies, 21, were sitting just a few feet away from where suspected gunman James Holmes threw canisters during a midnight screening Friday of "The Dark Knight Rises." Young, sensing she should warn others, stood up and was immediately shot.
"She was shot in the neck, and it punctured a vein and immediately she started spurting blood," Obama said in a speech Sunday night. "And apparently as she dropped down on the floor, Stephanie -- 21 years old -- had the presence of mind to drop down on the ground with her, pull her out of the aisle, place her fingers over where she --where Allie had been wounded, and applied pressure the entire time while the gunman was still shooting."
Obama said that Davies, despite being told by her best friend to run in order to save herself, refused to budge and remained by her friend's side until the SWAT team emerged at the scene. Davies, with the help of several others, then carried Young across two parking lots to an ambulance, Obama recounted.
"Because of Stephanie's timely actions, I just had a conversation with Allie downstairs, and she is going to be fine," Obama said. "I don't know how many people at any age would have the presence of mind that Stephanie did or the courage that Allie showed."
"And so as tragic as the circumstances of what we've seen today are, as heartbreaking as it is for the families," he continued, "it's worth us spending most of our time reflecting on young Americans like Allie and Stephanie. Because they represent what's best in us and they assure us that out of this darkness a brighter day is going to come."
While In Aurora, Obama spent three hours visiting with family members of the 12 people whose lives were claimed, as well as some of the survivors at the University of Colorado Hospital, which treated 23 of the people injured. He was accompanied by Gov. John Hickenlooper, Aurora Mayor Steve Hogan and other local officials.
Before You Go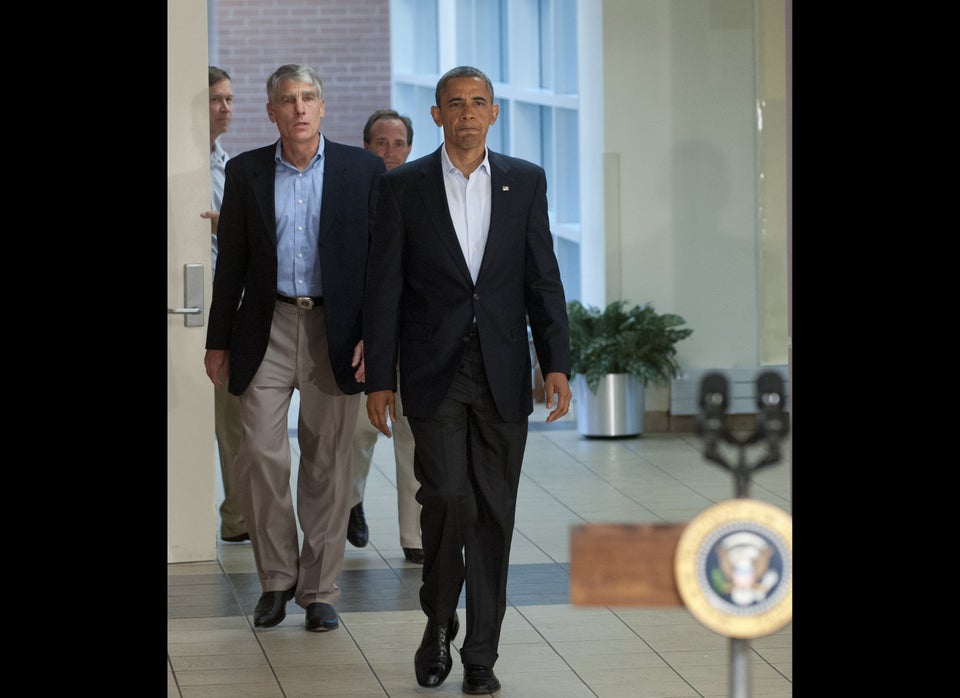 Obama Visits Colorado Shooting Victims, Families
Popular in the Community