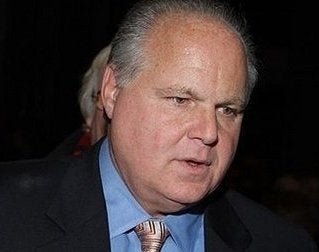 Key Democratic groups are launching a series of radio advertisements on Friday designed to tie Republicans to Rush Limbaugh and put pressure on GOP Senators to support the stimulus package.
MoveOn, Americans United for Change, AFSCME and SEIU are releasing the spots in three states with Senate Republicans who could potentially switch party lines on the stimulus vote: George Voinovich in Ohio, John Ensign in Nevada, and Arlen Specter in Pennsylvania. The ads are designed to drum up support for the president's economic recovery package. But they do so in somewhat of a round-about manner, not just touting the jobs that could be created from the bill but tying Republicans to some of Limbaugh's most caustic and controversial anti-Obama comments.
NARRATOR: Listen to what Rush Limbaugh said about President Obama's Agenda and his Jobs Package.

LIMBAUGH: I HOPE HE FAILS!

NARRATOR: The Obama Jobs bill overwhelmingly passed the House.... But not one Republican voted yes. Every Republican member of the House chose to take Rush Limbaugh's advice. Every Republican voted with Limbaugh....and against creating 4 million new American jobs.

We can understand why a extreme partisan like Rush Limbaugh wants President Obama's Jobs program to fail....but the Members of Congress elected to represent the citizens in their districts?... that's another matter.
The radio ads come a day after a the same group of progressive organizations put out television spots with images of shuttered factories returning to their former glory as a way of urging Republican support for the stimulus. Beyond the message, the targets were different as well: Susan Collins and Olympia J. Snowe of Maine; Judd Gregg in New Hampshire; Chuck Grassley in Iowa and Lisa Murkowski in Alaska.
An official with Americans United For Change, a progressive group that works closely with Democratic leadership in Congress, said the radio ads would run tomorrow until the first cloture vote on the stimulus took place in the Senate. The specific stations will be WTAM in Cleveland, KXNT in Las Vegas, KKOH in Reno and KYW in Philly.
"[The ads] draw a clear line for the Senators," said an official with the group. "House Republicans played politics - they put their Senate colleagues in the crosshairs."
Calling all HuffPost superfans!
Sign up for membership to become a founding member and help shape HuffPost's next chapter