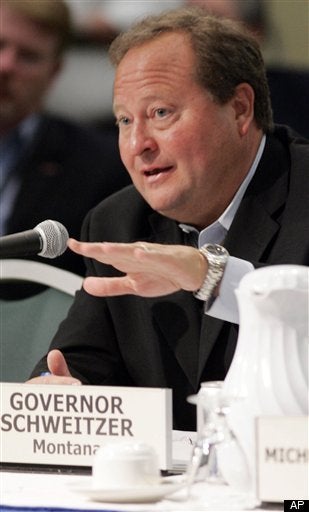 Montana Governor and Obama ally Brian Schweitzer acknowledged on Friday that while he supported a public option for health insurance coverage, the proposal was likely dead in the Senate.
Speaking at The Atlantic's First Draft of History conference, the current chair of the Democratic Governor's Association said that he personally favored a government-administered plan to provide insurance. "I like the public option," he said.
But before offering his endorsement, Schweitzer acknowledged that the provision was likely "not an option any more."
Asked after his speech why he thought the public plan was dead -- while other Democrats inside and out of government argue (against the odds, mind you) that the proposal could be salvaged in conference committee -- Schweitzer told the Huffington Post that he was basing his assessment on what he's seen and read about the health care debate.
In making his remarks, Schweitzer becomes the second Montanan to read the public option its last rites. Senate Finance Committee Chair Max Baucus (D-Mont) has based his votes against the proposal on the notion that it simply lacked the 60 votes needed for passage.
Unlike Baucus, however, Schweitzer offered his remarks in the context of largely praising the role that the government could play in lowering costs and expanding access within the health care system. Pointing to his state's northern neighbor, the governor chastised those U.S. conservatives who have tried to vilify the Canadian health care model.
"I ask [Canadian officials] a lot about their system," he said. "And they ask a lot about our system. And I read a lot of Canadian press. And one thing I noticed about Canada is that they are flummoxed about this debate we have down here from time to time when someone lobs an insult to the Canadian health care system. I'll tell you folks there is a better chance of someone getting struck by lightening in Canada then there is for a Canadian to come to the United States to get their health care. And yet, we are disparaging a system that has been working in Saskatchewan, my neighbor, since 1946."
Popular in the Community