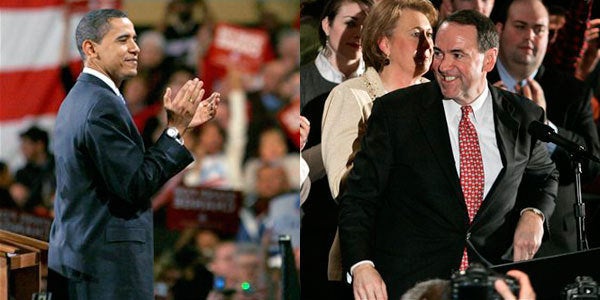 Des Moines, Iowa -- Riding a wave of high voter turnout, Illinois Sen. Barack Obama won a decisive victory in the Iowa caucuses Thursday night, burying one-time front-runner Hillary Rodham Clinton who placed third behind John Edwards.
Addressing hundreds of cheering supporters inside a packed HyVee Hall in downtown Des Moines, Obama said the victory showed Americans were embracing his principal message of bringing change to Washington, D.C.
"We are choosing hope over fear. We are choosing unity over division and sending a powerful message that change is coming to America," Obama said
Obama's raucous victory rally was punctuated by bursts of cheering each time new vote tallies shot up on huge projection screens broadcasting MSNBC's live coverage of the caucuses. At one point a drum corps took to the floor to pump up the crowd ahead of Obama's arrival in the hall.
Speaking before the candidate's arrival, Obama's chief strategist David Axelrod told reporters that "in every way we have exceeded our expectations and I think it will give us great momentum."
But Axelrod cautioned against reading too much into Thursday's victory saying, "We're not taking anything for granted. We're in a close race in New Hampshire."
At about 9:30 p.m., an hour after the networks projected Obama's victory, the Clinton camp issued a public statement congratulating Obama and Edwards, and promising to continue her national campaign in the morning.
"This race begins tonight and ends when Democrats throughout America have their say. Our campaign was built for a marathon and we have the resources to run a national race in the weeks ahead," said Clinton campaign manager Patti Solis Doyle.
Edwards described his second place-finish as a victory for change over the "status quo."
"The Clinton campaign thought big money would make them inevitable - but despite being dramatically outspent by not one, but two celebrity candidates, we finished a strong second. And now we move on to New Hampshire and the other early states, where the voters will choose who is best suited to bring about the change this country so desperately needs," Edwards said.
New Mexico Gov Bill Richardson finished fourth. His finish allows him to continue on to New Hampshire.
Chris Dodd withdrew from the race following his sixth place showing in Iowa. Delaware Sen. Joe Biden, who placed fifth, also dropped out. Both men will return to the Senate.
On the GOP side, former Arkansas governor Mike Huckabee, who began his campaign with little name recognition and virtually no donor support, steamrolled his opponents Thursday night.
Huckabee defeated former Massachussets Gov. Mitt Romney, who spent $7 million to flood the state with television ads and was long seen as the party's frontrunner.
Arizona Sen. John McCain was locked in a battle for third place with former Tennessee Sen. Fred Thompson, said Romney's defeat "shows you can't buy an election in Iowa and negative campaigns don't work in Iowa."
In Manchester, NH, site of the next crucial primary five days from now, McCain supporters clearly treated Huckabee's victory as a win for the Arizona senator, cheering raucously as McCain entered a room with his wife Cindy at his side.
Romney's second place finish in Iowa weakens McCain's most serious competitor in the Jan. 8 contest.
McCain voiced confidence he will win in New Hampshire, a victory that would put him in good position incoming contests in Michigan and South Carolina.
Voters made their choices in the 1,781 precincts spread across the state, caucusing in schools, community centers, and neighbors' homes.
Democratic Party officials estimated that a record-breaking 212,000 voters showed up to caucus statewide Thursday, about twice as many as in 2004. Obama's campaign made courting first-time caucus-goers a key part of its Iowa playbook.
Thursdays balloting marked the first official contest of the most wide-open presidential race since 1952. The Iowa Caucuses are traditionally regarded as a test of a candidate's viability in future contests, and the unpredictable three-person race for the Democratic nod had been too-close-to-call before Thursday's voting.
Although Clinton had widely been regarded as the inevitable Democratic nominee as recently as November, her once-commanding lead in the polls in Iowa had all-but-evaporated in the days before the Iowa Caucus.
On the GOP side, Romney had long been seen as the front-runner, having spent $7 million dollars on television advertising leaving some opponents to grouse that he was trying to buy a win in Iowa. But a late surge by Huckabee upended the GOP field, and threw the race into a heated, two-man battle in the final days.
Opinion polling in Iowa is notoriously difficult, due to the particular intricacies of caucus voting, and the polls released in the days immediately preceding the balloting provided little insight into the eventual winner.
Candidates had spent months and millions of dollars crisscrossing The Hawkeye State, hoping to convince Iowans to stand for them on Caucus Night. The intense focus on early state voting produced the costliest run-up to a primary election in U.S. History. The candidates spent more than $50 million dollars on television advertising in Iowa.
Historically, although the winner of the Iowa Caucus has not always gone on to capture his party's nomination, a victory is seen as providing a coveted jolt of "momentum" that can help secure other wins in early states.
A poor showing in Iowa is usually the first indication that a campaign has to start looking for a way to bow out of the presidential contest. In 2004, one-time Democratic front-runner Howard Dean saw his candidacy fizzle after his third-place finish in the Hawkeye State.
Thursday's results put new pressure on the Romney and Clinton campaigns to pull out a win in New Hampshire. The Clinton campaign has long argued that Iowa was not one of their strongest states and a win in New Hampshire would show that Thursday's results might be an aberration. Romney, who faces a resurgent McCain in New Hampshire, has staked his campaign on winning in the first two states that go to the polls.
Calling all HuffPost superfans!
Sign up for membership to become a founding member and help shape HuffPost's next chapter