A father puts his life on the line to get his son back. The mother, a former high fashion model is a foreign national kidnapper and a fugitive wanted by the FBI.
Last month, Secretary of State Hillary Clinton publicly voiced her support and threw the weight of her office behind a Hague parental kidnapping case of a boy kidnapped by his mother four years ago.
Clinton said that while this case may be getting national publicity, there are many other similar cases involving American children: "These cases are across the world, we must fight this rising problem."
Clinton revealed the startling fact that this is not a unique case. There are about 46 cases in Brazil alone, and countless others worldwide.
Even when President Obama met his Brazilian counterpart at the White House on March 14th, the kidnapping of an eight-year-old American boy was on the agenda. Although the fate of the world economy was the most pressing issue for Mr. Obama and Luiz Inacio Lula da Silva, Obama privately discussed the case of the kidnapped American child in Brazil, which has become a cause celebre in Congress.
Ten days after Obama's meeting in March, U.S. lawmakers overwhelmingly passed a resolution calling on the Brazilian government to return a boy who is living with his stepfather in Brazil to his American father. Of 432 lawmakers in the House of Representatives, 418 voted in favor of the resolution to urge Brazil to return the child to the U.S. This was a landmark action by congress towards preventing further international parental kidnappings.
Many children who are abducted to other countries by parents are never returned to the United States. A parent who is left behind when a child is abducted to another country faces daunting obstacles to finding and recovering the child. At first, the left-behind parent does not know who can or will help. The parent's emotional and financial resources soon are stretched to the limit. These cases can cost a parent between $35,000 to $300,000 and up. When years pass without the return of the child, the parent is left with unresolved grief. What if a parent does not have the money? They lose their child forever.
As one parent has stated, "It's worse than if your child died, because you cannot say the child is at peace now. You live every day wondering if your child is OK, if he/she is being abused or neglected. When will I see them again. My child probably thinks I don't love them anymore. You never get over it."
Berger South African case
One extreme example of an international parental kidnapping is a case from South Africa, where a child was kidnapped twice.
It entailed one small innocent child, two international kidnappings to South Africa, three false passports, four years of litigation under the International Hague Convention on child abduction and fighting at least 15 court actions - between two continents.
A father's quest to get his son back home has not been easy.
While living in South Africa for eight months to recover his son. Mr. Berger was faced with two false arrests attempts, several death threats, was ultimately imprisoned while entering the country from Namibia, and stripped of his human rights to see his child for months at a time. Hal Berger finally has achieved his pursuit of happiness. He and his son Liam are together again.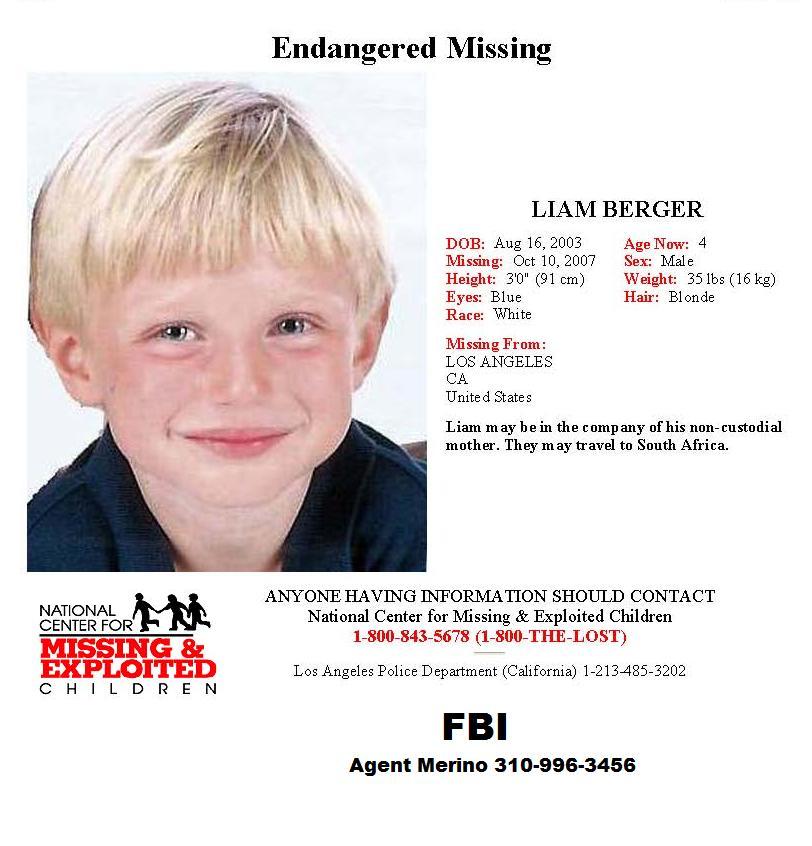 Liam Berger, only four years old, the U.S.-born child snatched by his maternal mother Linda Volschenk Berger late last year and taken halfway around the world on false passports is now living a normal life with his father Hal Berger.
Recently, the California family courts ruled that the South African woman who snatched her son twice from her ex-husband and fled to South Africa, would lose all legal custody of her son. In addition, she faces extradition for her "felony complaint" for disappearing with Liam. She is wanted by the FBI.
Parental kidnappings are on the rise. It is estimated that there are over 100,000 parental kidnappings per year. The U.S. State department Office of children's issues has reported there are at least 1,500 international parental kidnapping cases open per year. That number only includes the reported cases. Many cases go unreported as parents don't know who to turn to for help.
In 1993, the U.S. Congress enacted the International Parental Kidnapping Crime Act (18 U.S.C. 1204), making the abduction of a child to another country or the retention of a child in another country a Federal felony. The Act specifies that, where applicable, the Hague Convention should take priority as a remedy for returning the child.
However, it is a federal felony crime to remove a child from the United States without the other parent's consent. Under Sec. 1204 of the International parental kidnapping Act; (a) Whoever removes a child from the United States, or attempts to do so, or retains a child (who has been in the United States) outside the United States with intent to obstruct the lawful exercise of parental rights shall be fined under this title or imprisoned up to 3 years, or both.
The Legal Framework Civil law
The Hague Convention on the Civil Aspects of International Child Abduction (Hague Convention) is an international treaty currently in force between the United States and 50 other countries. The treaty only applies between countries that are both parties to the Convention. The implementing legislation in the United States, enacted in 1988, is the International Child Abduction Remedies Act (ICARA), 42 U.S.C. 11601-11610. A Hague Convention proceeding is a civil proceeding brought in the party country to which the child was abducted or in which the child is retained. If the Hague proceeding is commenced within 1 year of the abduction or retention, the judge must order the child returned, usually to the country of habitual residence.
South African child kidnapping case
In October 2004, Linda Berger departed to South Africa with her son, Liam to visit her family. She swore they would be back. They would return to California where they live.
Hal Berger, a U.S. investment banker at Marina Capital Partner in Marina del Rey, CA, was living with his ex South African model wife Linda and their son Liam in Santa Monica, California. Wanting to see her homeland again, Linda convinced Hal that she will take a short holiday to South Africa with their son. Hal was reluctant to allow his son to leave the country, as South Africa is a twenty three hour flight, not very safe, nor politically sound.
While in South Africa the Berger family enjoyed the experience of the beautiful landscape in the heart of the rural bush veldt of the Northern Limpopo Province in a remote area south of Botswana, at the confluence of the Limpopo and Shashe rivers. Linda's family owns an 8,000 acre farm near the borders of Botswana, Zimbabwe [formerly Rhodesia] and the northern part of South Africa.
This area is home of no less than seven of Africa's most amazing animals: the African elephant, the lion, giraffe, the baobab tree, the eland, the ostrich, and the koori bustard. Hal thought they were a happy family.
During the trip Linda suffered a miscarriage and was suppose to stay in South Africa for a few extra weeks. Hal needed to depart South Africa and return to work in the U.S. When he returned home his worst fears were realized, Linda was not planning to return to the U.S. and she kidnaps Liam.
Linda declared that she would not return with their son from South Africa. Hal quit his job as an investment banker in the middle of a multimillion dollar deal and jumped on a plane.
Hal filed the International Hague Convention for Child Abduction with the U.S State Department. The Hague Convention protects children around the world from the wrongful kidnapping of children by a parent.
Hal was determined to get his son home even after his life was threatened. Linda's family attempted to throw him in jail where they hired an assassin to kill him in the rural Limpopo province. Hal faced a long and a bitter fight in the corrupt courts during his eight months in the country.
Mr. Berger escaped an illegal arrest attempt in Sourh Africa and was escorted by his attorneys to the U.S. Consulate for asylum. While Hal remained at the U.S. Consulate, his attorneys ran to court and launched an urgent application to dismiss the trumped up false assault charges.
In South Africa he discovered that men have "no civil rights" relating to parental kidnapping and custody cases. Hal was caught in a political web as his wife's family continued to delay the court proceedings for eight months. The courts striped away his visitation rights to see his son and were trying to prosecute him for trumped up false assault charges. Hal filed charges with the South African Human Rights commission.
South Africa did not treat Linda's criminal act as a kidnapping. Linda's family continued to try to break him down emotionally and physically. Hal's love for his son was too strong to just give up.
When interviewed, Hal Berger claimed, "I felt like a trapped man living in South Africa fighting the Afrikaans post-Apartheid culture and their reversal of racial power, corruption in the police department and death & jail threats by her family."
"I am not leaving this country without my son in my arms."
After eight months Hal finally prevailed in the South African High court.
On his return flight home Linda and Raynier, her boyfriend, were waiting at the transfer gate in the Amsterdam airport and tried to grab Liam. Berger checked into the airport hotel to avoid the confrontation only to be greeted by a team of Airport police who broke into his room and claiming that Linda said Liam was kidnapped by Berger. Hal Berger and Liam were detained in the police station for five hours.
The U.S. Consulate in Amsterdam was dispatched to the airport police station. The U.S. State Department in Washington clarified the matter with the Amsterdam authorities. Hal and Liam were escorted in a five ton special bomb squad SUV to their hotel and driven to the airport by the U.S. Consulate the next morning.
Liam returned to the U.S. in December 2006 to lead a normal life playing soccer, going to pre-school, birthday parties and parks, while his parents were battling in the California family courts.
Ten months later. Hal's biggest fear became another reality. Liam did not show up at the Circle of Children pre-school in Santa Monica. Hal went to pick up Liam at school only to find his empty locker and that Liam was missing.
Liam's mother and her boyfriend Rynier Bosman using fake passports drove Liam covertly over the Mexican border in a taxi and flew him Mexico City to Paris, Paris to Kenya, Kenya to Harare Zimbabwe and then drove him over the border to their family farm on the northern border of South Africa.
Hal Berger immediately launched a media campaign in the U.S. and South Africa, deployed an investigation team in South Africa, conducted onsite meetings at the FBI, LAPD, and secured a court order for full custody and a felony warrant for her arrest.
Since the FBI, LAPD and U.S. State department did not move quickly enough or help, Hal assembled his own mercenary recovery team comprising of military special force operatives. They were deployed to South Africa within fourteen days. Gustava, the lead has been involved in the recovery of seventy children around the world. Gus is a former Ranger Instructor and a member of a classified "Anti-Terrorist" Commando Team within the Ist Airborne Ranger Battalion and Special Ops Delta team.
The South African team of investigators used cell telephone records, surveillance, GPS tracking devices and banking information to determine the exact whereabouts of Liam and Linda.
Fearing that he would be thrown in jail if he flew into South Africa, Hal stayed in Namibia for nearly a month before entering South Africa. Unfortunately Linda's family owns a security company and has ties with the South African police department.
Hal and his armed protection officer drive over the border from Namibia into South Africa in the middle of the night. Once they reach the border post they realized there was a warrant alert for Hal. Hal was separated from his body guard, handcuffed and thrown into the back of a police pickup truck.
The border police drove Mr. Berger at 110 miles per hour toward the border town of Upington. The police vehicle broke down. Hal was left handcuffed in the back of the truck when they lowered the covers over the windows to blacken the back cab. Hal thought his life was over.
Fortunately, the recovery team stationed in Johannesburg woke his lawyer up in the middle of the night. Darryl Ackerman, called the police and demanded Hal's whereabouts. Hal was locked up and thrown in prison that evening.
Darryl Ackerman's successful defense team quash his ex wife's their trumped up allegations and the Judge ordered the immediate return of Liam with his father to the U.S.
The police at the Johannesburg airport tried to stop Liam's departure at the gate. However, Gus Zama said. "There is nothing you are going to show me short of a court order from Interpol that's stopping me from taking this child back to the U.S."
Liam celebrated his 5th birthday and leads a normal and happy life. Liam says when he grows up he wants to be an Animal Rescue person and a businessman.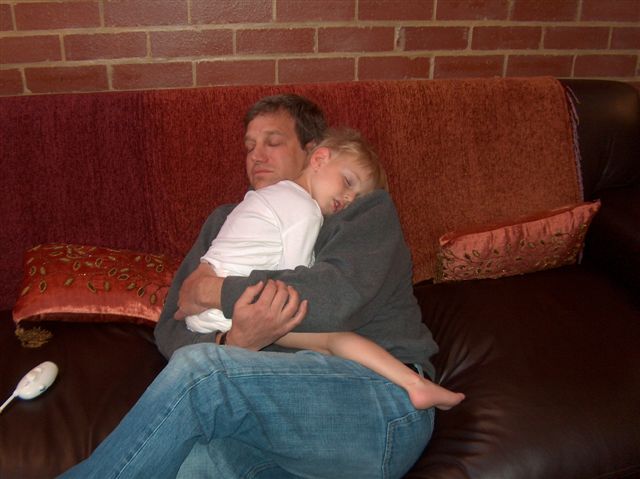 Mr. Berger has been working with Congressman Howard Berman's office, Chairman of Foreign Affairs House of Representatives on a parent act that will provide some reform to improve the process of recovering internationally kidnapped children. They are close to realizing this legislation. In the meantime, Hal Berger watches his son more closely than most parents in the United States.
REAL LIFE. REAL NEWS. REAL VOICES.
Help us tell more of the stories that matter from voices that too often remain unheard.