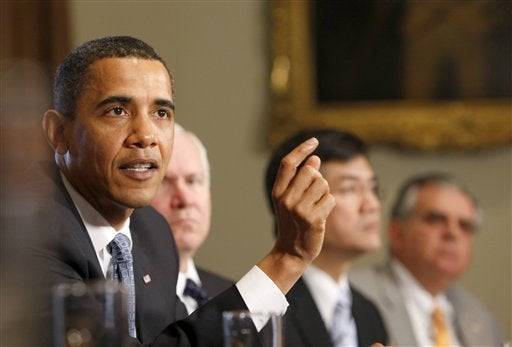 In conjunction with the White House, a host of trade associations, pharmaceutical groups and other stakeholders in the health care debate are set to announce a major effort to streamline the nation's health care system that could save more than $2 trillion over the next decade.
On Monday representatives of the American Hospital Association, the American Medical Association; PhRMA; AdvaMed; America's Health Insurance Plans, the SEIU, and the Greater New York Hospital Association and the California Hospital Association will make what White House officials and industry insiders describe as a major announcement on the health care reform front. The coalition of somewhat strange-bedfellows, comprising some of the sharpest opponents of reform in the past, is targeting specific administrative changes to drastically reduce the rate of growth in health care spending. All told, the goal will be to reduce the money spent on health care by 1.5 percentage points each year over the next ten years.
"We cannot continue down the same dangerous road we've been traveling for so many years, with costs that are out of control, because reform is not a luxury that can be postponed, but a necessity that cannot wait," President Obama will say, according to excerpts of his remarks released in advance by the White House.
On a Sunday conference call, senior administration officials hailed the effort as "a game changer" in the health care debate. "I don't think there can be a more significant step to helping struggling families and to help the federal budget," said one aide. "It just makes it even clearer than ever that health reform is going to happen this year in the Congress," added another.
The effort, which those familiar with the plan say will aim for greater care coordination, lower administrative costs and the bundling of payments among health care providers and recipients, could result in a three percent reduction of gross domestic product by the year 2019. That year alone, the industry could save $700 billion. On a more personal level, White House aides project that after five years a family of four could be saving $2,500 a year.
There are, however, many questions left unanswered about how such a system could work. The effort, details of which will be offered on Monday, does not contain an obvious enforcement mechanism or penalty for groups that do not follow through on their promises.
On Sunday's call, White House aides downplayed this absence, saying that a "personal commitment to the President of the United States" carries significant weight and offering up the press as a watchdog.
"A big enforcement mechanism is going to be, frankly, all of you," said a senior official. "Because to make a public commitment and then not make good on it is something that, I think, none of these groups will want to go through."
Several health care reform advocates, in subsequent conversations with the Huffington Post, said that without a tool to "regulate the insurance companies" the plan sounded a "bit naive." Lowering administrative costs, they added, was a noble objective that made political and economic sense. "But there is a reason none of these groups have done this already."
Pressed on this matter, White House aides stressed that the current climate is creating a new set of demands, one which would compel these groups to follow through on their word.
"I think they want to be on board with the President," said one of the senior officials. "They recognize, as they put it to me, that everybody must share responsibility as we reform the health care system. And they want to get everybody covered."
If, in fact, the collaborative effort is seen to its conclusion, the results could be enormous, the official added. Simply streamlining the payments process and care efforts in the Medicare program could save a projected $20 billion. Implementing such reforms over the private market would mean "virtually eliminat[ing] the nation's long-term fiscal gap." In short, industry costs would still be rising but by far less.
"The popular discussion that's [taken up] most of the time about our long-term fiscal problem has focused on Social Security and other related topics," said the senior White House official. "While those are important, this by an order of magnitude is far more important to the fiscal trajectory that we're on, especially over the long term, than anything else that could be done."
How such an effort came into being was another source of intrigue for reporters on the Sunday call. White House aides would say only that SEIU's Healthcare Chair Dennis Rivera was the first to propose bringing together the stakeholders in the health care industry to figure out ways to cut the fat from the system. It was also acknowledged that Karen Ignagni, president and CEO of America's Health Insurance Plans, had a similar idea at the President's health care summit in early March.
That occasional health care reform foes could come together is a reflection of just how influential and wide-reaching the industry crisis has become. It also underscores just how tenuous a larger reform effort could be. White House officials insisted that no deals - specifically on whether to include a public plan for health insurance coverage - were offered in order to get these groups together. They also stressed that if these efforts at eliminating administrative costs were to be successful it would require broader reforms of the overall system.
"Many of the steps that they may need to take would be dependent on getting health care reform done," said a senior aide. "If we change the financial incentives facing providers under Medicare and Medicaid that could also help to drive changes in the private market."
Calling all HuffPost superfans!
Sign up for membership to become a founding member and help shape HuffPost's next chapter