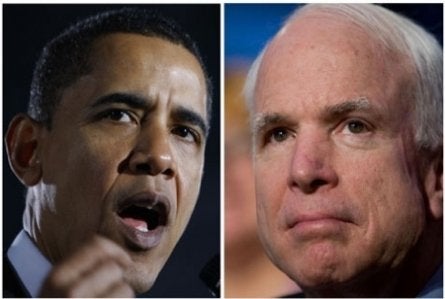 Despite the fact that over 20,000 working families asked that these questions be posed in the national debates (thank you, MomsRising), we've heard nothing at the debates. Today, Families and Work Institute (FWI) released full notes from conference calls it convened with policy leaders from both the Obama and McCain campaigns. Why should we care about "work life" issues when our savings and retirement funds are literally halving by the day? Because "work life," as nondescript as it may sound, is the stuff that keeps American families afloat. Work life refers to issues ranging from sick leave to health care to early education and child care. It also encompasses flexibility and better work-life balance, which have strong effects on companies' bottom lines and employee productivity. The economic crisis has overshadowed the fact that this is the first-ever Presidential campaign in which both nominees have formally articulated how they would support work life issues. These issues don't go away just because our mutual funds are empty; they become more important than ever.
As FWI President Ellen Galinsky says, "While much has been written about how the candidates manage their own work and family lives, these calls move us from their personal to their policy stands on these issues." Michelle Obama, to her credit, talks widely about these issues, but it's from a personal, not policy, perspective. The candidates don't seem to be talking about these issues on the stump anymore, so I encourage you to read the transcripts.
The differences between the two camps, unsurprisingly, are stark. McCain's team talks a lot about the importance of work life issues to the candidate, but aside from his health care proposal, does not offer one single policy solution. The transcript from his call is fully three pages longer than Obama's, but there's very little there there when you read it.
National surveys show that most large, private-sector employers now offer one or more work-life policies to at least part of the workforce, including flextime (68%), part time work (53%) job sharing (46%), compressed work weeks (39%), occasional teleworking (35%), partially paid family leaves (46%), pre-tax spending accounts for dependent care (45%), information and referral accounts to find care (34%), and on-site child care (7%) (Bond, Galinsky, Kim, & Brownfield, 2005). But many employees find it difficult to take advantage of such policies, which begs the question "what is the role of the Government, vs. the individual, in managing work life"? And more importantly, how can macro policies like health care reform and paid family leave encourage companies to adopt and enforce better work life policies?
Karen Kornbluh from Obama said "There are some things where the Government can set a standard, such as sick days. In some cases, the States will get assistance from the Federal Government to set something up that will help companies within that State, such as paid leave. We are in a tough time economically so we don't want to do anything that is ineffective or inefficient or that would actually hurt employers...People don't want a hand out but they do want a government that is on their side."
According to his reps, McCain "believes government has a role in figuring out what we can do to make work life balance a reality." He takes a traditionally Republican, hands-off approach (surprising, given his recent campaign rhetoric on how the Feds need to step in and buy mortgages from folks). He has not advocated expanding FMLA or mandating that it be paid.
The Obama campaign named launching these initiatives to aid work life issues in the U.S (I am directly quoting here from the transcript):

- One of the most important issues to work family issues is health care. Barack Obama has a proposal to make comprehensive, affordable health care available to all. You would have health care whether or not your employer offers it, which gives people incredible flexibility. For the average family who already has health care it would save them $2500 per year. This is one of Barack Obama's top priorities.

- Barack Obama also has a very robust 0-5 policy (a policy on the first five years of life). Working parents can know their young children are not only somewhere safe, but also learning.

- Expand the Family and Medical Leave Act to cover businesses with 25 or more employees (currently it's 50) as well as [to provide coverage for] additional purposes including allowing workers to take leave for elder care needs; allowing parents up to 24 hours of leave each year to participate in their children's academic activities at school; allowing leave to be taken for purposes of caring for individuals who reside in their home for six months or more; and expanding FMLA to cover leave for employees to address domestic violence and sexual assault. People could not be fired for dealing with these essential life issues.

- Expand FMLA [to provide] paid leave. Encourage each state to adopt a paid leave system. Provide $1.5 billion fund to get it started as well as offset the cost to employees and employers.

- We've got to bring women's pay up. Low pay is hurting their children and their families.
Senator Obama would pass the Ledbetter Act which will make it easier to combat pay
discrimination, the Fair Pay Act, and modernize the Equal Pay Act. He would also raise the minimum wage, and peg it to inflation; increase the number of working parents eligible for EITC; increase the benefits available to parents who support their children through child support payments; increase benefits for families with three or more children; and also review the EITC marriage penalty. We would also try to battle caregiver discrimination - people with children who are discriminated against in terms of pay, benefits and employment opportunities.

- Senator Obama also would sign a law giving everyone the ability to earn seven paid sick days. This is a harder issue for lower-wage workers as they lack leverage with their employers. We hope to create a program to work with businesses and educate them on the advantages of working on best practice models - this has previously been tried in the United Kingdom (UK) - increase federal incentives for telecommuting, and make the Federal Government a model employer in part by adopting flexible work schedules.

-Senator Obama endorsed Senator Kennedy's proposal - based on the UK one - allowing employees to petition their employers to discuss a flexible work arrangement. This ability to make formal requests by an employee would require a reply from their employer. Decisions would have to be made on whether it would negatively affect the company/customer or not. We would hope to use the presidential bully pulpit to keep the flexibility issue moving forward.

In the transcript, McCain's team proposes not one new program geared towards work life. As mentioned, he supported the original FMLA bill but does not advocate its expansion or that FML be paid. He does not support employer mandates on sick leave or time off. McCain's camp advises "creation of a Commission on Workplace Flexibility and Choice. The idea would be to get a bipartisan set of workers, small and large employers, laborers, academics and they would sit down and look at the issues--obviously so much has changed since we passed all these acts--and make real recommendations to him as President on how to modernize the labor laws, what our trainee programs at the Department of Labor (DOL) should look like now that the workplace is changing so dramatically...."
On health care, McCain promises a $5,000 tax credit to every family. And this part, frankly, makes no sense; when asked by Galinsky, "What would be done for the people who don't have any tax liability to benefit from a tax credit? Are there special provisions for low-wage employees who make up a good quarter of our workforce"?
...health policy advisor Jay Khosla said, "Senator McCain's plan is all about equity. He wants to make sure that every American family gets this $5,000 refundable tax credit, so you're qualified for this tax credit regardless of tax bracket or if you are in any tax bracket at all. Even if you don't owe any income taxes you still get the same refundable tax credit helping middle-class and low-income families get the health coverage they deserve."
On the plus side, McCain's surrogate says McCain is a "strong supporter of all employer anti-discrimination laws; a strong supporter of the Equal Pay Act and will vigorously enforce these laws. Governor Palin experienced that first hand. She is a working mother with five children who has built an impressive career. She will bring that perspective to the ticket."
In sum, reading the call transcripts I'm left with the same questions I usually am about our candidates. McCain, the fake supporter of the middle class, says he supports the issues most important to families but I don't see it in his team's answers. Obama has fantastic ideas for work and family in this country; the main question is whether the bankrupt government he would inherit, and its accompanying politics, can accomplish such goals.
Disclosure: I am a consultant to FWI, although not on this particular issue. FWI is a non-partisan, non-profit organization.
Popular in the Community