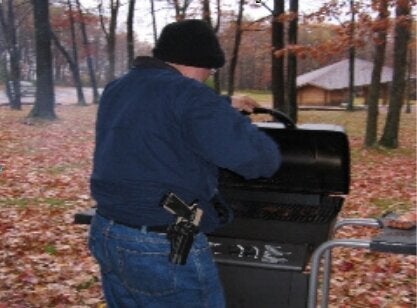 HAZLETON, Pa. --- Hazle Township resident Anne Marie Shelby is blind in her right eye, so she shoots using her left. But the Pennsylvania gun owner will rely on her right hand to pull the lever for Democratic presidential nominee Barack Obama next week.
"He supports the Second Amendment. He just doesn't believe guns should be given to known criminals," said Shelby, an Obama volunteer in Hazleton, a city located in Pennsylvania's 11th Congressional district and home to just over 23,000 residents, according to the 2000 U.S. Census.
Shelby, whose family collects guns as an investment, is somewhat of an outlier among the 580,000 state residents with a current license to carry a gun, according to the Pennsylvania Sheriffs' Association. Within the state of 12.4 million residents, owning a gun is slightly more common than carpooling to work -- just over 577,000 Pennsylvanians shared a commute, the U.S. Census Bureau reported in 2000. But despite the millions of campaign dollars the Democratic and Republican parties have poured into Pennsylvania, gun owners often have little good to say about either candidate.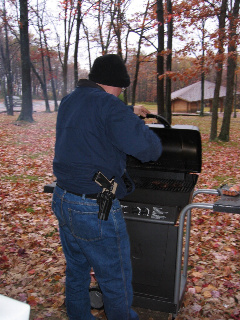 Chambersburg resident Greg Rotz tends the grill
at a picnic of the Pennsylvania Firearm Owners
Association online members.
Perhaps the most concerned about Second Amendment politics are the online members of the Pennsylvania Firearm Owners' Association, most of whom chose to openly carry their guns when they gathered for a regional picnic at Hazle Township Community Park on Oct. 25. The majority of picnickers said they would likely vote neither for Obama nor Republican candidate John McCain, but Libertarian candidate Bob Barr or another fringe candidate who hews more closely to their pro-gun, government-wary point of view.
Few local gun owners support Obama, who so far has largely tailored his gun stance to hunters, whom he has promised will be able to buy and transport firearms, though he supports control of assault weapons and stricter gun licensing laws. McCain, meanwhile, opposes banning assault weapons or confiscating citizens' guns after an emergency. But neither candidate goes as far as Barr, who rejects "any law requiring registration of, or restricting the ownership, manufacture, or transfer or sale of firearms or ammunition to law-abiding citizens," according to his Web site.
Tom Young, a Campbelltown trucker who drives a 1,640-mile route to deliver supplies to the U.S. Army's 101st Airborne Division, based at Fort Campbell in Kentucky each week, said he had planned to vote for McCain until the senator approved the Congressional bailout plan. The problem with government, he said, is that it doesn't know when to stop asking for money.
"If you give a kid a cookie, he's going to want a glass of milk," said Young, who lives with his girlfriend's three children. "The government's like kids -- they always want more."
On the cold, rainy Saturday, picnic organizer and Chambersburg resident Greg Rotz flipped burgers and hot dogs, his coat rising above the gun tucked into his jeans. Under the wooden picnic shelter strung with makeshift blue tarps, Pittston resident Norman Vincent, his own Kimber .45 strapped to his hip, divulged the secret ingredients in his famous baked beans: habanero chiles, molasses and "a little bit of this, a little bit of that." While the picnickers agreed that the Republican Party better supported their rights as gun owners, most said that was not enough to make them vote for McCain.
"The Republican party as a whole has shifted to the left," said Rotz, who thought the government had become too involved in health care and the economy. Out of all four presidential and vice presidential candidates, he thought Alaska Governor Sarah Palin was the most appealing, but still planned to vote for a third-party candidate.
"She seems the most like a regular person, but that's not enough for me to go pull the lever for John," said Rotz.
Nearly every one of the roughly 15 picnickers had supported the officially Republican but libertarian-leaning candidate from Texas, Rep. Ron Paul, in the primary and some are still struggling with where to transfer allegiance in the general election.
"If the Democrats would get off their Second Amendment stance, I would probably vote for them," said Lancaster resident Matt Garner, a cook with a catering company. Like many of the event's attendees, Garner said he had done his homework, researching who supported gun rights. He also had visited a non-partisan Web site and calculated which nominee would tax his income more heavily. Under a McCain administration Garner would pay $700 more in taxes, but he said he would still likely vote for the Republican.
"That's really nothing, that's two weeks' pay," Garner said. "I wouldn't give up my Second Amendment rights for $700 any day."
For many picnickers, gun control was the single issue that determined their voting patterns. A candidate without the endorsement of the National Rifle Association had little chance of winning over Hazleton resident Craig Budde, a former telecommunications worker who is now disabled.

Budde had researched Obama's voting record in the Illinois state senate. "He's voted for more anti-gun legislation than any other politician," he said.
But Shelby, the Obama volunteer, said the NRA holds too much sway over its roughly 4 million members.
"You don't have a conscience or mind of your own?" she asked an invisible gun owner. "Obama is a constitutional lawyer! He has to know more about the Constitution than John McCain!"
In fact, the NRA's endorsements have at times sent Pennsylvanians to vote for Democratic politicians. Truck driver Tom Young said he has voted for and continues to support Democratic U.S. Rep. Tim Holden.

"He agrees with most of the stuff I think is right," said Young, who is pro-choice. "I met him a few times and he takes the time to listen to you, which is important."

Obama's endorsement from the American Hunters and Shooters Association held little sway at the picnic. Few of the attendees even enjoyed hunting.

"I tried hunting. I didn't care for it," said Vincent, who wore a baseball cap emblazoned with the logo from gun manufacturer Kahr. Picnickers said they carried guns for protection and in Pennsylvania it is legal to openly carry a firearm almost anywhere other than a public school.

"It's for the same reason you wear a seat belt or have a fire extinguisher," said Rotz. "You hope you never need it, but in certain situations it might be invaluable." Rotz said he only conceals his gun when visiting a new church and those weddings where the bride and groom are not wearing camouflage, so as to not "shine the spotlight on myself."

Younger voters were largely absent from the picnic, but their parents knew how they stood. York resident Dottie Wright believes in her right to carry a gun and thinks McCain agrees. But Wright's daughter, a senior at Rutgers University, plans to vote for Obama.
"That's her opinion and she's entitled," Wright said.
Related
Popular in the Community