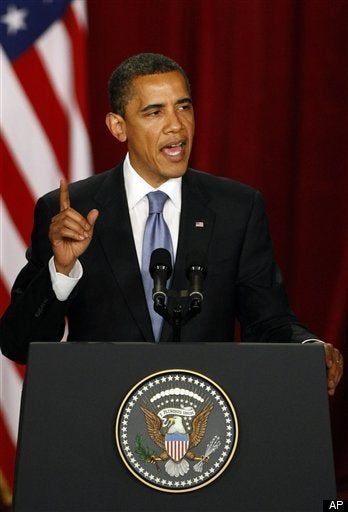 There has been some interesting writing lately on the whole Obama and the left thing, a wave of discussion that started when Obama declared his candidacy for president, and won't end until humans stop writing history books.
The first was kind of a silly article by Josh Gerstein in Politico, which basically described the left as being Rachel Maddow, some civil liberties groups, and some LGBT activists. Not surprisingly given that definition, all "the left" in Gerstein's article cared about were civil liberties, gay rights, and having a Supreme Court Justice picked.
Now don't get me wrong, all of those are incredibly important issues and activists, but to describe "the left" in that way seems like pretty bad reporting. Doesn't mention the labor movement, health care advocates, advocates for low-income people, environmentalists, bloggers, community organizers, progressive think tanks, feminists, progressive activists of color, MoveOn and other online activists, the progressive youth movement, the peace movement, or any other parts of the remarkably diverse and interesting progressive movement. He didn't mention how progressives had both pushed for the stimulus package to be bigger but also were an essential part of getting it passed in the end; or how progressives have been organizing big coalitions on behalf of helping Obama get health care, immigration reform, climate change reform, and a re-write of banking legislation passed; or how progressives have expressed concern on a range of issues like trade and banking.
There have also been articles in the Washington Post about how Obama's election and the sausage making of passing legislation had deadened progressive excitement, and the excellent grasp of the obvious file -- one about how progressive groups now had more power in lobbying than they had under Bush.
Easily the most thoughtful pieces of all have been two recent pieces by members of the progressive movement themselves (both personal friends, so I'll admit my bias upfront). The first, by Gara LaMarche of Atlantic Philanthropies, was a thoughtful and nuanced discussion of the challenges of both Obama and progressives, and was fairly hopeful in general, both about Obama and about the relationship between him and the movement. The second, by Jane Hamsher of Firedoglake, was a more frustrated discussion of the way progressive leaders aren't challenging Obama enough, and the distancing of Obama from progressives.
From my experience in the Obama transition as the Obama team's liaison to the progressive community, and in all my conversations with folks both inside and outside of Obamaland before and since, the tension between being hopeful about the possibilities and upset that better things aren't being realized will always be there. If managed right by both Obama and progressive leaders, it can be the kind of constructive, creative tension that leads to the kind of big breakthrough progressive changes we saw in this country at key moments in our history- the 1860s, the early 1900s, the 1930s, and the 1960s (the Big Change Moments I write about in my book, The Progressive Revolution). If managed poorly, it can lead to the kind of presidential meltdowns we saw with the LBJ and Jimmy Carter presidencies, and on the Republican side with the first Bush presidency: Presidencies that started with high hopes but ended with destructive conflicts between the base and the presidency, tough primary challenges, and lost re-election hopes.
So far, I'm feeling quite good about Obama's chances for the former. After some initial stumbles, he pushed through the stimulus package -- and the biggest progressive public investment package -- in history. His budget was very bold and as strongly progressive as any budget at least since 1965, and it has made its way through the first rounds of the congressional budget process in good shape. He has so far handled the politics around his first big legislative initiatives, health care and climate change, very pretty, giving us a solid chance at success.
Progressive leaders have handled themselves well on balance, too. A lot of us thought the stimulus was too small, but we pushed hard to get it passed once the die was cast. A lot of us prefer a single-payer health care system, but are also pushing hard to see a strong public option kept in this reform package, and are putting big resources into the passage of a good plan. Progressive groups and leaders are working hard and constructively to push Obama and other Democrats to improve the climate change bill that came out of the House Energy and Commerce Committee, and to move forward on the strong financial regulation and immigration reform legislation. And where Obama has disappointed many of us -- on civil liberties, on LGBT issues, on Afghanistan, and on financial regulation -- we have pushed back strongly but generally not been destructive in doing so.
Going forward, though, there are certain things history and common sense teach us that both sides need to understand very clearly:
1.We need each other. Progressives need to understand that our fates for several years to come are tied, fundamentally and completely, to Obama's success as president. If he loses his big legislative fights, we won't get another chance at winning them for a generation (see health care, 1993-94), and early losses will make the Democrats more cautious, not more bold (see health care, 1993-94). If Obama's popularity fades, Democrats will lose lots of seats in Congress. If he loses re-election, Republicans and the media will say he was a failed liberal and run against him for many elections to come, even if his actual policies are more centrist (see Jimmy Carter). But Obama's team needs to understand that they need a strong progressive movement as well, and as Jane alluded to, they haven't generally acted like they do. Without progressives' passion, activism, lobbying, and money, Obama can't win those incredibly challenging legislative battles. Just as Lincoln never would have won the civil war or ended slavery without the passion of the abolitionists, just as FDR never would have won the New Deal reforms without the labor and progressive movement, just as LBJ would never have passed civil rights bills without the civil rights movement, Obama can't win these big fights alone. And he can't win re-election either without the passion of his base: see LBJ, Ford, Carter, George H.W. Bush, and many other presidents for more info on that topic.
2.Obama needs a left flank. It is a natural tendency of any White House to be dismissive of criticism, and to play hardball when people disagree with you. The Obama team should not hesitate to defend itself when being pushed from the Left, but I would caution against playing too hard at hardball. The Obama team needs a vibrant and vocal Left flank, because the stronger their Left flank is, the more Obama seems solidly in the middle. The White House would be well-served to fully support and empower progressive groups, media, and bloggers -- even when they sometimes disagree with Obama.
3.There needs to be both an inside and an outside strategy for progressives. Progressive leaders who get jobs in the administration are sometimes derided as sell-outs, and progressive groups who are not openly critical of the Administration are sometimes criticized as being too cozy with those inside. At the same time, insiders get very worked up about "irresponsible" bloggers and outside activists who they say don't understand the system and the challenges they are facing.
Having been both on the inside and the outside, I see the grain of truth in both sides' perspective, but also respectfully disagree with both sides.
We need progressive people in government, even if the cost of that is that they have to trim their sails on issues where they disagree with administration policy. We need progressive groups in regular in-depth policy meetings with the administration, even if that means they have to soft-pedal their criticisms some of the time to keep that access. And we need outsiders who will push like crazy for doing the right thing now no matter what.
Change and progress never happened in this country without both insiders and outside agitators playing a strong role. The administration needs to respect the role of those outsiders, and those working for progress from the inside and the outside need to respect each other. There is no other way this is all going to work for the good.

Support HuffPost
The Stakes Have Never Been Higher
Popular in the Community