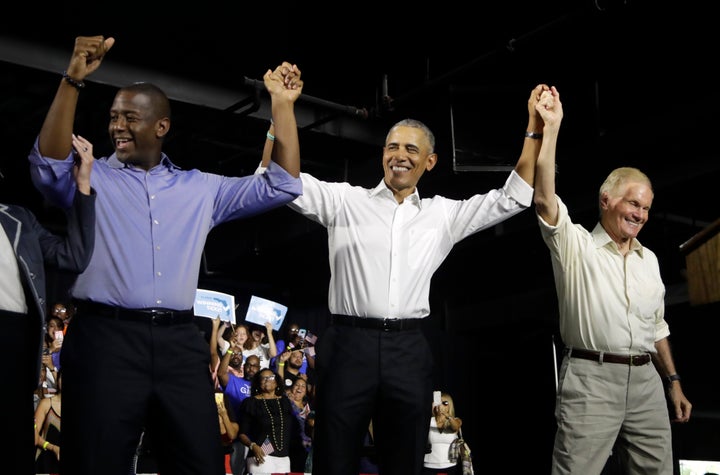 MIAMI ― Barack Obama returned Friday to a state he carried twice with a fiery call to reject his successor's divisive and falsehood-filled politics by voting for Andrew Gillum and Bill Nelson.
"If you don't like what's going on right now, don't just complain. Don't get anxious," he told more than 4,000 supporters jammed into the Ice Palace movie studios in a largely African-American section of Miami. "Don't boo. Don't hashtag. Vote!"
Gillum is the mayor of Florida's capital city, Tallahassee, and hopes to become Florida's first black governor. Nelson is seeking his fourth term in the Senate.
Obama had remained relatively quiet for the first year and a half of Donald Trump's presidency, but in recent months, with the midterm elections approaching, he has been hammering at Trump's policies and character.
Sounding relaxed in rolled-up shirtsleeves, Obama told his audience that Tuesday's election was critical for issues ranging from voting rights to the minimum wage to health care. He reminded them that major societal changes, from ending slavery to establishing LGBTQ rights, have often been followed by a backlash from "the status quo" ― one step back for every two forward. "Making this country better has never been easy," he said.
Demonstrators interrupted his remarks several times ― and each time Obama tried to defuse the situation with humor. "Why is it that the folks that won the last election are so mad all the time?" he said after the final protester was removed by security staff.
Obama won Florida relatively easily in his 2008 presidential run but more narrowly in his re-election bid four years later. He said defending his signature Affordable Care Act was one of the biggest issues on the ballot now and that Republicans ― including current Florida Gov. Rick Scott, who's running for the Senate, and former Jacksonville area Rep. Ron DeSantis, who's trying to replace Scott as governor ― have been trying to undermine and repeal the law for all eight years since it was passed.
Only now, with the midterms around the corner, he said, are Republicans saying they want to preserve one of its most important features: the protection of coverage for those with pre-existing medical conditions.
"That's some kind of gall. That's some kind of chutzpah. Let's call it what it is. It's a lie," the former president said, adding that protecting the law was reason enough to return Nelson to the Senate. "Florida, we can't let Rick Scott become the deciding vote."
Beyond the issues, though, Obama spoke at length about the angry rhetoric coming from Trump and his supporters as well as the most recent attempts to frighten voters with barely veiled appeals to racial animus.
"Maybe most of all, the character of our country is on the line. In the closing weeks of this election, we have seen repeated attempts designed to make us angry and mean-spirited," Obama said.
He said fear-mongering tactics were not new ― they were used in the midterms of 2010 and 2014 during his presidency. "Now, in 2018, they're telling you that the existential threat to America is a bunch of poor refugees a thousand miles away. They're even taking our brave troops away from their families for a political stunt," he said.
"It's not just the practical effects of policies. When words stop meaning anything, when truth doesn't matter, when people can just lie with abandon, democracy can't work," Obama added, criticizing Trump's frequent falsehoods and apparent disregard for facts.
And as he has been doing in recent public remarks ― and with the GOP touting strong jobs numbers released Friday morning ― Obama pointed out that the strong economy that Trump and the Republicans now brag about is a continuation of the trend that began under his watch following the recession of 2008 and 2009.
"Apparently right now the economy is so good. When do you think that started?" he asked to laughter and cheers, adding that more jobs were created in the final 21 months of his administration than have been created in the first 21 months of Trump's.
Recent public polls show Gillum with a modest lead and Nelson with an even smaller edge. Using their voter turnout models, though, Republicans believe that Scott is likely to eke out a victory and that DeSantis could also win with a big Election Day turnout.
Obama's visit on behalf of Gillum and Nelson came sandwiched between two Florida trips by his successor. Trump staged a rally for DeSantis and Scott on the outskirts of Fort Myers on Wednesday and is scheduled to visit Pensacola on Saturday night. Both are Republican strongholds, while Miami is the biggest population center of largely Democratic South Florida.
Calling all HuffPost superfans!
Sign up for membership to become a founding member and help shape HuffPost's next chapter