President Barack Obama's press conference with German Chancellor Angela Merkel on Thursday was a love fest, with Obama joking that Merkel would have his backing if he were a German voter.
Asked whether he would like to see Merkel run for re-election in 2017, Obama all but explicitly endorsed her candidacy.
"I try to make it a rule not to meddle in other people's politics. All I can say is that Chancellor Merkel has been an outstanding partner," Obama said at their joint appearance in Berlin.
"Chancellor Merkel is perhaps the only leader left among our closest allies that was there when I arrived," he went on. "In some ways, we are now the veterans of many challenges over the last eight years."
As he continued with his litany of praise, Obama got a little playful.
"You know, if I were here and I were German and I had to vote, I might support her. But it's ― I don't know whether that hurts or helps," he said, drawing laughter from the press pool.
Over the last eight years, Obama and Merkel have repeatedly collaborated on major international challenges, including fighting climate change, negotiating the Iran nuclear deal, responding to Russia's intervention in Ukraine and battling the Islamic State.
Obama said he'd discussed all those matters in his private meeting with Merkel earlier on Thursday.
The German capital of Berlin also holds sentimental value for Obama, who gave an acclaimed speech there as a presidential candidate in July 2008.
"On this final visit, I am reminded of the visit I made here before I became president. It was eight years ago, I had no gray hair, but I believe today what I said then: If you want a model for what is possible, if you want to see how to build a peaceful and prosperous and dynamic society, then look at Berlin and look at Germany, look at Chancellor Merkel," Obama said. "Her personal story helps to tell the story of incredible achievement that the German people have embarked on, and I think is something that you should be very proud of."
But even in a farewell meeting abundant with warm feelings for the outgoing president, the new reality of American politics reared its head. Obama used Thursday's event to share his wish that President-elect Donald Trump would maintain the United States' confrontational stance against Russian policies in Ukraine and Syria.
"My hope is that the president-elect coming in, takes a similarly constructive approach of finding areas where we cooperate with Russia, where our values and interests align, but that the president-elect is also willing to stand up to Russia where they are deviating from our values and international norms," Obama said.
In what may have been a subtle reference to Europe's right-wing Trump counterparts, Obama even warned Europeans not to take for granted their own democratic values.
He said he believes that the European Union "remains one of the world's great political and economic achievements and that those achievements should not be taken for granted ― that they need to be nurtured and cultivated and protected and fought for."
Before You Go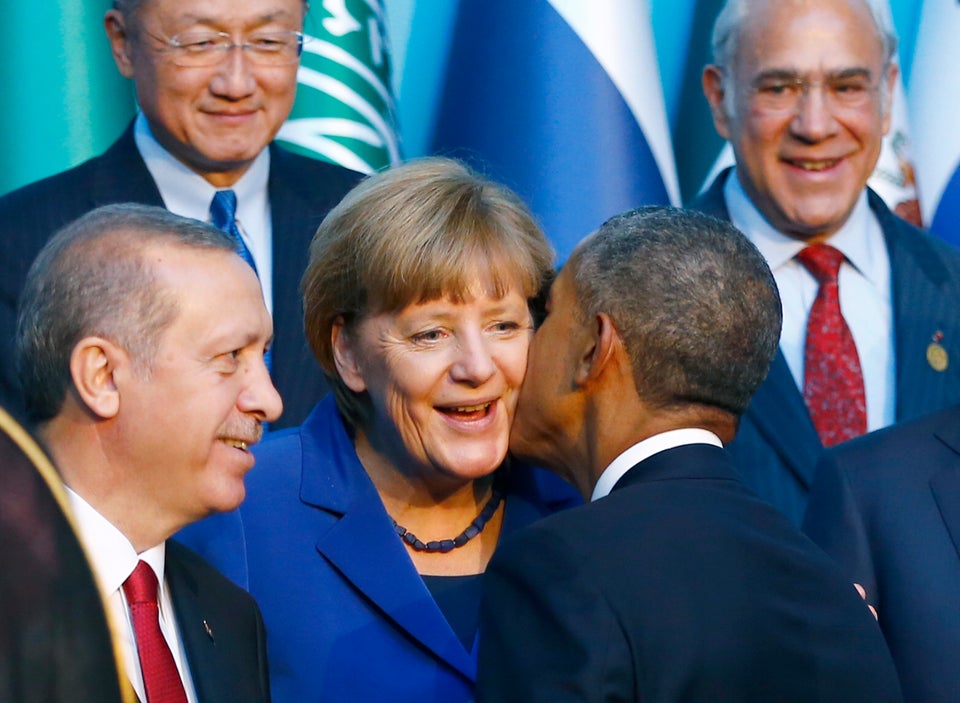 Barack Obama and Angela Merkel BFFs
Popular in the Community