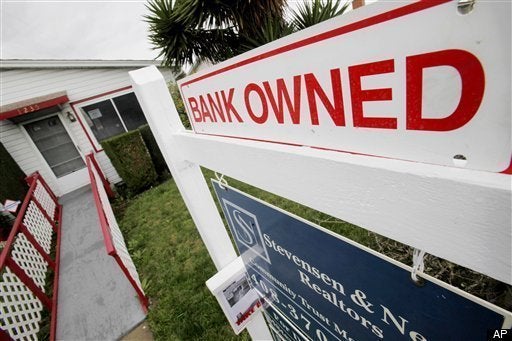 In what senior administration officials repeatedly stressed as a "modest" effort, President Barack Obama announced a $1.5 billion initiative to help five states and their local housing agencies deal with an expected influx of foreclosures.
In a pair of Friday speeches in Nevada, Obama laid out his plan to help the five states -- Nevada, Michigan, Arizona, California and Florida -- arguably hardest hit by the housing meltdown. Each has suffered at least a 20 percent decline in home values since the peak of the housing bubble.
"And now that that bubble has burst, it's left devastation that we're still grappling with today," Obama told a crowd in Henderson, Nevada. The state is the only one in the nation where homeowners cumulatively owe more on their mortgages than the underlying homes are worth, according to real estate research firm First American CoreLogic. For every $1 their homes are worth, Nevadans owe lenders $1.14. The entire state is "underwater."
"Now, government has a responsibility to help deal with this problem. Government can't solve this problem alone. We got to be honest about that. Government alone can't solve this problem. And it shouldn't," Obama said.
"It can't stop every foreclosure, and tax dollars shouldn't be used to reward the very irresponsible lenders and borrowers who helped bring about the housing crisis. But what we can do is help families who've done everything right stay in their homes whenever possible.

"So this fund is going to help out-of-work homeowners avoid preventable foreclosures, and it will help homeowners who owe more than their homes are worth find a way to pay their mortgages that works for both the borrowers and the lenders alike, and will help folks who've taken out a second mortgage modify their loans."
The money, which will come from the administration's $50 billion Home Affordable Modification Program, will be used as an "innovation fund" so state and local agencies can experiment with different methods to reduce preventable foreclosures, the administration said in a statement. The Treasury Department has to approve the programs.
While the money can be used to target troubled homeowners suffering from unemployment, negative equity (homeowners who are underwater), and even those with multiple mortgages on their homes (like second mortgages or home equity lines), the ultimate amount available for the five states -- $1.5 billion -- is a pittance compared to the amount of delinquent homeowners. As of Dec. 31, the Mortgage Bankers Association estimates that about 1.5 million homeowners in those five states were delinquent on their mortgages, according to data released Friday.
Separately, the administration has set aside about $47 billion to modify the mortgages of distressed homeowners who meet specific Treasury Department guidelines. That program promises to help up to four million homeowners by lowering their monthly payments. Thus far about 950,000 homeowners are getting at least temporary payment relief.
Comparing the goals of the national program to the amount of money allocated, Treasury is estimating that it will cost about $12,000 to successfully modify each troubled mortgage. Using that figure, the administration's latest $1.5 billion effort could end up helping just 125,000 homeowners.
About 4.3 million homeowners nationwide are at least 90 days delinquent on their mortgages or in foreclosure proceedings, according to the latest figures from the Mortgage Bankers Association. Most of them will lose their homes.
At the very least, though, the administration's latest effort can be viewed as an acknowledgment that changes are needed.
"What we're trying to do here is foster innovation," Herbert M. Allison Jr., the Treasury Department's assistant secretary for financial stability, said in a Friday conference call with reporters.
While administration officials wouldn't say whether specific changes are coming, Diana Farrell, deputy director of the White House National Economic Council, said during the conference call that the money is being targeted to encourage state and local housing agencies to "innovate to address what are these much thornier issues" like homeowners who are underwater, unemployed, or burdened with multiple mortgages.
That innovation, if successful, may be applied to the national program, which many analysts and experts perceive to be inadequate and, in its current form, ultimately doomed to fail. Nearly one year after the program was announced, less than 120,000 homeowners have achieved the kind of permanent relief that was promised.
But in case homeowners thought the administration was trying to help everyone with mortgage difficulties, Obama made it clear Friday that wasn't the case:
"I've got to again repeat -- government can't stop every foreclosure. There's not enough money in the Treasury to stop every foreclosure. And we shouldn't be using tax dollars to reward the same irresponsible lenders or borrowers who helped precipitate the crisis."
Calling all HuffPost superfans!
Sign up for membership to become a founding member and help shape HuffPost's next chapter