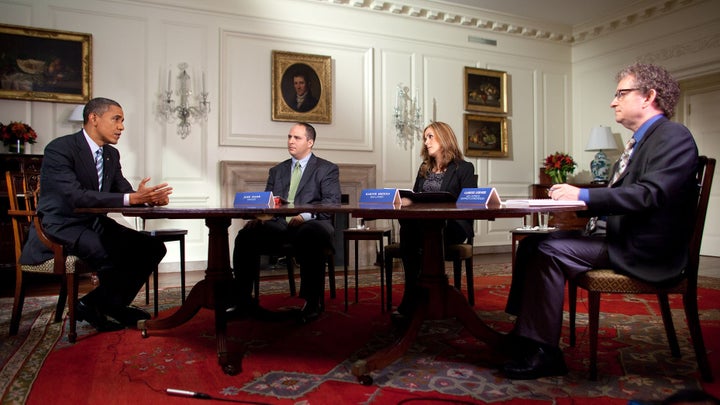 When asked by LatinoVoices Senior Editor Gabriel Lerner about Sheriff Arpaio's approach to immigration enforcement in Maricopa County, Obama said he wouldn't speak specifically about the case. He did, however, condemn Arizona's approach to immigration reform, citing the immigration bill SB1070. Arizona's treatment of immigration, he said, "has not always been productive."
WATCH THE FULL WEBCAST REPLAY:
Obama also said that he favors a "comprehensive approach" to immigration reform, which includes a prioritization of criminals in deportation proceedings over non-criminals and students. He emphasized that in order to change laws he needs the support of Republicans in congress -- something which he said he is not currently receiving.
"This notion that somehow I can just change the laws unilaterally is just not true," President Obama said.
Obama cited Republicans like George W. Bush and Ronald Reagan for their leadership on immigration reform, and said that America must "push Republicans back to where they were a few years ago."
When asked a question regarding Puerto Rican independence, Obama said that this was a question to be answered by the Puerto Rican people before congress acts.
"I think that the key here is that the status of Puerto Rico should be decided by the residents of Puerto Rico," he said. He added that if there was strong consensus amongst the Puerto Rican people, Congress would likely take that to heart in their decision.

In regards to a question about Mexico's drug-related violence, Obama said the United States had to be a more effective partner in both reducing the demand for drugs in the United States and stopping the flow of weapons and cash to Mexico.
In response to a question from HuffPost LatinoVoices during the roundtable, Obama said he was 'absolutely certain' there would be a Latino candidate for President during his lifetime.
"Just look at the demographics," he said. "With numbers comes political power," he added.
VIEW THE LIVE BLOG WHICH TOOK PLACE DURING THE LIVE ROUNDTABLE WEBCAST:
The questions asked today came from readers like you, sent to us via Twitter, email and as comments over the last few days.

Disclaimer: AOL Latino and HuffPost LatinoVoices will ask the President questions from our users at a White House roundtable on September 28, 2011, which will be streamed live on both sites. In order for your question for the President to be considered, you must include your first name, city and state. By submitting your question, you agree that we may publish your first name, city and state; that we may post your question for public voting on our site; and that we may translate, edit, and combine your question with other submitted questions. Not all submitted questions will be selected for use at the roundtable, and public voting may not determine which questions are selected. AOL Latino and HuffPost LatinoVoices have sole discretion in selecting the user questions asked at the roundtable.