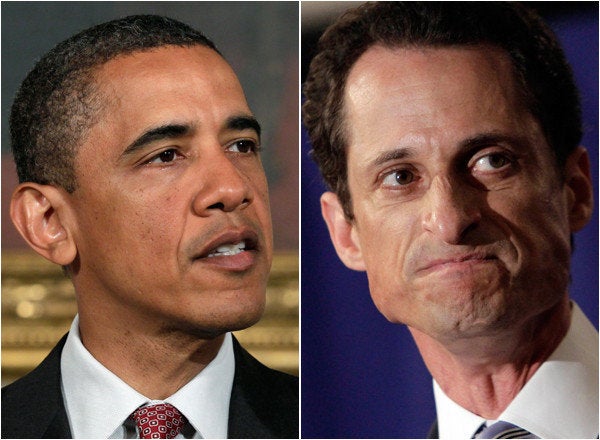 President Barack Obama tells NBC's Ann Curry in an exclusive interview scheduled to air Tuesday that if he were Rep. Anthony Weiner (D-N.Y.), he'd resign from congress.
Weiner has thus far resisted calls to step down from his post amid intense controversy surrounding inappropriate interactions he admitted to engaging in online and lewd photos surfacing of the congressman.
Here's an excerpt of the exchange between Curry and Obama on the matter:
ANN CURRY: Should Congressman Anthony Weiner resign?

PRESIDENT OBAMA: Well, obviously what he did was highly inappropriate. I think he's embarrassed himself, he's acknowledged that, he's embarrassed his wife and his family. Ultimately there's going to be a decision for him and his constituents. I can tell you that if it was me, I would resign. Because public service is exactly that, it's a service to the public. And when you get to the point where, because of various personal distractions, you can't serve as effectively as you need to at the time when people are worrying about jobs and their mortgages and paying the bills, then you should probably step back.
The AP reported earlier in the day that White House spokesman Jay Carney said the president feels that the embattled congressman's actions have been "inappropriate." However, he stopped short of signaling Obama thinks Weiner should resign.
Over the weekend, Democratic party leaders urged Weiner -- who is currently on a temporary leave of absence from his job and seeking treatment -- to resign. HuffPost's Sam Stein reported on Saturday:
In successive statements, Democratic National Committee Chairwoman Debbie Wasserman Schultz (D-Fla.), Democratic Congressional Campaign Committee Chair Steve Israel (D-N.Y.) and House Minority Leader Nancy Pelosi (D-Calif.) urged Weiner to conduct his rehabilitation outside the confines of public office. Rep. Chris Van Hollen (D-Md.) the ranking member of the Budget Committee and former DCCC head, followed with the same request 45 minutes later.

"Congressman Weiner has the love of his family, the confidence of his constituents, and the recognition that he needs help," said Pelosi, whose word carries the most weight of the group. "I urge Congressman Weiner to seek that help without the pressures of being a Member of Congress."
The AP relays background on the controversy:
Weiner has acknowledged exchanging messages and photos that ranged from sexually suggestive to explicit, with several women online. The latest to surface appeared on the gossip website TMZ.

...

The photos posted Sunday were purportedly taken in the House members' gym and show a shirtless Weiner with a towel around his waist and his hand on his crotch. TMZ said the photos were sent online to at least one woman.

Weiner has said that he would wait to determine his next step in facing calls to step down upon the return of his wife, Huma Abedin, who is a close adviser to Hillary Clinton and currently on a trip with the secretary. It was reported last week that Abedin and the congressman are expecting a child.
The New York Daily News reported on Sunday night that a source indicated Weiner is now considering stepping down.
Popular in the Community