Though Pastor Robert Jeffress insists that he doesn't think that President Obama is the Antichrist, he does make the assertion that Obama's policies are opening the door for the Antichrist in his newest book, Perfect Ending. The Dallas, Tex., based pastor of First Baptist Church has been warning his congregation about Obama for years.
According to the release, the book "focuses on understanding the often-confusing topic of Bible prophecy and explains how Christians can recognize prophetic events that may be taking place in our world—and America's government—today."
It appears that Obama's stance on marriage equality is one of the main policies that Jeffress considers to be a portent of the end times. An excerpt from the book published by the Dallas Observer states:
For the first time in history a president of our country has openly proposed altering one of society's (not to mention God's) most fundamental laws: that marriage should be between a man and a woman. While I am not suggesting that President Obama is the Antichrist, the fact that he was able to propose such a sweeping change in God's law and still win reelection by a comfortable margin illustrates how a future world leader will be able to oppose God's laws without any repercussions.
An "anti-christ" is mentioned only a few times in the Bible, and is generally interpreted as a particular enemy who will persecute believers around the time of the Second Coming of Jesus, whereupon Jesus will destroy the Antichrist.
This isn't the first time that Jeffress has warned people about the dangers of Obama's path. In a sermon at First Baptist Church before the November 2012 election, he urged people not to vote for Obama, saying that while he wasn't claiming that Obama is the Antichrist or not a Christian, but, "But what I am saying is this: the course he is choosing to lead our nation is paving the way for the future reign of the Antichrist."
Related
Before You Go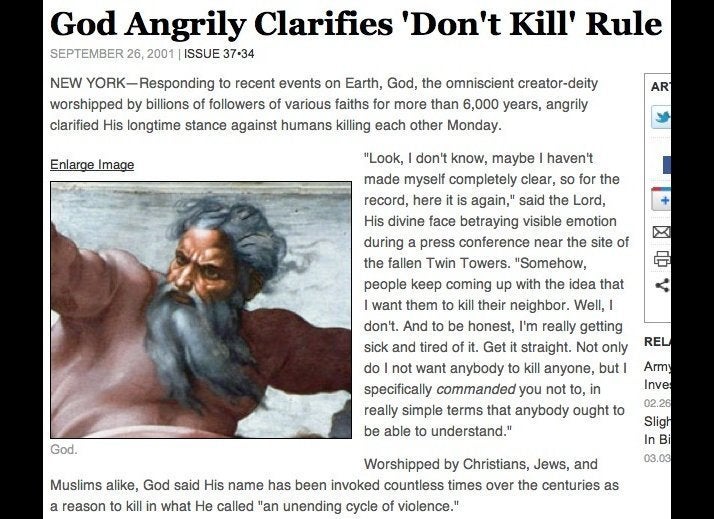 The Onion Religion News Coverage
Popular in the Community