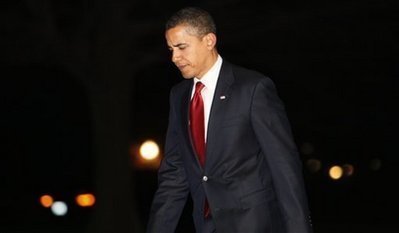 UPDATE: Kolan McConiughey, a Special Olympics bowling champion with an average score of 266, is challenging President Obama to a game, TMZ reports:
Kolan -- who works at a grocery store in Ann Arbor, Mich. -- said he'd love to go to the White House to beat Barack on his own lane. Kolan said, "He's cool, but he can't beat me."
WASHINGTON -- President Barack Obama has apologized to the chairman of the Special Olympics for his late-night talk show quip equating his bowling skills to those of athletes with disabilities.
Appearing on "The Tonight Show" Thursday, the president told host Jay Leno he'd been practicing at the White House's bowling alley but wasn't happy with his score of 129. Then he remarked: "It was like the Special Olympics or something."
The audience laughed, but the White House quickly recognized the blunder. The Special Olympics is a non-profit organization dedicated to individuals with mental and physical disabilities.
On his way back to Washington on Air Force One, Obama called the chairman of the Special Olympics, Tim Shriver, to say he was sorry -- even before the taped program aired late Thursday night.
"He expressed his disappointment and he apologized in a way that was very moving. He expressed that he did not intend to humiliate this population," Shriver said Friday on ABC's Good Morning America. "He, I think importantly, said he was ready to have some of our athletes over to the White House to bowl or to play basketball, or help him improve his score."
Still, Shriver said, "I think it's important to see that words hurt and words do matter. And these words that in some respect can be seem as humiliating or a put down to people with special needs do cause pain and they do result in stereotypes."
Shriver is the son of Special Olympics founder Eunice Kennedy Shriver and nephew of Sen. Edward M. Kennedy, whose endorsement early in the Democratic primaries was critical to Obama winning his party's nomination.
Deputy Press Secretary Bill Burton told reporters traveling with Obama that the president's offhand remark was not meant to disparage the Special Olympics, only to poke some fun at the commander in chief's bowling skills.
"He thinks that the Special Olympics are a wonderful program that gives an opportunity to shine to people with disabilities from around the world," Burton said.
Despite making fun of his score, the president appears to be getting better the more he visits the White House lanes, which President Truman installed in 1947. During a campaign photo op a year ago at a bowling alley in Altoona, Pa., he rolled only a 37 in seven frames. The clip of the disastrous game was replayed on late night television shows such as Leno's _ one of Obama's few campaign gaffes.
Calling all HuffPost superfans!
Sign up for membership to become a founding member and help shape HuffPost's next chapter