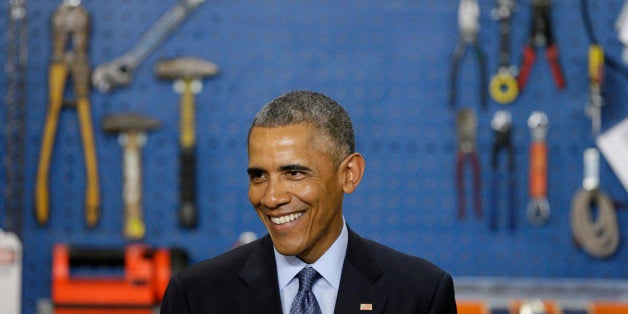 After nearly a year of static approval ratings, President Barack Obama's numbers are showing signs of a modest rise.
Obama's approval rating languished in the mid-40s through nearly all of 2014, seemingly unaffected by a raft of foreign policy crises and a bruising election cycle, before ticking up toward the end of the year amid improving views of the economy.
Two polls released Wednesday show that trend carrying into the new year. A CBS News poll puts Obama's approval at 46 percent, up 7 points from October, while a Pew Research survey finds him at 47 percent, up 5 points since December.
Pew saw the president's standing improving mostly among political independents, while CBS also found him gaining among Democrats.
HuffPost Pollster, which tracks all publicly available polling, shows his rating at its highest since early 2013, though more Americans still disapprove than approve. Here's Obama's average rating for the past two years, with the chart set to be more sensitive to shifts in opinion:
Economic issues remain a top priority for Americans, and past polling found that opinions about Obama's efforts on the economy are by far the biggest driver of how Americans rate him overall.
Democrats have wrestled with how much credit to take for a shift that has yet to personally benefit many Americans. Surveys, however, show a widespread sense that the national economy is growing stronger. Measures of economic confidence, which were negative for nearly seven years, crossed into positive territory at the end of December and have since continued to climb. A record high 38 percent of Americans told Pew that Obama's economic policies have improved the situation.
The percentage of Americans who say the country is on the right track, which dipped to an average 20 percent during the government shutdown and remained stalled at about 25 percent for most of last year, is now closer to 30 percent.
Ratings for both the Republican and Democratic parties also appear to have risen slightly since last December -- by 4 and 5 points respectively, according to Pew.
But Republicans themselves remain largely exempt from the growing optimism. Those in the Pew survey were 25 points less likely than Democrats to rate the economy as excellent or good, while an Economist/YouGov poll found that just 7 percent of Republicans think the nation is headed in the right direction.
The new GOP-controlled Congress has yet to reap the benefits of warming public opinion -- unusual in the year after a switch in party control. A Gallup survey found the current Congress starting out with an approval rating of 16 percent, virtually unchanged from the view of the legislature late last year.
CBS surveyed 1,001 adults between Jan. 9 and 12, while Pew surveyed 1,504 adults between Jan. 7 and 11. Both used live telephone interviews to reach landlines and cell phones.
Calling all HuffPost superfans!
Sign up for membership to become a founding member and help shape HuffPost's next chapter
BEFORE YOU GO
PHOTO GALLERY
2014 Election Results: Winners & Losers