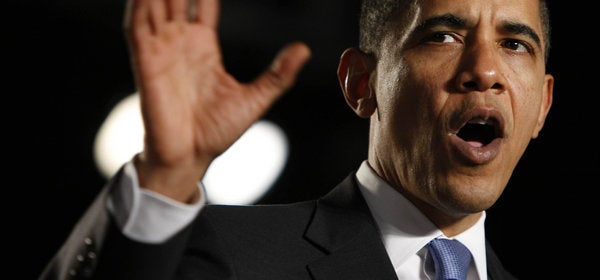 Despite a wounded economy and public furor aimed at Wall Street, a new CBS poll finds President Obama's approval rating has actually gone up.
Sixty-four percent of Americans say they favor the job that Obama is doing right now, a modest increase of two points since CBS's poll earlier this month. More notably, ratings for the president's handling of the overall economy jumped five points, from 56 percent to 61 percent.
The news is not all good however. On the AIG bonuses issue specifically, Obama is facing his first instance of relatively high disapproval with 42 percent disapproving (versus 41 percent approving and 17 percent undecided).
The poll numbers can be explained in part by the fact that most Americans do not think there was much the Obama administration could have done about the bonuses. Only 12 percent think the administration had a lot of control over the payouts, while more than half say the administration had little or no control.

Even so, 56 percent of Americans say the administration ought to have found some way to stop the bonuses from being paid out. Thirty-four percent said it should not have.
The president is set to give his second prime-time press conference Tuesday and it is generally presumed that a central focus will be on mollifying public outrage over towards the AIG handling. From the AP:
Obama is virtually certain to use Tuesday's prime-time news conference to continue an effort that began over the weekend: cooling the anti-AIG ferocity, now that it threatens to undermine his efforts to bail out the nation's deeply troubled financial sector.

Obama's tone changed dramatically after the House voted last week for targeted taxes to take back most of the $165 million in bonuses paid to AIG executives. Many lawmakers felt Obama had encouraged their step, because he called the bonuses reckless, outrageous and unjustified.
Read through the complete poll results below:
Popular in the Community