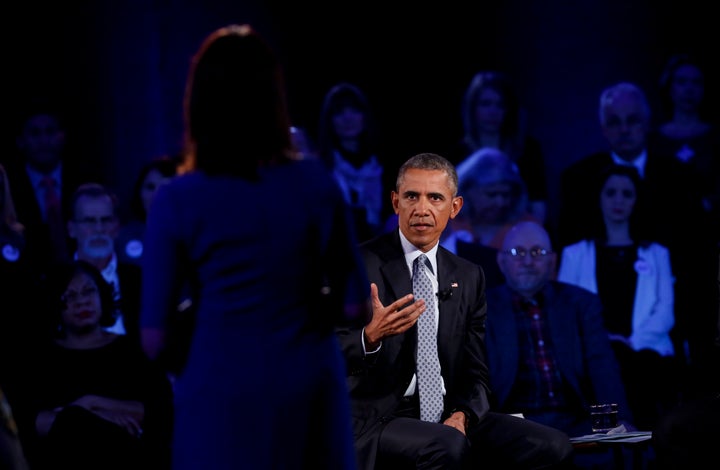 When President Barack Obama gives his final State of the Union address on Tuesday, he'll do so facing near-record disapproval from the American public.
The president hasn't delivered a State of the Union with positive ratings since 2013, just after his re-election. But his approval rating, which had remained steady for most of last year, now seems again to be ticking downward.
Nearly 52 percent of Americans currently disapprove of Obama's job performance, according to HuffPost Pollster's average of all public polling. That's similar to his standing in 2014.
The State of the Union gives Obama an opportunity to outline his accomplishments and define his priorities for his last year in office. If history is any guide, however, the speech probably won't do much to change what Americans think of his presidency.
Here's that same chart, narrowed in to show Obama's average approval rating during the weeks before and after last year's State of the Union, on Jan. 20, 2015. As in previous years, it bears an uncanny resemblance to a straight line.
State of the Union speeches have a celebrated history of not making much of an impact. A 2010 Gallup analysis found that the speeches delivered since the beginning of the Carter administration resulted, on average, in a "less than a 1 percentage-point decline" in presidential approval.
Bill Clinton, the biggest exception, gave his most successful speech "just days after news broke of his alleged affair with former White House intern Monica Lewinsky," according to Gallup.
Most Americans simply aren't watching the addresses, let alone paying close attention to the content. In a 2015 HuffPost/YouGov poll, about one-quarter said they'd watched the previous State of the Union, and only 4 percent reported remembering it very well. (Given people's predilection to pretend they're paying more attention to civic events than they are, those numbers are likely a little high.)
The people most likely to tune in to watch any president are also those least likely to need any convincing.
Democrats have been consistently more likely than Republicans or independents to say they're interested in watching Obama's speeches -- just as Republicans were more likely to watch George W. Bush.
Still, at least some of the slight downturn in Obama's rating is coming from his own party. About 18 percent of Democrats currently disapprove of him. If Obama changes any minds this late into his presidency, it's more likely that he'll do so by winning back jaded supporters than by convincing anyone else to shift their views.
Popular in the Community