TUCSON, Ariz. — Summoning the soul of a nation, President Barack Obama on Wednesday implored Americans to honor those slain and injured in the Arizona shootings by becoming better people, telling a polarized citizenry that it is time to talk with each other "in a way that heals, not in a way wounds." Following a hospital bedside visit with Rep. Gabrielle Giffords, the target of the assassination, he said: "She knows we're here, and she knows we love her."
SCROLL DOWN FOR LIVE UPDATES
In a memorably dramatic moment, the president said that Giffords, who on Saturday was shot point-blank in the head, had opened her eyes for the first time shortly after his hospital visit. First lady Michelle Obama held hands with Giffords' husband, Mark Kelly, as the news brought soaring cheers throughout the arena.
Speaking at a memorial at the University of Arizona, Obama bluntly conceded that there is no way to know what triggered the shooting rampage that left six people dead, 13 others wounded and the nation shaken. He tried instead to leave indelible memories of the people who were gunned down and to rally the country to use the moment as a reflection on the nation's behavior and compassion.
"I believe we can be better," Obama said to a capacity crowd in the university's basketball arena – and to countless others watching around the country. "Those who died here, those who saved lives here – they help me believe. We may not be able to stop all evil in the world, but I know that how we treat one another is entirely up to us."
In crafting his comments, Obama clearly sought a turning point in the raw debate that has defined national politics. After offering personal accounts of every person who died, he challenged anyone listening to think of how to honor their memories, and he was not shy about offering direction. He admonished against any instinct to point blame or to drift into political pettiness or to latch onto simple explanations that may have no merit.
Speaking of Christina Taylor Green, the nine-year-old who was killed on Saturday, Obama said:
That's what I believe, in part because that's what a child like Christina Taylor Green believed. Imagine: here was a young girl who was just becoming aware of our democracy; just beginning to understand the obligations of citizenship; just starting to glimpse the fact that someday she too might play a part in shaping her nation's future. She had been elected to her student council; she saw public service as something exciting, something hopeful. She was off to meet her congresswoman, someone she was sure was good and important and might be a role model. She saw all this through the eyes of a child, undimmed by the cynicism or vitriol that we adults all too often just take for granted.

I want us to live up to her expectations. I want our democracy to be as good as she imagined it. All of us - we should do everything we can to make sure this country lives up to our children's expectations.
He also deviated from his prepared remarks, saying emphatically, "I want America to be as good as she imagined it."
Video of Obama's remarks:
Visit msnbc.com for breaking news, world news, and news about the economy
For more on Obama's speech, click HERE or scroll down for the latest updates.
01/21/2011 3:05 PM EST
Welcome To Houston
Giffords' flight has arrived in Houston, KOLD reports.
01/21/2011 2:45 PM EST
En Route To Texas
Rep. Giffords is heading towards Houston. The Arizona congresswoman's trip includes portions via ambulance, helicopter and jet. The AP reports that she will "undergo weeks of rigorous therapy."
01/21/2011 2:43 PM EST
Leaving Arizona
Photos of Rep. Giffords' motorcade earlier on Friday as she began the trip to Houston.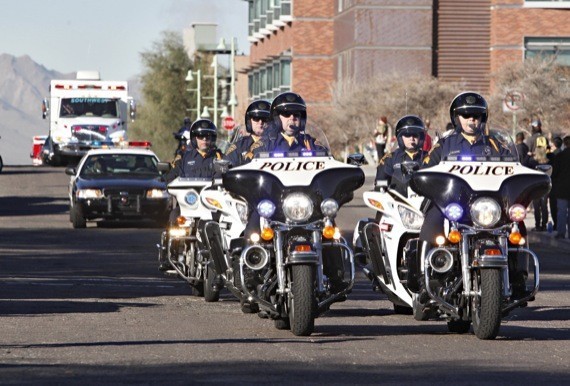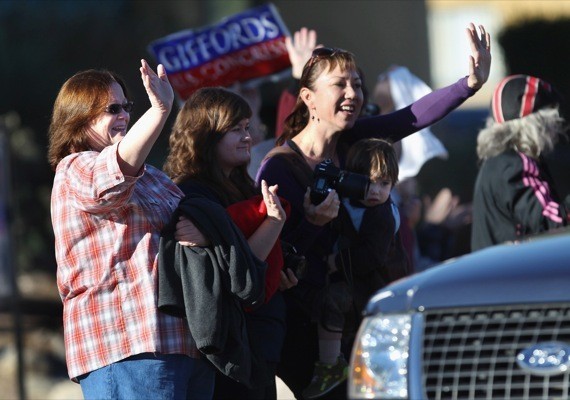 01/20/2011 11:10 PM EST
Shooting Victim Recounts Judge's Heroism
AP reports on one victim's memories of Judge John Roll's heroic actions the day the tragic shootings rocked Tucson:
Ron Barber can remember the small details of the Tucson rampage: The gunman, the crackle of gunfire, lying on the ground, wounded, and the weight of a body on him.

A week and a half later, Barber found out that it was his good friend John Roll.

Then he learned the federal judge may have helped save his life.
Full story here.
01/20/2011 10:32 PM EST
Statement From Judge Roll's Widow
Judge John Roll's wife, Maureen, has issued a statement in response to her husband's tragic death and the events that unfolded in Tucson, AZ Central reports:
There are no words to describe how my world was shattered on Saturday morning, Jan. 8, 2011. Not only did I lose John Roll, my husband and best friend of more than 40 years, but our three sons lost a wonderful father and our grandchildren their beloved papa. But something else happened that day and in the days that have followed.
Read the full statement here.
01/20/2011 10:28 PM EST
PHOTO: Giffords Goes Outside
Giffords' family reported that she felt the sunshine on her face today for the first time since she was shot. Her office released the below photograph of the congresswoman's bed on a hospital deck, with husband Mark Kelly by her side.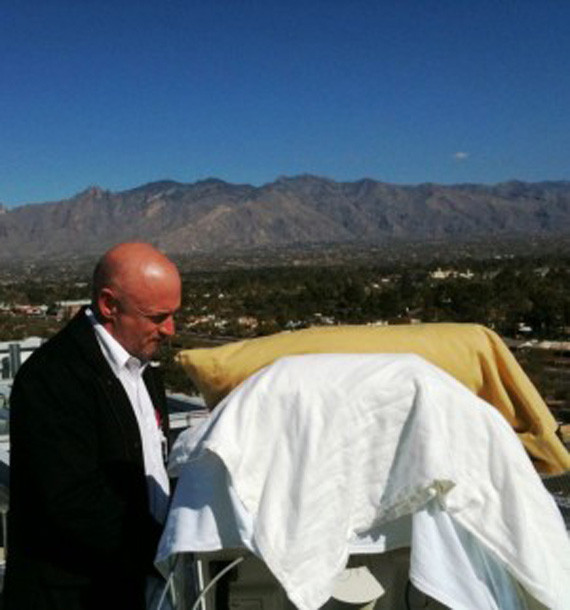 01/20/2011 10:12 PM EST
Giffords Transferring To Houston Friday
Arizona's KFDA reports that Congresswoman Giffords will be transferred to Houston's TIRR Memorial Hermann hospital at 9am local time tomorrow:
Officials at University Medical Center in Tucson say the congresswoman is expected to leave shortly after 9 a.m. local time and travel by ambulance to Davis-Monthan Air Force Base for a medical flight to Texas.

A group of motorcycle riders from a Veterans of Foreign Wars post will escort the ambulance.

Once in Houston, she will be taken by helicopter to TIRR Memorial Hermann hospital.

Traveling with Giffords will be her husband, Mark Kelly; her mother, Gloria Giffords; trauma surgeon Dr. Peter Rhee and an intensive care unit nurse.
Full article here.
01/19/2011 11:05 PM EST
Death Penalty For Loughner?
AZ Central reports on the terms of Loughner's indictments, and what would constitute the death penalty:
Superseding indictments could come as early as 60 days in the murders of U.S. District Judge John Roll and Giffords' aide Gabe Zimmerman. Sources indicated that the indictments would be done piecemeal in order to meet constitutional requirements.

The federal criminal code allows penalties of up to life in prison for an attempted assassination of a member of Congress. When federal murder charges follow, prosecutors could seek the death penalty.
Full story here.
01/19/2011 11:03 PM EST
Surveillance Video Shows Gunman Shooting Giffords
The AP reports on a video that has surfaced of the shooting rampage:
John Roll was called a fair federal judge and a loving family man at his funeral. Now, some are also calling him a hero.

Surveillance footage of the Jan. 8 shooting rampage in Tucson showed that he used his body as a shield to cover an injured man. Roll then took a bullet to the back, and lost his life in the process.
Full story here.
01/19/2011 11:02 PM EST
Giffords Family Weighs Rehabilitation Course
The AP reports:
Giffords' family hopes to move the Arizona congresswoman on Friday to TIRR Memorial Hermann hospital in Houston, where her husband lives and works as an astronaut. The exact day of the move will depend on her health.

"I am extremely hopeful at the signs of recovery that my wife has made since the shooting," Mark Kelly said in a statement released by Giffords' congressional office. The staff at University Medical Center in Tucson "has stabilized her to the point of being ready to move to the rehabilitation phase."
Full story here.
REAL LIFE. REAL NEWS. REAL VOICES.
Help us tell more of the stories that matter from voices that too often remain unheard.