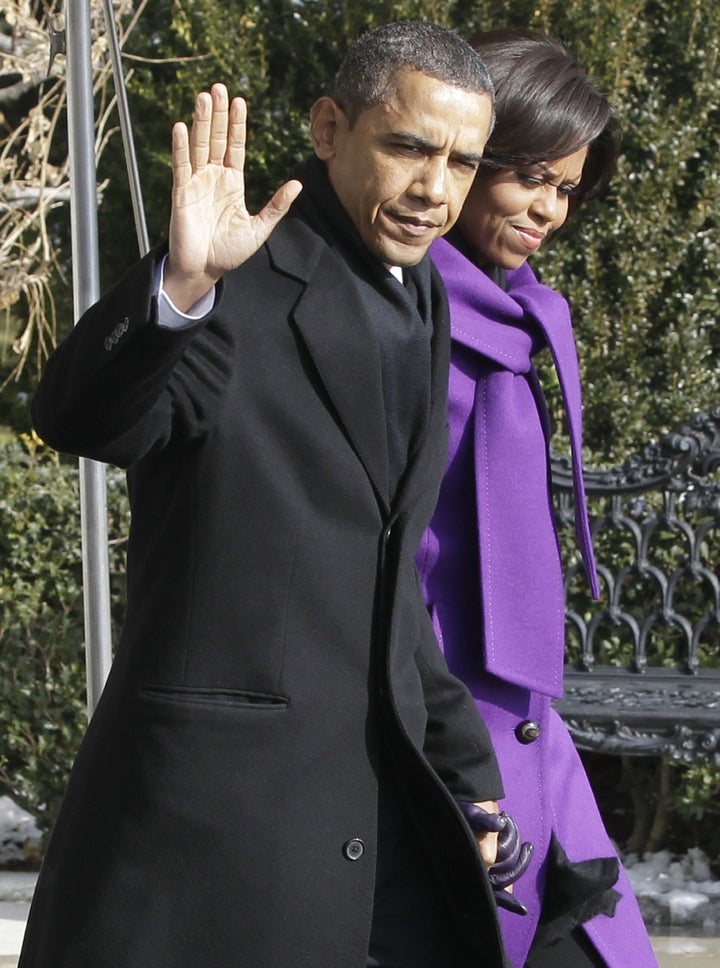 TUCSON, Ariz. — Summoning the soul of a nation, President Barack Obama on Wednesday implored Americans to honor those slain and injured in the Arizona shootings by becoming better people, telling a polarized citizenry that it is time to talk with each other "in a way that heals, not in a way wounds." Following a hospital bedside visit with Rep. Gabrielle Giffords, the target of the assassination, he said: "She knows we're here, and she knows we love her."
SCROLL DOWN FOR LIVE UPDATES
In a memorably dramatic moment, the president said that Giffords, who on Saturday was shot point-blank in the head, had opened her eyes for the first time shortly after his hospital visit. First lady Michelle Obama held hands with Giffords' husband, Mark Kelly, as the news brought soaring cheers throughout the arena.
Speaking at a memorial at the University of Arizona, Obama bluntly conceded that there is no way to know what triggered the shooting rampage that left six people dead, 13 others wounded and the nation shaken. He tried instead to leave indelible memories of the people who were gunned down and to rally the country to use the moment as a reflection on the nation's behavior and compassion.
"I believe we can be better," Obama said to a capacity crowd in the university's basketball arena – and to countless others watching around the country. "Those who died here, those who saved lives here – they help me believe. We may not be able to stop all evil in the world, but I know that how we treat one another is entirely up to us."
In crafting his comments, Obama clearly sought a turning point in the raw debate that has defined national politics. After offering personal accounts of every person who died, he challenged anyone listening to think of how to honor their memories, and he was not shy about offering direction. He admonished against any instinct to point blame or to drift into political pettiness or to latch onto simple explanations that may have no merit.
That's what I believe, in part because that's what a child like Christina Taylor Green believed. Imagine: here was a young girl who was just becoming aware of our democracy; just beginning to understand the obligations of citizenship; just starting to glimpse the fact that someday she too might play a part in shaping her nation's future. She had been elected to her student council; she saw public service as something exciting, something hopeful. She was off to meet her congresswoman, someone she was sure was good and important and might be a role model. She saw all this through the eyes of a child, undimmed by the cynicism or vitriol that we adults all too often just take for granted.

I want us to live up to her expectations. I want our democracy to be as good as she imagined it. All of us - we should do everything we can to make sure this country lives up to our children's expectations.
He also deviated from his prepared remarks, saying emphatically, "I want America to be as good as she imagined it."
Video of Obama's remarks:
For more on Obama's speech, click HERE or scroll down for the latest updates.
Support HuffPost
The Stakes Have Never Been Higher
Popular in the Community