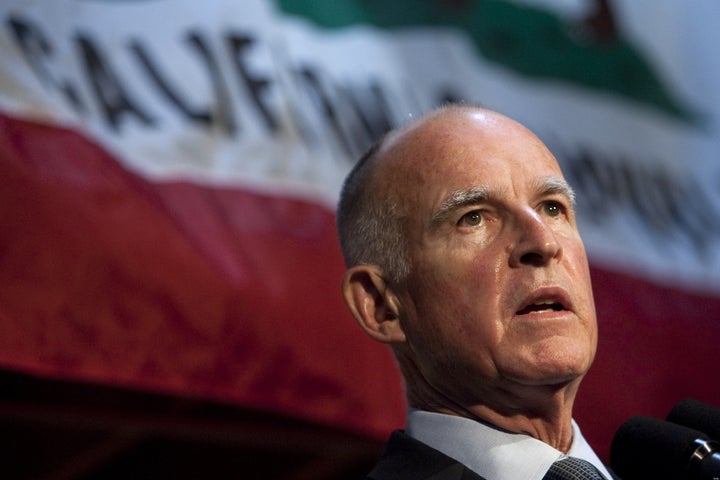 The latest UN global climate summit has just gotten underway in Cancun, Mexico with little progress in store, despite 2010 turning out to be perhaps the hottest year on record. That makes the moves underway in California even more significant. Especially since, to President Barack Obama's evident dismay, action in Congress was already dead even before Republicans took over the lower house of Congress.
We'll see if there's any action in Cancun, following last year's debacle in Copenhagen, covered here on the Huffington Post. There was some action two weeks ago in California, where the UN again co-sponsored Governor Arnold Schwarzenegger's third annual Governors' Global Climate Summit, with the launch of a new global organization of subnational governments and agreements to preserve tropical forests.
Last December, amidst the wreckage of the UN climate summit of national governments in Copenhagen, Governor Arnold Schwarzenegger called for a global program of concerted action by subnational governments -- states, provinces, cities, and regions.
Schwarzenegger, who is succeeded in office by Jerry Brown, the landslide winner over billionaire Meg Whitman, on January 3rd, began these gatherings in 2008. (Incidentally, I've been assisting Schwarzenegger in assessing his governorship.) They bring together "subnational" leaders, i.e., governors of states and provinces around the world, along with leaders of cities and regions, a wide array of national and UN officials, scientists, policy experts, business people and activists.
The first, which I wrote about here on the Huffington Post, was at the Beverly Hilton in LA and featured a video address from a then senator named Barack Obama, who'd been elected president just a few weeks earlier (and just a few days after Schwarzenegger had amusingly excoriated him in his sole campaign appearance with John McCain, the weekend before the election in Columbus, Ohio).
The high energy continued at the 2009 summit, held at another hotel in Los Angeles, the Century Plaza. The following month came the debacle in Copenhagen, and this year brought a series of setbacks in American politics.
This year's gathering, far from the glitz of LA, was in Northern California, at the University of California at Davis, long a key developmental center of the move to a greener economy. Whether it was the setting, not exactly a tourism magnet 15 miles from the Capitol in Sacramento, the impending end of Schwarzenegger's governorship, or general gloom about political setbacks, there were fewer people in attendance at the gleaming Mondavi Center.
But there was still some notable action, and noteworthy participants such as Conservative British Prime Minister David Cameron, longtime Conservation International board member Harrison Ford, former Republican Secretary of State George Shultz, Deepak Chopra, Nobel laureate Dr. Rajendra Pachauri, and state and provincial governors from the U.S. and around the world. And Schwarzenegger had a great story to tell.
That, of course, was the landslide defeat of Proposition 23, the initiative to do away with California's landmark climate change/renewable energy program. Schwarzenegger and his environmental and business allies defeated Prop 23 by a whopping 61.6% to 38.4%.
"When the Copenhagen summit on climate change failed to reach agreement last December," Schwarzenegger noted, in what may be his last big event as governor of California, "many thought it was the beginning of the end for the fight against global warming. But I can report nearly a year later that the Green Revolution is alive and robust in states, provinces, and localities across the world, starting in California."

"Over the last several months an epic battle has played out right here in our state leading up to the elections. It was a battle of the old economy versus the new; of David versus Goliath. The same set of polluting special interests that blocked international action in Copenhagen and strangled environmental legislation in Washington descended on California to try to overturn our landmark legislation -- Assembly Bill 32 -- to curb carbon emissions and promote a clean energy future."

"They rightly feared that, as the world's eighth largest economy, California's size and global presence has the clout to shape environmental change around the world. We may only be a little spot on the planet, but California, as a bellwether state and outpost of innovation, has the influence of an entire continent. They thought that if they could crush the green momentum in California like they did in Copenhagen and Washington, they could take any serious action on energy and the climate off the public agenda."
Then President-elect Barack Obama addressed the first Governors' Global Climate Summit two years ago in Los Angeles.
Needless to say, the attendees thrilled to the story of what George Shultz, a Schwarzenegger friend and Republican icon who served in four Cabinet posts under Presidents Ronald Reagan and Richard Nixon, called "the largest public vote ever" on energy policy. Shultz co-chaired the "No on 23" campaign with Democratic investor Tom Steyer.
With gridlock in Washington, and in the UN climate process, the example of California looms very large on the climate and energy politics landscape.
Ironically, more than a few participants wondered if Brown will continue the same focus as Schwarzenegger.
It's ironic because Brown has championed a new energy path since the 1970s, when he decided to eschew the plan laid out by the big utility companies to build dozens of nuclear power plants and fossil fuel plants in California to support the same wasteful patterns of energy usage. Instead, Brown pursued a strategy of energy efficiency and greater use of renewable energy, cutting the state's electric power growth rate from 7% to 2% per year.
Governor-elect Jerry Brown, California's attorney general, and Governor Arnold Schwarzenegger joined forces in 2007 to protect California's landmark climate change/renewable energy program from the Bush/Cheney Administration.
Brown's approach was widely derided by the wiseguys of the time as "woodchips and windmills," which made George W. Bush's use of the phrase in a positive sense in his 2006 State of the Union address all the more delicious.
Brown blazed the original trail, which Schwarzenegger turned into a highway.
Of the governors who came between them, Republicans George Deukmejian and Pete Wilson largely ignored renewable energy sources but saw the value of energy efficiency programs. Democrat Gray Davis, who had been Brown's chief of staff, established a renewable energy requirement for the utilities and signed then state Assemblywoman Fran Pavley's landmark bill to cut tailpipe emissions of greenhouse gases.
I remember talking with Schwarzenegger about these things in 2002, a year before he ran for governor, in a relatively late-breaking decision, in the dramatic 2003 California recall election. He made it clear that he wanted to go beyond what Davis was doing on climate and renewables.
Schwarzenegger made this aggressive stance a significant part of his campaign in 2003 and continued in office, only to find his first, more generically conservative Republican team dragging its heels. There was, for example, a memorable episode when he inquired as to the status of his "Million Solar Roofs" bill. Which, once he finally got it going, was blocked by Democratic legislative leaders insistent on requiring union labor.
Schwarzenegger made his climate and renewable energy policies part of his 2005 State of the State address and issued an executive order that year, but it was all overshadowed by his unsuccessful special elections initiative agenda. It was 2006 when things really started clicking, with Schwarzenegger moving through the Public Utilities Commission to institute his solar roofs program and working with now state Senator Fran Pavley of LA and then Assembly Speaker Fabian Nunez to enact the AB 32 climate change legislation, incorporating flexibility to meet existing economic concerns.
Celebrating Earth Day 2007 in Iowa City, then underdog presidential candidate Barack Obama talked up the California approach as his model on climate and energy policy.
Meanwhile, going forward, many attendees weren't aware of Governor-elect Jerry Brown's history and policies. As I've written in my reports on the campaign just past, Brown intends to produce 20,000 megawatts of electric power from renewable energy sources. As for AB 32, Brown worked with Schwarzenegger to defend it against the Bush/Cheney Administration, as he'd emphasized in his landslide election as California's attorney general in 2006.
Brown was not on hand himself for the summit, spending its concluding day on the other side of the Yolo Causeway in Sacramento, where he worked on the state's budget crisis and his own transition to the governorship. While Brown was doing that, I was backstage at the Mondavi Center with Schwarzenegger and dozens of officials from other countries for the summit's conclusion. Schwarzenegger and I talked a bit about Brown and the road ahead.
After being showered with awards from four energy and environmental organizations -- causing Schwarzenegger to quip that "Of all the awards I've ever received, these are the most recent" -- Schwarzenegger gave a rather personal talk about his views. Citing the persistence of his heroes Nelson Mandela, Mikhail Gorbachev, and Eunice Kennedy Shriver, he made it clear that he would continue promoting the climate/renewable energy issue.
Then it was time for some signings. The governors of Acre province in Brazil and Chiapas province in Mexico signed agreements to preserve tropical forests, linking their forests to California's emerging carbon market.
Governor Arnold Schwarzenegger signed California's landmark climate change/renewable energy program into law at this 2006 ceremony on Treasure Island in San Francisco Bay.
Finally it was time for dozens of leaders to sign on to R20, the concept of which Schwarzenegger announced last December in Copenhagen. What's R20? It's a UN-endorsed alliance of subnational governments, named to bring the G20 to mind. The R20 Regions of Climate Action, to use its full name, is supposed to facilitate low-carbon projects around the world, with subnational governments from developed nations and developing nations, and private groups, working together. It's about technology, design, and creative use of markets.
While Schwarzenegger will play the role of founding chairman from his Santa Monica office, the group will be headquartered in Geneva.
One key advantage it has starting out is that it's not bound by the UN's consensus procedures involving 194 nations, allowing the flexibility to find opportunities, strike agreements, and establish more of a critical mass for change. In contrast, at one point last year in Copenhagen, even the vague document finally produced was being blocked by opposition from Venezuela.
Harrison Ford discussed the issues at Schwarzenegger's third annual Governors' Global Climate Summit.
Of course, one transnational group, even if highly effective, can't prevent the cooking of the planet by itself, though it can provide key examples and create a critical mass.
Change will have to come in many places, not the least of them the national governments of China and the U.S. Both were well represented at this summit.
But Chinese officials, while talking proudly of their very expansive move into renewable energy, were essentially non-committal on greenhouse gas reductions. That's probably because their rapid industrialization is largely being fueled by coal-fired electricity generation.
Russians were barely in evidence at the event, despite Schwarzenegger's friendship with President Dmitry Medvedev and high-profile trip to Moscow in October. Of course, that may be the point, as subnational officials in Russia are largely selected by the top national leadership. Medvedev joked that he would appoint Schwarzenegger as Moscow's mayor if only he were Russian.
But it's no joking matter to note that Russia is the world largest petroleum producer. While Russian leaders say they want a high tech economy and support anti-greenhouse moves, the country is largely dependent on resource extraction, and has major claims on the warming Arctic, a likely treasure trove of petroleum and minerals as the ice caps diminish.
There's one other huge problem. No other major political party in the world is more dismissive of climate change than America's Republican Party.
Schwarzenegger hasn't been able to prevent that. He was able to bring Secretary Shultz into the fray, and to finesse business leaders, but the Republican Party in his own state swung far right even as Schwarzenegger himself won two landslide elections as governor hewing to a more centrist course.
Schwarzenegger discussed his third annual Governors' Global Climate Summit at the University of California at Davis.
He made an explicit appeal to the California Republican convention in September 2007, urging the delegates to respond to more mainstream views. But his speech was tepidly received, and he was followed immediately after by Texas Governor Rick Perry who got the crowd roaring with his right-wing red meat. Driving away from Palm Springs the next day, I called Jerry Brown and told him that the Republicans were moving hard right, ignoring Schwarzenegger's centrism, which would give him a tremendous opening if he ran for governor in 2010.
The Republicans' shift into hard reactionary politics made Brown's landslide possible, even against the biggest-spending candidate in American history. But their intransigence on the energy and the environment -- which is very unusual for a serious conservative political party in an advanced industrial democracy -- makes progress at the national level all the more difficult.
As recently as 2008, the Republican standard-bearer, John McCain, was an advocate of moves against greenhouse gases. Today all the Republican candidates, in the grip of Tea Party know-nothings and lobbyists for the energy economy of the past, are against these moves.
Which makes California all the more important.
Related
Popular in the Community