The University of Texas professor was just one of the many irked by Obama's January 2014 remarks in Wisconsin. His exact words: "I promise you, folks can make a lot more potentially with skilled manufacturing or the trades than they might with an art history degree."
I am relatively sure that my email was not so much one of outrage at Obama's statement, but rather a 'look what we do well' statement. I emphasized that as art historians, we challenge our students to think, read, and write critically. I also stressed how inclusive our discipline is these days (even though my own specialty is medieval and Renaissance Italy). So I'd like to see this whole series of events in a very positive light.
Johns didn't save the original post, because, as she explained to The Huffington Post, "who ever thinks that she's going to get a hand-written letter from the President?!" But her expectations were shattered when Obama answered her words, sending her a personalized apology on February 12.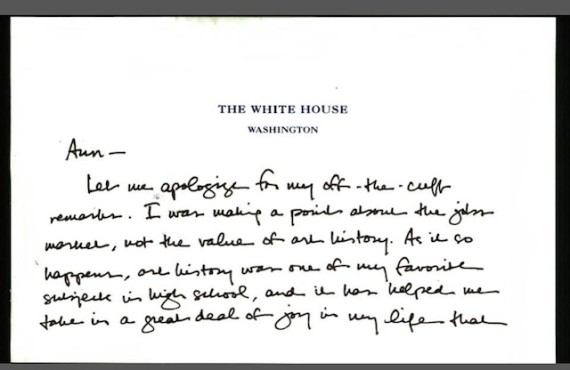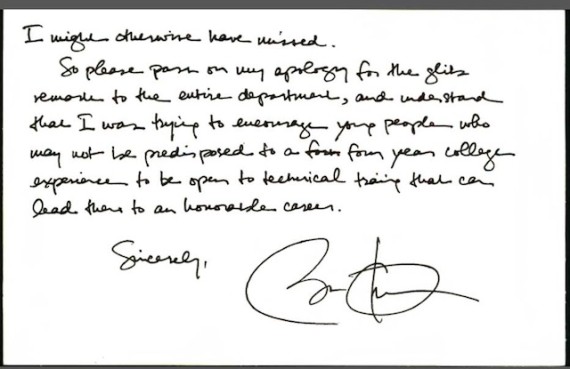 (Images reproduced with permission from Ann Collins Johns)
Ann --

Let me apologize for my off-the-cuff remarks. I was making a point about the jobs market, not the value of art history. As it so happens, art history was one of my favorite subjects in high school, and it has helped me take in a great deal of joy in my life that I might otherwise have missed.

So please pass on my apology for the glib remark to the entire department, and understand that I was trying to encourage young people who may not be predisposed to a four year college experience to be open to technical training that can lead them to an honorable career.

Sincerely,

Barack Obama
Johns emphasized her respect for the president, stating to Huff Post that she thinks "Obama's done an amazing job under the grimmest of circumstances."
"I also very much appreciate the message that he was trying to convey that day -- that we need young people to take our manufacturing jobs and feel as though this is an honorable path," she added. "But I felt it was important for him to know that art history is no longer just the purview of 'the girls with pearls' (as we called it when I was an undergrad, a long time ago)."
Let us know what you think of Obama's note in the comments.
Related
Popular in the Community