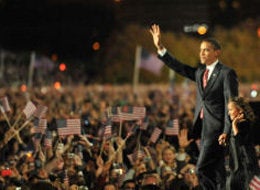 Something that struck me about this year's election was just how much art sprung up around it. Politically charged art is far from rare, it comes and goes with fashion: Barbara Kruger's text pieces during the Reagan period -- railing against the perceived injustices of a conservative government, Martha Rosler and her feminist critique Semiotics of the Kitchen, recently revived with a new body of anti-war works at Mitchell Innes & Nash Gallery. Conservative governments often produce angry art because, as the artist Chuck Close points out: "the art world is generally centre-left". More recently we have had Wayne Gonzales' "poster" for the Republican Party (pictured), the All-Star cast listed next to one of the most jarring images of the current conservative government, a hooded Abu Ghraib detainee. Two elements of our multimedia, digitized, Twittered, Facebooked age; loud shouting, professional, happy fonts, juxtaposed with a grainy, sinister camera phone photograph. The best and the worst of contemporary visual language pushed together make a compelling piece.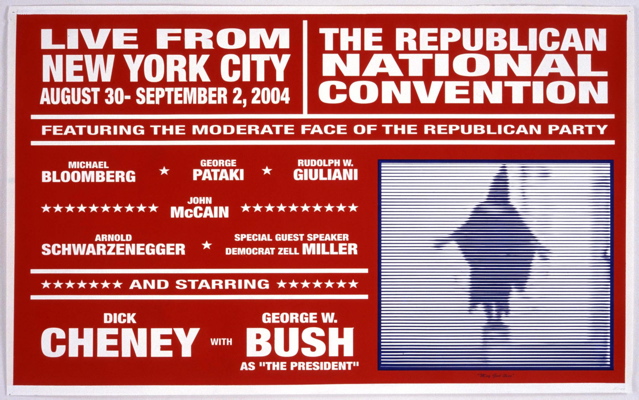 But political portraits that rolled out over the past year are a slightly different matter. Not the commissioned examples that line corridors of power but those that appear organically alongside campaigns as amateur or urban art.
Tuesday night's spectacle proved just why Barack Obama has inspired a lot more than most candidates, much of which up until recently had been smart poster-like and kitsch (http://www.obamaartreport.com/). His grinning face framed by the rays of the sun, haloed by hope, a theme that seems to be central to any image of him largely borrows from Russian Constructivism (though it couldn't have done him any favours in the minds of those who believe he's a communist).
Other attempts to render the President-elect have a distinctly neo-Pop feel to them. Ron English, best known for his culture-jamming or, as he prefers to describe it "liberating" of famous advertising iconographies such as, McDonald's and Mickey Mouse, has turned the Democratic Senator into one of the ultimate figures of American aspiration, Abraham Lincoln (http://popaganda.com/). No big surprise there, as Obama's mentor Charles Ogletree pointed out on The Daily Show on Tuesday night, Lincoln was the other skinny guy from Illinois who made a difference.
The difference with Obama is that where art inspired by or associated with the Republican Party represents them as a single entity and its ability to undermine itself with the disturbing imagery associated with the past eight years, Obama Art singles him out as a lone figure of new opportunity and change. We were constantly presented with the man and not the party. His spin-doctors must have been delighted.
Last week at FIAC, the Parisian art fair, it was the "fine artists'" turn. New York based gallery David Zwirner unveiled two portraits by Chinese artist Yan Pei-Ming of McCain and Obama (http://news.bbc.co.uk/1/shared/spl/hi/pop_ups/08/entertainment_enl_1224856984/html/1.stm). It was hardly surprising that one of the first "fine art" examples of a portrait of the candidates came from a Chinese artist as their work is so frequently politically charged. The current generation of artists to come out of China (many of whom live in exile) have not been able to escape a fascination with Mao Zedong and the visual myths that surrounded him. Yan Pei-Ming is most famous for his epic, rapidly painted portraits and his examination of Obama and McCain is no different
The portraits are not unlike Chuck Close's work, who also painted the Clintons and Al Gore. Their faces fill the canvasses so the viewer is forced to look at nothing else and whilst Pei-Ming uses large watery brush strokes instead of Close's tightly painted pixels, the overall effect is quite similar.
What Pei-Ming's work also sums up so succinctly is why Obama attracts so much artistic attention. He is much more interesting to look at. Even though both candidates are depicted as unsmiling, McCain resembles a dear caught in headlights whilst there is a dignified composure to Obama's tight-lipped severity. The reason Obama inspires art is the same reason those thousands of people fell silent in Chicago when he spoke, he simply commands your attention.
British artist Boo Ritson (http://www.bravinlee.com/artists/ritson/ritson_FerrisAndLori.html) like most of us Brits admits to having been hooked on the drama of the U.S. Election. Ritson's work has always been concerned with the way American film, television and literature have portrayed the American Dream which she describes as having "inevitably been a story about the past, about condensed stereotypes and clichés, albeit an affectionate one". Indeed, her second solo show in London was called Hotdogs and Heroes and her practice consists largely of photographed portraits of real people whom have been covered in a thick layer of freshly applied, wet paint. The character that Ritson finds within them is bought out -- normal people suddenly become beauty queens, cowgirls, mafia bosses and even Elvis.
As an artist so obsessed with the American Dream I asked her what she thought about the portrayals of Obama:
"The characters that we want to believe in for the future, that stand for courage, hope and fortitude (the heroes and dreamers, the visionaries and pioneers) whether they be the leaders of men (and women!) or the family struggling to make ends meet, are endlessly sought and played back to us when they are found: I think that is what we have in this election with the Obama story, where the man is becoming inseparable from the hope that we want to feel."
I asked Ritson how she would paint him:

"As The Astronaut, American flag in the background, helmet tucked under his arm and a pair of impossibly cool wrap-around sunglasses shading his eyes: a new pioneer for a new age, a representative of our dreams in a new world (where we can start again and get it right this time)".
Watching him waving at the crowds in Chicago on November 4th, I think we all felt a bit like that.
Wayne Gonzales
Red Poster 2004
Acrylic on paper
64.8 x 104.1cm
(25 1/2 x 41in)
Courtesy of the artist and Stephen Friedman Gallery, London