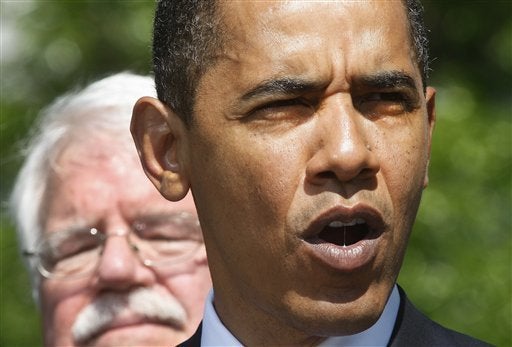 President Obama, speaking this afternoon, made a direct statement to both the Tamil Tigers as well as the Sri Lankan government regarding the enduring civil war and widespread civilian devastation in that country. Obama asked that the Tigers lay down their arms and surrender to the Sri Lankan government, and he asked that the Sri Lankans cease "the indiscriminate shelling" with heavy artillery that has been decimating civilians. The growing humanitarian crisis has captured international attention for weeks now.
Obama's statements Wednesday came shortly after Amnesty International (AI) -- one of many humanitarian groups who has been vocal about the growing humanitarian crisis -- issued an official plea, saying: "While U.S. Secretary of State Hillary Clinton and U.N. Ambassador Susan Rice have voiced concern, President Obama himself must speak out publicly and forcefully over the wanton disregard for human rights in Sri Lanka."
Amnesty International also reached out the the United Nations Security Council, writing in their statement: "The Council must convene without any further delay to discuss the latest disturbing developments and immediately require that attacks on civilians by the Sri Lankan army or the LTTE be stopped; that the LTTE allow all civilians to leave the conflict area; and that the Sri Lankan government provide immediate access to international monitors and humanitarian agencies."
The military has denied firing any heavy weapons in recent weeks, but Human Rights Watch says both sides are using the estimated 50,000 civilians packed into the last rebel-held territory as "cannon fodder." The Red Cross said one of its workers was killed in shelling Wednesday.
In calling for the violence to end, Obama this week joins the ranks of UN Secretary General Ban Ki-Moon, who said he is "appalled at the killing"; and British Foreign Secretary David Miliband, who described civilians in Sri Lanka as, "victims of what at the moment is a war without witness,"according to Bloomberg. Additionally, the US State Department has issued its own statement, describing the death toll in Sri Lanka as "unacceptably high."
It is estimated that 50,000 civilians remain trapped in the Tamil Tiger-controlled, besieged northern area.
Related
Popular in the Community