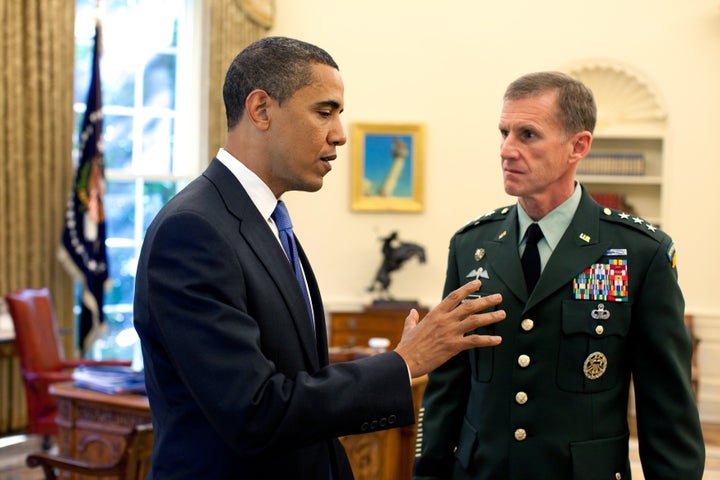 A week ago, I argued that President Obama sent three disturbing messages in choosing West Point as the site to announce his escalatory plans for the Afghan war. A week later, I'd like to make three further points. First, I believe that the President undermined the grave seriousness of his speech by deciding post-speech to press the flesh of cadets while posing for smiling photos. An urgent call to battle was transformed into a political photo-op. "Grip and grin" photos are best left to times of celebration, like class graduation, rather than to times of grim news of the need to commit more troops to a difficult and deadly war.
Second, the President was right to emphasize that West Point cadets "represent what is finest about our country." His meaning here was clear: they're the "finest" because they "stand up for our security." Having myself taught military cadets for six years, these words resonated with me. But I wish the President had elaborated further because, in spelling out why he considers our troops to be our "finest," Obama could have reminded us of the enormous burdens -- and enormous price -- of war.
Put bluntly, by ordering another 35,000 or so American troops to Afghanistan, Obama was ordering men and women, including some of the young cadets from West Point's long grey line sitting in that very auditorium, to their deaths. Their willingness to sacrifice their lives in the service of their country -- to support and defend the Constitution of the United States against all enemies, foreign and domestic -- marks them as being among our finest.
The ultimate price these cadets are prepared to pay puts an enormous burden on the judgment and wisdom of their Commander-in-chief. For what president wants to send America's finest to fight and perhaps die for a lost cause or, even worse, an unjust one?
It's not for West Point cadets, or for any other serviceman or servicewoman, to question the orders of their Commander-in-chief. They are duty-bound to carry out his orders to the best of their ability. But as "pure" citizens, we are not duty-bound to snap to attention and to salute smartly.
Obama, after all, is not our Commander-in-chief: he's our President, our most senior public servant. We owe it to our troops to challenge him if we believe escalation in Afghanistan is not the best course of action to secure America's safety.
So, my third point is to remind us of our duty as informed citizens to ask the tough questions of our public servants -- even, if necessary, to dissent and protest -- precisely because our troops are prevented from doing so by their solemn oath of office.
But I worry that we are not informed citizens, and that because of that fact, and because our personal stake in our nation's wars is so small compared to that of the West Point cadets, we largely don't seem to care, or care enough.
In a decidedly unscientific poll, I asked three of my classes, a total of 59 students, if they had watched the President's speech on Afghanistan. Only one student did (and these were students enrolled in History classes).
So, I worry. I worry about more American combat brigades being sent overseas, a momentous decision capped by a photo-op of our President surrounded by beaming cadets in the prime of life. I worry that so many of my students are seemingly so ill-informed, or so uninterested, about the ramifications of this decision.
But I hope, for the sake of our troops as well as for the Afghan people, that our President somehow got it right, and that the cause for which we fight is neither lost nor unjust.
Professor Astore currently teaches History at the Pennsylvania College of Technology in Williamsport, PA. He writes regularly for TomDispatch.com and can be reached at wastore@pct.edu.
Popular in the Community