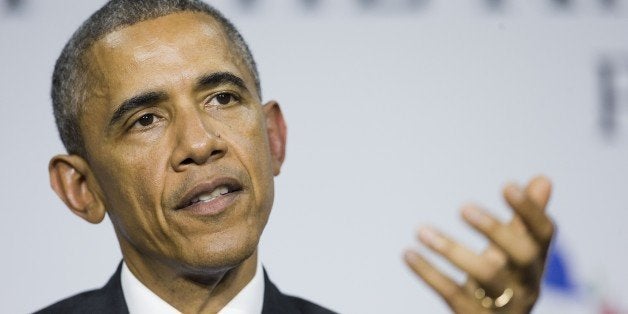 The White House chided Congress on Monday for having its priorities "backwards," citing the legislative branch's desire to expand President Barack Obama's war powers while remaining eager to have a say in his diplomacy efforts.
Obama revealed a framework agreement on Iran's nuclear program two weeks ago that has taken significant heat from Congress. Republicans and at least nine Democrats in the Senate want to be able to weigh in on any final deal.
White House spokesman Josh Earnest mocked lawmakers for wanting a say in the ultimate outcome of nuclear negotiations with Iran while simultaneously pushing to give Obama more power to go to war against the Islamic State group.
"We see Congress eager to weigh in and advocate for the role that they should have that would prevent diplomacy, while at the same time, you hear members of Congress who are unwilling to take any steps that would constrain the president's ability to wage war," Earnest said during Monday's press briefing. "It seems to me they might have their priorities a little backwards."
Republicans argue Obama's new Authorization for the Use of Military Force request doesn't go far enough and restricts the president's power too much. On the other hand, Democrats want strict limits on the use of ground troops and geographic locations.
House Majority Leader Kevin McCarthy (R-Calif.) said Monday that Obama's request is headed nowhere, and expressed doubt that it could even reach a simple 218-vote majority in the House.
"I do not see a path to 218 with what the president sent up because the world has become more dangerous since he laid out Yemen as the strategy of how to move forward," McCarthy told reporters during a briefing in his office. "This would weaken our ability to respond to current situations."
The White House has pointed to counterterrorism efforts in Yemen as an example of success and a model for the administration's mission against the Islamic militant group. However, ongoing fighting in Yemen has resulted in the U.S. closing its embassy.
Moving forward, McCarthy said, he thinks Congress should look to the committee process. He expects the House intelligence and foreign affairs committees will hold hearings on the Islamic State and what the AUMF would need to contain for the U.S. to be able to respond adequately to the group.
Jennifer Bendery contributed reporting.
REAL LIFE. REAL NEWS. REAL VOICES.
Help us tell more of the stories that matter from voices that too often remain unheard.
BEFORE YOU GO
PHOTO GALLERY
Women In Congress