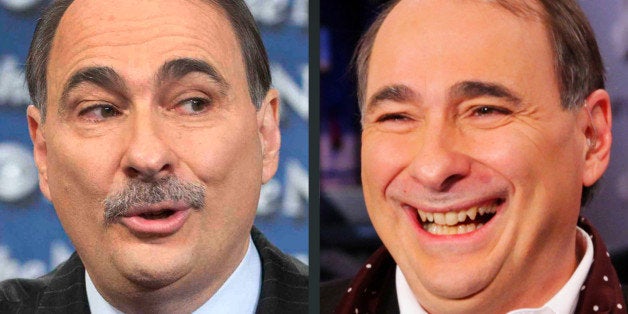 Longtime Democratic operative and Obama aide David Axelrod tried to talk the president out of running for the U.S. Senate in 2004, according to Axelrod's upcoming memoir to be published Tuesday.
Axelrod writes that he suggested Obama instead mount a primary challenge to incumbent U.S. Rep. Danny Davis (D-Ill.) or run for mayor of Chicago upon the rumored imminent departure of longtime Mayor Richard Daley. (Daley ultimately stepped down in 2011.) The Senate was judged to be too unrealistic.
"After all, he had just failed badly in a House race in a largely black district. Now he wanted to aim higher -- a black man from the South Side of Chicago with no money, no statewide organization, and precious little name recognition," Axelrod writes in his new book Believer: My 40 Years In Politics, an advance copy of which was obtained by The Huffington Post. "And that's before you considered the problem that Obama's exotic surname rhymed with that of the hated terrorist who, one year earlier, had masterminded the horrific 9/11 attacks that killed three thousand Americans."
Axelrod also reveals that two other Illinois Democratic candidates approached him about assisting their 2004 Senate bids, then-Comptroller Dan Hynes and businessman Blair Hull.
In the end, of course, Obama would make that Senate bid in 2004 and best Hull and Hynes for the Democratic nomination. A fairly famous address at that year's Democratic National Convention and a weak Republican candidate paved the way for a general election victory. From there came a run for the White House. Through it all, Axelrod was along for the ride, sticking with Obama through the first few years of his administration before leaving to help guide his re-election campaign.
With no campaign left to aid and no White House left to tend to, Axelrod has now written a book about his journey. Other notable passages detail friction and rivalries among members of Obama's inner circle, intrigue and secret deals related to the selection of the vice president, credible threats on the president's life and an inside look at some of the toughest political decisions that the president had to make.
One of those decisions occurred before Obama was president -- though, tellingly, he already had the presidency on his mind. Axelrod paints Obama's vote to confirm John Roberts, President George W. Bush's nominee for chief justice, to the Supreme Court as one of the most difficult choices Obama faced.
Some of Obama's personal friends had vouched for Roberts, and Obama's adviser and Communications Director Robert Gibbs noted that voting for the conservative nominee would position Obama in the political center, which could be helpful in future elections.
The decision to ultimately vote against the nomination came down to a personal meeting with Roberts, according to Axelrod.
"I spent time with Roberts, and came away convinced that he is qualified in every way," Axelrod quotes Obama as saying. "He's obviously bright. He knows his stuff. But I also have this nagging feeling, based on his opinions, that anytime there's a contest between the powerful and the powerless, he'll find a way to make sure the powerful win. That's how he'll interpret the law. And that's not my vision of how the courts should work, and particularly not the Supreme Court."
Robert would end up confirmed to the court and quickly appointed to the role of chief justice. He would, ironically, cast the deciding vote to salvage the signature legislative achievement of the president's time in office -- ruling that the individual mandate in the president's health care law was constitutional under Congress' power of taxation.
It was the passage of the Affordable Care Act more than two years prior that marked Axelrod's most moving moment of his tenure with Obama. He called the law's passage "emotionally overwhelming," writing, "I began to cry -- not little sniffles, but big, heaving sobs." Axelrod's daughter, Lauren, has epilepsy, making the legislation both personally and politically meaningful.
On the other end of the emotional spectrum for Axelrod was the 2009 inauguration, when he writes that he was told by incoming Chief of Staff Rahm Emanuel that there was a credible threat from a group of radicalized Somali-Americans. Axelrod wrote out the emergency instructions for Obama, including the words the president-elect would speak from the podium if necessary to inform the estimated 1.8 million people in the crowd to follow directions and leave in an orderly fashion. Shortly before the inauguration, Axelrod writes, "I cornered [Obama] and handed him the sheet of paper with the emergency instructions. He tucked it into his pocket without even looking at it -- and thankfully, he would have no reason to read it later."
In some of the book's lighter -- though still serious -- passages, Axelrod describes the frenetic life of a presidential campaign and life inside the White House. There is the time when real estate mogul Donald Trump offered his services to clean up the 2010 oil spill in the Gulf, and the internal staff squabbles that had Emanuel plotting out how to get longtime Obama confidant Valerie Jarrett out of the White House and running for the president's old Senate seat (as the New York Daily News reported this week).
Axelrod recalled breaking the news that 2008 Republican presidential nominee John McCain had selected Sarah Palin as his running mate for vice president. Obama was surprised, guessing that it was a long-shot ploy to "blunt the 'change thing'" and "create some buzz."
"But I'll tell you something," Obama said, according to Axelrod. "I think I'm reasonably smart, and it took me a good six months to figure out how to handle this whole national campaign thing. Now maybe she's the greatest politician since Ronald Reagan, and she can come out of Alaska with a year or two as governor and deal with all the pressure and scrutiny. But I would give it about three weeks before we make a judgment. Let's see how she handles all of this."
Joe Biden, according to Axelrod, replied "Who's Sarah Palin?" upon hearing the news.
Drama surrounded the president's own choice for vice president as well. As the New York Daily News reported this week, Axelrod writes that the struggling presidential campaign of then-Sen. John Edwards (D-N.C.) proposed a deal shortly before the critical South Carolina primary, in which Edwards would stay in the race and (so the theory went) split the white vote with Hillary Clinton and allow Obama to win the state -- if Obama guaranteed him the running mate spot. According to Axelrod, an Edwards emissary divulged that Clinton was offering him the position of attorney general, "but what John really wants is to be on the ticket again."
When Axelrod relayed the proposal to Obama himself, Obama replied "Seriously? He wants me to commit the vice presidency to him to stay in the race? Forget about it."
Months later, when deciding among the final contenders for the vice president position, two of the country's most prominent Democrats called Axelrod to offer their unique recommendations.
Senate Majority Leader Harry Reid (D-Nev.) advocated Robert Gates, then serving as Bush's secretary of defense. Axelrod called the suggestion "intriguing" but not entirely feasible, since Gates was "was a Republican, and despite Obama's vow to end the red state / blue state divides, there wasn't much public appetite for such a fusion ticket." Gates had previously mentioned in his memoir that Reid had suggested he consider the VP slot, a move Gates called "delusional." Axelrod's book makes clear that Reid took the idea seriously enough to suggest it to the Obama campaign.
Obama would keep Gates on as secretary of defense.
Meanwhile, the ailing Ted Kennedy had a VP pitch of his own. He recommended that Obama choose Sen. John Kerry (D-Mass.) for the post. The two had served together as Massachusetts senators for more than two decades, but the idea of tapping the party's most recent presidential nominee was judged too "odd."
Obama later named Kerry as secretary of state.
Calling all HuffPost superfans!
Sign up for membership to become a founding member and help shape HuffPost's next chapter
BEFORE YOU GO
PHOTO GALLERY
So Long, Stache: A Look At Axelrods Mighty Whiskers