As Barack Obama rides out his final week as president, we're remembering him as America's signature pop-culture president.
Oh sure, television got John F. Kennedy elected in 1960, Ronald Reagan began his career as a movie star, and Bill Clinton amplified his cool factor by playing saxophone on "The Arsenio Hall Show" in 1992. The Obamas, however, are the first presidential family to treat popular culture as a clear extension of politics, and not in the Trumpian reality-TV way.
From Oprah Winfrey's victory-sealing endorsement to frequent late-night appearances and an affinity for Broadway's "Hamilton," Obama's relationship to pop culture was no mere political maneuver ― he's kept a keen awareness of the role entertainment plays in history and a verifiable appreciation for the arts.
With that, we've compiled a list of Obama's signature pop-culture moments (or at least the ones with audiovisual evidence). Watch our supercut above, then browse the individual items below for an overview of the past eight years, gone too soon.


Nov. 3, 2007: Obama appears in a "Saturday Night Live" cold open in which he attends the Clintons' Halloween party.
Dec. 8, 2007: Michelle Obama welcomes "first lady of television" Oprah Winfrey at an Iowa campaign rally, about seven months after Winfrey first endorsed Barack Obama. Economists later concluded that Winfrey's support won Obama 1 million votes in the primaries and caucuses. 
April 17, 2008: Responding to negative campaign ads, Obama alludes to Jay Z's "Dirt Off Your Shoulder." 
Jan. 20, 2009: At an inaugural ball, the Obamas share their first dance as the first couple while Beyoncé sings Etta James' "At Last."
March 19, 2009: Obama becomes the first sitting president to appear on a late-night talk show. 
Dec. 6, 2009: Obama calls Bruce Springsteen "one cool rockin' daddy" while feting the singer at the Kennedy Center Honors. "I'm the president, but he's The Boss," Obama says.
Dec. 12, 2010: Obama and his family sing "Hark! The Herald Angels Sing" alongside Mariah Carey, Ellen DeGeneres, Matthew Morrison, Maxwell, Annie Lennox, Andrea Bocelli and Miranda Cosgrove during TNT's annual "Christmas in Washington" special.
Jan. 16, 2012: Obama wishes Betty White a happy 90th birthday. 
Jan. 19, 2012: During a fundraiser at the Apollo Theater, Obama sings a few charming bars of Al Green's "Let's Stay Together."
April 24, 2012: Obama slow-jams the news on "The Tonight Show" for the first time, encouraging Americans to sign up for health insurance. 
Oct. 19, 2012: "We talk about the same things I talk about with all my friends," Obama says of his rapport with Beyoncé and Jay Z. One of those so-called normal conversation topics includes making sure Jay Z is helping out with Blue Ivy around the house.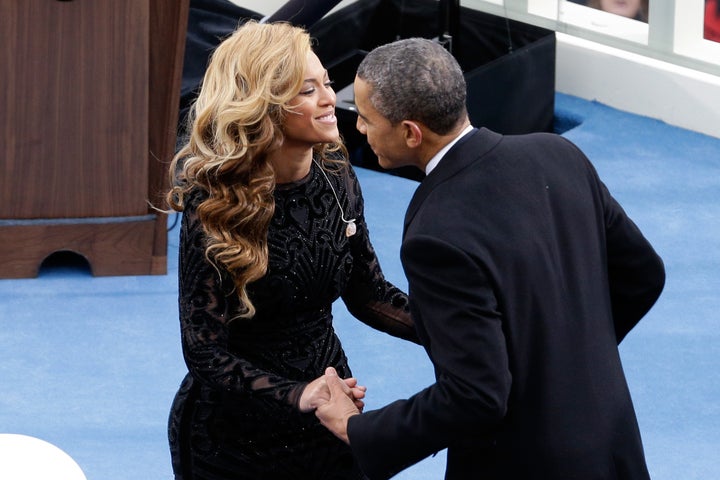 Dec. 29, 2013: The New York Times publishes a detailed account of Obama's viewing habits. His favorite television shows are "Boardwalk Empire," "Breaking Bad," "Downton Abbey," "Game of Thrones," "Homeland," "House of Cards," "Mad Men" and "The Wire." (He'd previously told TV Guide he also watches "Modern Family" and "Parks and Recreation.")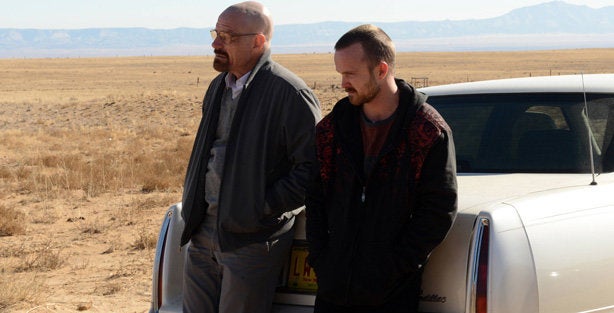 Jan. 28, 2014: In his State of the Union address, Obama says, "Today, women make up about half our workforce. But they still make 77 cents for every dollar a man earns. That is wrong, and in 2014, it's an embarrassment. A woman deserves equal pay for equal work. ... It's time to do away with workplace policies that belong in a 'Mad Men' episode."
March 11, 2014: Obama becomes the first politician to appearing on Zach Galifianakis' "Between Two Ferns," where he encourages Americans to sign up for health insurance. (Hillary Clinton appeared on the web series during her 2016 campaign.)
March 12, 2015: Obama reads Mean Tweets.
April 1, 2015: Obama impersonates Kevin Spacey's fictional "House of Cards" president in an April Fools' Day video. 
April 25, 2015: Obama invites Keegan-Michael Key's Luther the Anger Translator to interpret part of his speech at the White House Correspondents' Dinner. 
June 22, 2015: Obama appears on the podcast "WTF with Marc Maron," where he says Sasha and Malia find him "completely boring."
Dec. 17, 2015: Obama survives the Alaskan wilderness on "Running Wild with Bear Grylls."
Dec. 30, 2015: Obama appears on Jerry Seinfeld's "Comedians in Cars Getting Coffee."
Jan. 15, 2016: Obama says he'd pick Kendrick Lamar over Drake in a rap battle, naming "To Pimp a Butterfly" his favorite album of 2015.
March 14, 2016: The Obamas invite the cast of "Hamilton" to the White House to perform the opening number from the smash Broadway musical. (In 2009, Lin-Manuel Miranda performed a rough version of the song at the White House Poetry Jam. No one had heard it before. Miranda said it was from a "hip-hop concert album" he was working on.) 
March 15, 2016: Obama invites Miranda to the Rose Garden for a freestyle rap about the government. 
April 30, 2016: Obama concludes his final White House Correspondents' Dinner with the words "Obama out" and a mic drop. 
June 9, 2016: Obama meets longtime supporter Madonna, who was the musical guest on his last appearance on "The Tonight Show."
Aug. 11, 2016: Obama releases a summer playlist.
Oct. 31, 2016: Michelle and Barack dance to Michael Jackson's "Thriller" at a Halloween celebration. 
Jan. 10, 2017: In his farewell address to the nation, Obama borrows a quote from To Kill a Mockingbird hero Atticus Finch to remind America of the importance of empathy. 
REAL LIFE. REAL NEWS. REAL VOICES.
Help us tell more of the stories that matter from voices that too often remain unheard.
BEFORE YOU GO
PHOTO GALLERY
Barack and Michelle Obama's Sweetest Moments