With Barack Obama and Hillary locked in a close contest in Texas, both candidates are going to have to pull out all the stops to get the most boots on the ground and voters to the polls. How are they using the new online space to mobilize voters? I decided to see what the websites of Hillary and Barack would do if I signed up as a Texan. So, using my old zip code in Dallas, I went to both of their site and signed up.
(Remember, as far as they know, I'm a Texan, it's Election Day in Texas and I'm undecided but have narrowed it down to Clinton or Obama and might go vote today. I'm looking for Obama or Clinton to engage me or to focus me. I want somebody to tee me up and show me how to swing the club.)
Right off the bat, both the Clinton and Obama sites offered me the opportunities to "sign up" on their front pages. So that's what I did. I gave my Texas info and clicked.
There were differences in style right from the moment of signup.
At Obama"s site, his technology immediately identified me as a Texan and whisked me quickly to a Texanish page that prominently featured the Lone Star of the Texas state flag (something very dear to all Texan hearts), along with three choices tailored just for Texans.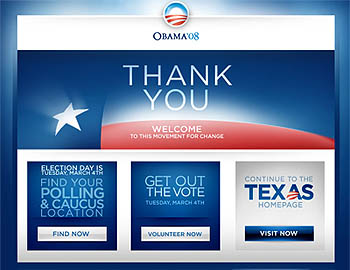 So far, any Texans would be proud of this welcome. With simple clicks, I could either: 1) find my Texas polling and caucus location; 2) volunteer to help get out the vote, or 3) continue on to the Texas homepage.
The latter two choices didn't amount to much since this is election day. I did try to engage with those choices though. I signed up to help with GOTV but after three hours, I didn't receive a phone call or an email from any Obama staffer. If they had needed me to help get out the vote in my neighborhood today, they would have lost my participation by now. The third choice, continuing on to the Texas page, gave me a page with some semi-old news, such as locations where Barack and Michelle were appearing yesterday.
At this point, not feeling overly engaged with Obama, but still happy and pleased that I'm on a Texas website, I went back to the first choice Obama had offered, that is, to find my Texas polling place. That's where Obama strikes oil.
On the "find your polling place" page, I am greeted with a video that starts up automatically. It's Barack himself. He's talking directly to me and he's saying,
"Welcome to Texas... In Texas, it's your turn to choose your Democratic nominee for President... I need you to do more in Texas... to win, it's going to take you and as many as people as you can bring with you to vote for me... thank you."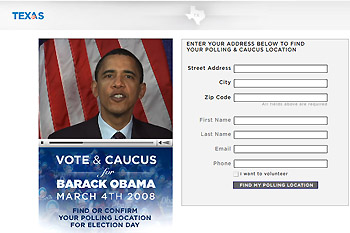 Well, I can't say that this video totally sells me on Obama. After all, I care about things like health care and inflation and the video says nothing to sway me about my issues.
But, this is engagement. It's election day and I'm here looking for a candidate to reach out to me in some way to help me make up my mind. And here's one talking to me. He's talking directly to only me. This is not an arena full of people. Here's Barack telling me that he's happy that I'm at his site and he's happy that I'm looking for my polling place. He even says "thank you."
Hmmm. Well, I must admit it's a nice touch. At least now, thanks to Barack's site, I know where my polling place is. I'm still not sold though, so I go to Clinton's site. Can she tee me up to swing for her?
After joining "Team Hillary" as a Texan, I'm taken to page two which asks me more questions. No mention here of Texas. No buttons to click for my Texas polling place. In fact, I'm feeling somehow instantly bored as I look over this inquisitive page at Team Hillary. She's asking me for my street address now and I have to give a password. I'm in a hurry! I don't want to give a password! Obama didn't ask me for one! Oh, well, I'm not going to vote for a president just on the basis of who asks me for a password, so I relent.
Hillary's second page asks me whether or not I want to help out in her office, go door-to-door, or blog for Hillary. This all seems so "last week" and not pertinent for election day. I'm also being asked about what issues are important to me, such as health care, agriculture, or education. At this point, I'm thinking that while I like Hillary's positions on most of these issues, she sure is asking me a lot of questions, isn't she? Don't you just hate it when you go to a website to get something and all the website does is to get information from you instead?
I click through to page three at Clinton's site. It opens a generic action center page. A generic action page on election day? There's still no recognition at this page that I'm a Texan. Here, I'm given all the generic links to making contributions, volunteering for an event, or the featured action - making calls for Hillary. I chose the latter.
Finally, on Clinton's page four I'm given something Texas oriented to do. While the site still doesn't seem to realize I'm a Texas voter, at least here it's giving me an opportunity to contact Texas voters. I guess the site doesn't realize I'm voting, but hopes that I'll encourage others to vote today.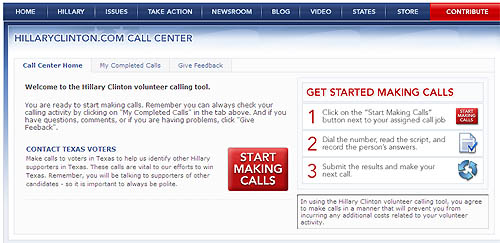 In the end, I learned nothing more about the candidates' issues by going to their pages today. If I wanted information about where to vote, I would have acquired info about polling locations only from Obama's site. If I had wanted a campaign to acknowledge me as a Texan, only Obama's site saw me as a Texan.
If I had wanted someone to send me an email, only Clinton's site did. However, Clinton's email only asked me for money and didn't encourage me to vote.
It's been three hours and I'm still waiting for Obama's site to email me. Neither site contacted me about how to help with GOTV even though I told both sites that I would be interested in helping with this today.
Oh, Hillary, if I had been in Texas today and if I had been undecided, I probably would have really wanted to vote for you today! But, it was Barack that gave me directions to my polling site. Once I go there to vote, would I feel beholden to him and feel like I should vote for him?
I mean, after all, he did have that cool video where he addressed me as a Texan and thanked me for voting in Texas today. Speaking from a Texan's point of view, I think that might just be how the sale is closed. If the Internet is a factor and the last minute voters do surge, Obama seems to have the definite advantage.
Calling all HuffPost superfans!
Sign up for membership to become a founding member and help shape HuffPost's next chapter