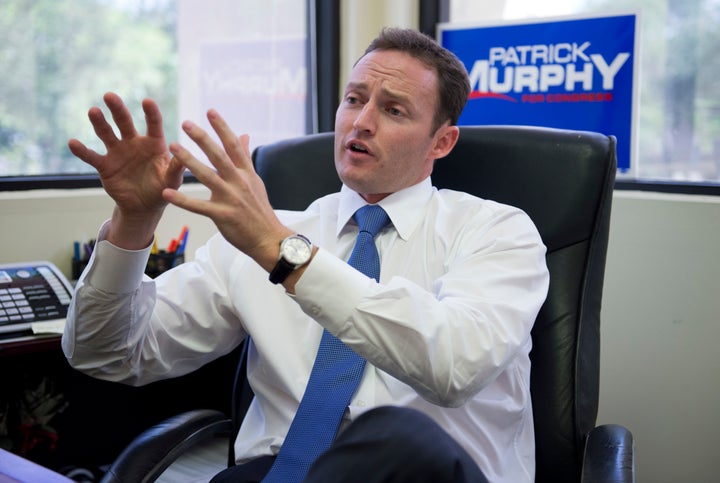 WASHINGTON -- President Barack Obama and Vice President Joe Biden have endorsed Rep. Patrick Murphy (D-Fla.) to be the Democratic candidate for the Senate in one of the party's most competitive battles this cycle, according to Murphy's campaign.
The campaign sent a statement to The Huffington Post and other outlets on Wednesday morning that cited Obama's praise for Murphy's work on a range of issues and a statement from Biden calling him a champion for the middle class.
"The President, the Vice President and I share the same values and commitment -- strengthening Social Security and Medicare for our seniors, protecting a woman's right to choose, and growing America's middle class," Murphy said, per the statement. "Over the past seven years, President Obama and Vice President Biden have been champions for Democrats and hardworking families across our country, and I am humbled and proud to receive their endorsement and campaign shoulder-to-shoulder with them for what we believe in."
The move snubs Rep. Alan Grayson (D-Fla.), Murphy's more liberal rival for the Democratic nomination in Florida's Senate race. Coming the day after presidential hopeful Hillary Clinton largely dominated Super Tuesday primary contests against her rival, Sen. Bernie Sanders (I-Vt.), it also appeared to be a sign of the party's direction as the general election nears: coalescing behind candidates who are keen to talk about Obama's legacy rather than the revolution Sanders envisions and are more likely to appeal to voters beyond the Democratic base.
At 32, Murphy has established strong ties with organized labor and worked on foreign policy as a member of the House intelligence committee. In August, he became one of the first lawmakers from Florida to endorse Obama's top foreign policy priority: a nuclear deal between six world powers and Iran. He entered Congress in 2012 after a high-profile victory over former Rep. Allen West (R-Fla.), a tea party darling.
Grayson, meanwhile, has established himself as a firebrand multimillionaire willing to bash Republicans and take on the establishment in Washington -- including the Obama administration. He first leaped to prominence by targeting contractors he said exploited U.S. taxpayers for work in Iraq after the American-led invasion of that country in 2003. 
But now, he faces his own accusations of wrongdoing. The House Committee on Ethics is investigating whether Grayson has misused his congressional perch for the sake of his business, a hedge fund previously run out of the Cayman Islands. A New York Times investigation released last month used emails and marketing documents to show that the congressman promoted the work he did on behalf of his constituents -- particularly, his trips abroad -- to win investors for his fund.
Sen. Harry Reid (D-Nev.), the Democrats' leader in the Senate, has called for Grayson to suspend his campaign against Murphy because he believes the congressman's alleged missteps show that he is unfit to be in Congress. (Murphy feels that way, too.)
Meanwhile, Grayson has denounced Murphy for his ties to the mainstream Democratic party and his former membership in the Republican party. He called his opponent a "lickspittle pillock" who "has enlisted the help of lame party hacks like Sen. Harry Reid (BFF-Lobbyists) in a vicious smear campaign."
Biden will campaign with Murphy later this month, the congressman's campaign stated.
The Florida Democratic primary will be held on Aug. 30. Once the Republican and Democratic parties select their congressional nominees, those candidates will compete for the Senate seat that current Republican presidential candidate Sen. Marco Rubio (R-Fla.) is set to vacate in January 2017.
Calling all HuffPost superfans!
Sign up for membership to become a founding member and help shape HuffPost's next chapter
BEFORE YOU GO
PHOTO GALLERY
Where Democratic Candidates Stand On Immigration