Barack Obama finally fulfilled Bill Maher's long-held wish: He appeared on the comedian's "/www.huffingtonpost.com/news/bill-maher/"}}">Real Time" show while he's still president of the United States.
The interview, which was taped in the White House on Wednesday and aired Friday night, showed a more serious Maher. The host replaced his signature tongue-in-cheek banter with an astute discussion on issues ranging from the resurgence of socialism, healthcare reform and military spending to religion, genetically modified food and drug laws.
During the nearly 40-minute interview, the conversation unsurprisingly turned to politics and the upcoming election, with Obama warning that the stakes are high.
It's becoming increasingly difficult to get people enough information so they can be equipped to make the right decisions, according to the president.
"Look, if I watched Fox News, I wouldn't vote for me either," Obama said.
All the progress made under his administration are at risk should GOP nominee Donald Trump be elected president ― including strides on climate change and the Paris agreement, health care insurance and immigration reform, Obama warned. 
"Anybody sitting on the sidelines right now or deciding to engage in a protest vote, that's a vote for Trump," he said. "That would be badly damaging for this country and it would be damaging for the world."
Maher and Obama agreed that there was a problem with overwhelming media ― as Obama says, "800 stations" and "all these websites" ― clouding the lines between truth and lies.
"How do we create a space," the president asked, "where truth gets eyeballs and it's entertaining and we can build a common conversation around it?"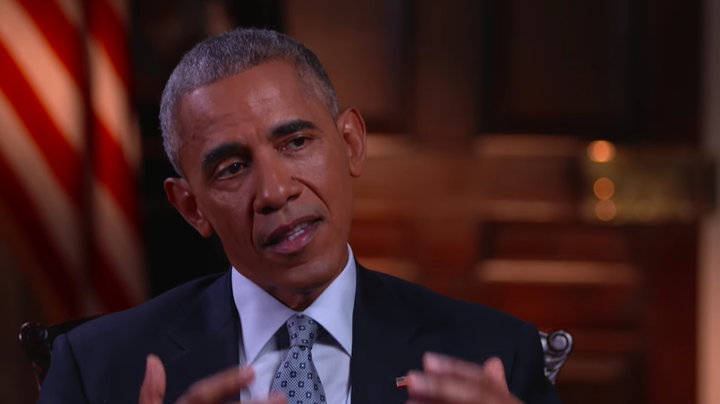 During the wide-ranging interview, Maher questioned whether it was time the federal government caught up with progressive states on marijuana laws. Obama first joked about being an ex-cigarette smoker. ("Ex?" Maher asked. "Yeah," Obama replied, with a wink.") Then he became serious, as he turned the discussion into one about opioid substance abuse, saying that the legalization of marijuana is not a "panacea."
"It is indisputable that right now the biggest drug crisis we have is with opioids, many of which are legal and ravaging entire communities across the country," the president said.
Maher also pressed the president on atheism, an issue that the comedian has openly discussed on his show. But Obama questioned whether there was an "active persecution of atheists." "We should foster a culture in which people's private religious beliefs, including atheists and agnostics, are respected," he added.
Obama's appearance on "Real Time" comes nearly a year after Maher begged his audience in January to help him get the president on the show before his time was up in the oval office. He even started a petition that gathered more than 320,000 signatures. 
This may be one of the last times that Obama appears in this type of interview before the nation elects a new president on Election Day Tuesday.
Calling all HuffPost superfans!
Sign up for membership to become a founding member and help shape HuffPost's next chapter
BEFORE YOU GO
PHOTO GALLERY
Best 2016 Election Photos