WASHINGTON -- The White House released on Wednesday President Barack Obama's "long form" birth certificate, the document whose absence has long been at the heart of the conspiracy-riddled discussion over Obama's legitimacy to serve as the nation's commander in chief.
(SCROLL DOWN FOR PHOTO OF BIRTH CERTIFICATE AND VIDEO OF OBAMA'S RESPONSE)
The move came as a surprise to the press corps, many of whom had not shown up for Wednesday's early-morning White House briefing. By the time word had spread that Obama would be making a 9:45 a.m. statement on the matter, however, the top anchors at all the networks had scurried into the briefing room.
Once there, they received a presidential scolding for their concern with "silliness." Obama began his five-minute statement with the complaint that he wouldn't be able to get the networks to break into their regularly scheduled programming for a speech on policy proposals.

"I know that there is going to be a segment of people for which no matter what we put out, this issue will not be put to rest," Obama said. "But I am speaking for the vast majority of the American people as well as for the press. We do not have time for this kind of silliness. We have better stuff to do. I have got better stuff to do. We have got big problems to solve."
"We are not going to be able to do it if we are distracted, we are not going to be able to do it if we spend time vilifying each other ... if we just make stuff up and pretend that facts are not facts, we are not going to be able to solve our problems if we get distracted by side shows and carnival barkers," the president declared earlier.
The document released by the White House differs from the one that Obama's aides made public during the 2008 presidential campaign. Instead of a "certification" of live birth, this was a "certificate," clearly recording that the president was born on Aug. 4, 1961 in the Kapiolani Maternity and Gynecological Hospital in Honolulu.

For years, Obama's circle of aides had resisted calls to make the latter form public, noting that a certification is legally sound and what any citizen of Hawaii receives upon requesting documents of birth. And indeed, for some time, that explanation -- supported by a a wide swath of other contemporaneous evidence - seemed to suffice.
But some who challenged the president's citizenship remained unsatisfied, and in recent weeks they found a high-profile megaphone for their cause: business tycoon and presidential flirt Donald Trump.
"This issue was resolved in 2008. It has not been an issue," White House Communications Director Dan Pfeiffer said during a morning briefing in which he and other officials took care not to mention Trump's name. "None of you have asked about it, called about it or reported on it until the last few weeks ... [not releasing it] would probably be good for the president politically. Despite that, the president said he was struck by how this was crowding out the debate."
Last Friday, the president himself wrote Loretta J. Fuddy, the director of health at the State of Hawaii, requesting "two certified copies of my original certificate of live birth." Fuddy complied. Shortly thereafter, the president's counsel, Judith Corley of the firm Perkins Coie, flew to Hawaii to pick up two copies of the form. The trip was not taxpayer funded but, rather, paid out of the president's personal account. Corley returned on Tuesday at roughly 4 p.m. with the copies. The White House announced a "morning gaggle" for reporters shortly thereafter. One aide explained that they did not want to "hold" on to the documents for release on a later date.
Many members of the press confessed to being "stunned" as it became clear what was about to be discussed. White House press assistants handed out a six-page stapled packet of photocopies showing the new and old birth certificates as well as the White House's legal correspondence with Hawaii's Department of Health.
And yet it was the press that played a large role in forcing the administration's hand. CNN's Ed Henry had pressed White House Press Secretary Jay Carney on the issue just one day earlier, despite the fact that his own network had done a thorough investigation debunking the claims of the conspiracy theorists.
"There will always be some selection of people who will believe something. That is not the issue," Pfeiffer said when asked if Wednesday's move would silence the doubters. "This issue is, this is not a discussion happening just among conspiracy theorists. It is happening here in this room, on all of the networks, and it is something that every major political figure of both parties -- instead of talking about real issues -- is being asked about this. So the president decided to release this."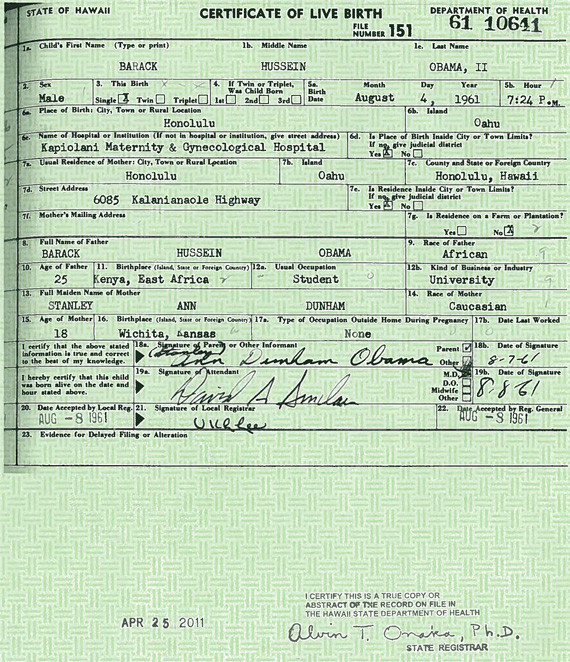 Popular in the Community