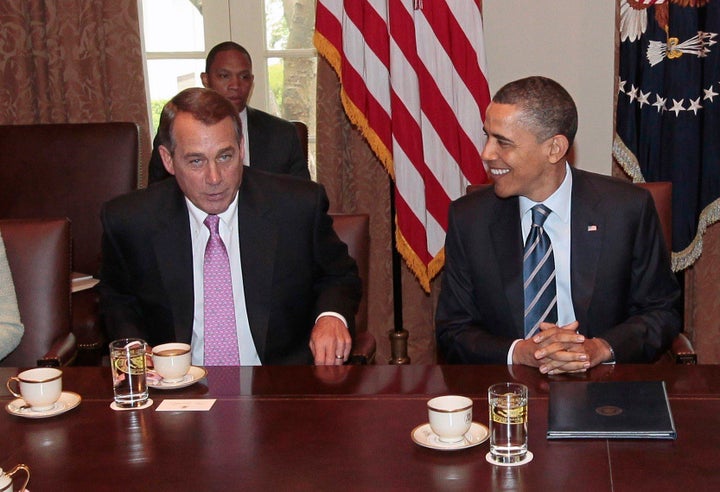 This story has been updated.
WASHINGTON -- President Barack Obama pressed Congressional leaders Tuesday to take "immediate action" to slash tax breaks for the oil and gas industry and reinvest in clean energy -- and aligned himself with Speaker John Boehner (R-Ohio) in his message.
"High oil and gasoline prices are weighing on the minds and pocketbooks of every American family," Obama wrote in a letter to Boehner, House Minority Leader Nancy Pelosi (D-Calif.), Senate Majority Leader Harry Reid (D-Nev.) and Senate Minority Leader Mitch McConnell (R-Ky.).
"While there is no silver bullet to address rising gas prices in the short term, there are steps we can take to ensure the American people don't fall victim to skyrocketing gas prices over the long term. One of those steps is to eliminate unwarranted tax breaks to the oil and gas industry and invest that revenue into clean energy to reduce our dependence on foreign oil," he wrote.
Obama cited "outdated tax laws" that provide the oil and gas industry with more than $4 billion annually in subsidies at a time when the industry is projected to report outsized profits. He pointed to his efforts to eliminate those subsidies in his 2011 and 2012 budgets -- and said he was pleased by recent signs of support on the issue by Boehner.
"I was heartened that Speaker Boehner yesterday expressed openness to eliminating these tax subsidies for the oil and gas industry. Our political system has for too long avoided and ignored this important step, and I hope we can come together in a bipartisan manner to get it done," the president wrote.
Boehner caught some off guard Monday when he said Congress should "take a look at" repealing the multibillion-dollar tax subsidies enjoyed by the major oil companies. The Ohio Republican told "ABC World News" that the government is low on revenues and that oil companies "ought to be paying their fair share." A gallon of gasoline exceeds $4 in some parts of the country.
"We certainly ought to take a look at it," Boehner said. "We're at a time when the federal government's short on revenues. We need to control spending but we need to have revenues to keep the government moving."
Sen. Charles Schumer (D-N.Y.) praised Boehner for "breaking from Senate GOP leaders" on the issue.

"It is almost too good to be true, but gas hitting four dollars per gallon seems to have finally caused Speaker Boehner to see the light on the insanity of providing subsidies to profit-soaked big oil companies," Schumer said in a press release Tuesday. "Senate Republican leaders should follow his example, and stop their senseless filibusters against attempts to repeal these giveaways."
And White House Press Secretary Jay Carney immediately hailed Boehner's comments at the start of a Tuesday briefing, though he acknowledged there are no "silver bullets" to solving the problem of rising gas prices.
"At a time when Americans are suffering every time they go to the gas station," Carney said, "to then tell them we need to spend $4 billion a year of their money to subsidize oil companies ... is not a credible argument."
But Boehner spokesman Brendan Buck pushed back on the idea that the speaker and president see eye to eye on the issue.
"The Speaker wants to increase the supply of American energy and reduce our dependence on foreign oil, and he is only interested in reforms that actually lower energy costs and create American jobs," Buck said in a statement. "Unfortunately, what the president has suggested so far would simply raise taxes and increase the price at the pump."
McConnell said Obama's call for cutting oil subsidies is "as predictable as it is counterproductive," and criticized the president for not doing more to tap into the nation's "vast energy resources."
"If someone in the administration can show me that raising taxes on American energy production will lower gas prices and create jobs, then I will gladly take a look," the Senate minority leader said in a statement. "But since nobody can, and the president's letter to Congress today doesn't, this is merely an attempt to deflect from the policies of the past two years."
This story was updated to include the comment from Sen. McConnell.