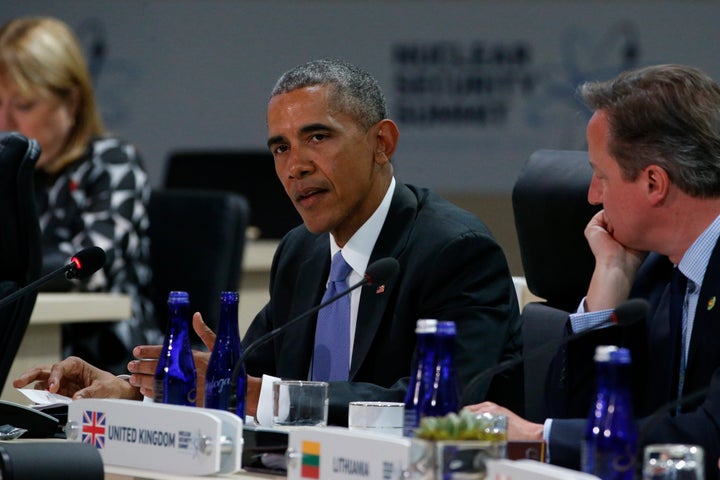 President Barack Obama will put himself in an unusual, and risky, position next week in London: smack-dab in the middle of the heated British debate over whether to remain part of the European Union.
Obama has been clear where he stands on the issue, citing longstanding U.S. support for the United Kingdom in a strong EU, while also noting it's up to Britons to choose.
The White House normally goes out of its way to avoid the appearance of meddling in other nations' elections when scheduling visits abroad and in Washington.
But just two months ahead of the June 23 referendum on Britain's possible exit, dubbed "Brexit," and with Britons evenly split, Obama will appear next to his friend and ally Prime Minister David Cameron, who is leading the "In" campaign.
The timing of the visit is a sign of how much Obama feels is at stake for the United States, economically and politically.
The International Monetary Fund warned this week that a Brexit could deal a blow to the fragile global economy.
"Just his being there will be a symbol that this is something that is important to the United States," said Richard Morningstar, a long time U.S. diplomat and former ambassador to the EU.
The White House has not yet revealed how forcefully Obama will make his case. He will hold a joint press conference with Cameron, where the Brexit question is almost certain to be asked.
Obama will have to choose his words carefully, said Morningstar, now with the Atlantic Council.
"If he comes out too strong with a public message, there will be a lot of accusations by the Brexit supporters, that 'What business is it of the United States to be injecting itself in the debate?'" Morningstar said.
A YouGov poll for The Times newspaper on Thursday showed 39 percent of voters on the "Out" side, 39 percent backing "In," and 17 percent undecided.
But polling data also reveals "Out" supporters are more "fired up" and motivated to turn out to vote, said Chris Jackson, a vice president at Ipsos Public Affairs.
Obama, who is popular in Britain, could potentially craft a powerful emotional argument to motivate potential "In" voters, Jackson said.
"He's got the rhetorical gifts to reframe how people see an issue. If he deploys them here and it gets attention, it could reshape the debate," Jackson said.
Obama's message could effectively counter U.S.-related arguments being used by the "Out" campaign, said Karen Donfried, Obama's former adviser on European affairs
"It is appropriate for the U.S., because we do have such key interests at stake, to articulate a position on this," said Donfried, now president of the German Marshall Fund of the United States.
"There are lots of voices on that side of the debate who say, 'Look: we don't really need the European Union because we have this special relationship with the U.S.,'" she said.
But going big could backfire, others warned.
London Mayor Boris Johnson, who is campaigning for the "Out" side, has railed against the "outrageous and exorbitant hypocrisy" of Obama's impending visit.
"There is no country in the world that defends its own sovereignty with such hysterical vigilance as the United States of America," Johnson wrote in a Daily Telegraph column last month.
While it is understandable for the White House to want to get involved, given the potential impact on the U.S. economy, Johnson's argument shows the risk in Obama's visit, said Desmond Lachman, a former managing director at Salomon Smith Barney and a former IMF official.
"Often times, the British aren't too keen about having foreigners telling them what to do," said Lachman, now with the American Enterprise Institute, a conservative think-tank.
"It's not clear to me that this is really going to be that constructive, his going there and weighing in on this debate," Lachman said.
(Reporting by Roberta Rampton; Editing by James Dalgleish)
Calling all HuffPost superfans!
Sign up for membership to become a founding member and help shape HuffPost's next chapter