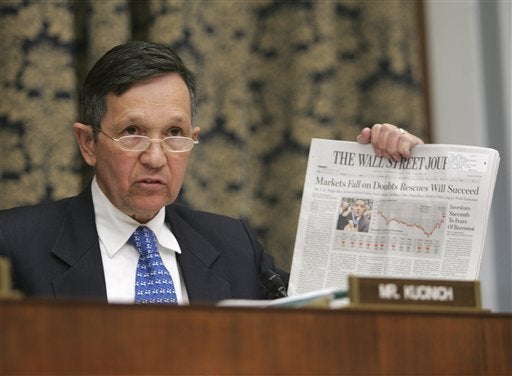 Traveling to the Cleveland area to make yet another major speech for passing health care reform into law, President Barack Obama chose as a travel companion one very skeptical lawmaker.
Rep. Dennis Kucinich (D-Ohio) is from the area where Obama is speaking. That would normally make his appearance on Air Force One Monday morning a non-event. But the Ohio Democrat also happens to be one of, if not the only progressive holdout in the House, on health care legislation. And he has hinted strongly that his vote, which could be the deciding margin, is firmly in the "no" camp.
The White House pool reporter on the trip did not get an immediate readout of any conversation between Kucinich and Obama. Though accompanying the two on the trip was Phil Schiliro, the president's liaison to Congress.
A White House aide said that this trip would be the last one outside of D.C. that the president will make before heading overseas on March 21. All other lobbying efforts will be conducted inside the beltway via "member meetings and phone calls" such as the one that already took place between Obama and Rep. Scott Murphy (D-N.Y.)
The aide did seem somewhat buoyed by recent news that a group of anti-abortion lawmakers seemed to have lessened their opposition to the bill. And there was, likewise, a bit of optimism that the concerns expressed by Hispanic and conservative Democratic lawmakers would dissipate as the House vote approached.
"We've seen some helpful remarks from these folks in recent days," the aide said
UPDATE: Appearing onstage for his health care speech, the President took time to introduce Kucinich, lauding the congressman's "tireless" work "on behalf of working people." At which point someone in the audience yelled "Vote Yes" -- with the obvious reference being the health care bill. Obama, not missing a beat, asked the audience member to repeat himself. After which he chimed in: "Hear that, Dennis?"
(Here is video of the exchange, with the relevant audio starting around the 1:15 mark
)
Towards the end of the speech Obama came back to Kucinich once again, saying that he had told the congressman that it had been "such a long time since we've made got on the side of ordinary working folks, where we did something for them, that relieves some of their struggles..."
The print pooler attending the event caught up with Kucinich before the speech and reported the following:
He only smiled when asked if he had spoken to the president about health care on the way here. Asked if he was reconsidering his vote, he said, "I'm looking forward to hearing what he has to say." He said he was not commenting on his current position on the bill.
Popular in the Community