 Did the White House just hand an excuse to anti-Obamacare state officials to punt on the law's Medicaid expansion?
The Obama administration maintains it's merely trying to provide states with one fewer thing to worry about while legislatures do their work, Health and Human Services Secretary Kathleen Sebelius said during a press conference Wednesday.
But eliminating the ax hanging over hospitals also could alleviate the pressure on governors and state legislatures to move quickly on expanding Medicaid.
A big argument for taking up the Medicaid expansion is that Obama's health care law takes away from hospitals even as it gives. Skipping the Medicaid expansion would deny hospitals some of the law's biggest benefits.
Mississippi Gov. Phil Bryant (R), a prominent health care reform opponent, already cited the White House proposal as another reason not to expand Medicaid. "I have long advocated that cuts to this program should not be used to affect budgets in states that choose not to expand Medicaid. This move should give us additional time to make a reasonable decision about any changes to the Medicaid program," he said in a written statement Wednesday.
Bryant's argument could find sympathy in state Capitols as Republican legislators scramble to make a decision on whether to take Obama's Medicaid funding and expand the program.
Currently, hospitals that treat the largest percentages of people who can't or won't pay their bills get extra money from Medicare and Medicaid in the form of what's called "disproportionate share hospital" funding, or DSH. The American Hospital Association and the industry's other national lobbying groups endorsed health care reform even though it cut this program and other Medicare payments anyway. That's because they expected the law's coverage expansion to slash the number of people showing up with no means to pay.
That equation gets thrown out of whack in states that won't expand Medicaid, thereby leaving millions of poor residents uninsured and unable to pay for the hospital care they receive. When Congress passed the health care law, the Medicaid expansion was supposed to happen nationwide. But the Supreme Court derailed that plan when it ruled last year that states, which jointly finance and run Medicaid with the federal government, could opt out.
"It will not diminish the sense of urgency," Bruce Rueben, president of the Florida Hospital Association, said of the White House proposal in an interview with the Huffington Post.
"We are pleased to see the delay in the implementation of the DSH cuts because we are still in the middle of a protracted debate about whether Florida will even extend coverage to perhaps as many as a million, million-and-a-half people. We don't know whether that's going to happen so the idea of losing DSH funding before we even secure the coverage was pretty unsettling," Rueben said.
Delaying the Medicaid DSH cuts wouldn't have much of a effect, though, Rueben said. These funding reductions are meager compared to the scale of the rest of the Medicare and Medicaid payment cuts from health care reform and other recent law, including a 2 percent hit created by sequestration.
"The impact of DSH is not going to change things dramatically one way or another," Rueben said.
According to the American Hospital Association, Congress has enacted $250 billion in Medicare and Medicaid cuts since 2010.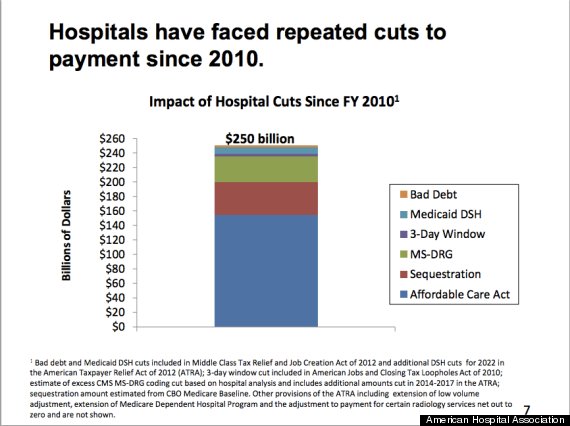 Hospitals and their lobbying organizations have been lobbying hard in states across the country to get their message across about the risks of not expanding Medicaid. But Rueben believes the notion that legislators are worried about the well-being of hospitals is overstated.
"It doesn't have anything to do with helping the hospitals," Rueben said. "If I could find one member of the legislature who said, 'You know, I wouldn't do this otherwise but I'm concerned about how this is going to impact hospitals,' that would be something."
Related
Popular in the Community