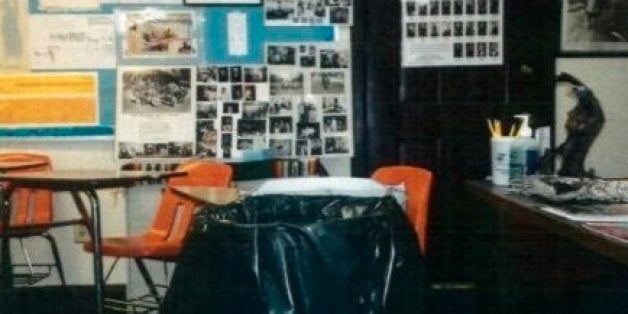 Bug-O-Nay-Ge-Shig School in Northern Minnesota has leaky roofs, poor lighting and an exhaust system that smells like sewage. Last school year, part of the roof caved in while students were in class. The floors are uneven, and if something goes awry, some hallways are too narrow for students to evacuate safely.
And yet, over 200 Native American students call the school home.
In a call with reporters Thursday, Interior Secretary Sally Jewell highlighted the Bureau of Indian Education school as an example of one that is in dire need of resources. The call emphasized the increased investments for Native youth and education that are part of President Barack Obama's proposed budget for the 2016 fiscal year. A large chunk of this money would be designated specifically for schools run by the Bureau of Indian Education, the federal agency that operates 183 schools on 63 reservations. However, it won't be enough to help all the bureau's crumbling schools.
"It's hard not to feel sad or angry when I look at the condition of the facilities," Jewell said of Native schools, such as Bug-O-Nay-Ge-Shig, that are in need of repair or replacement. "We can and we must do better for Native people."
See photos of Bug-O-Nay-Ge-Shig School below.
Even though the president's proposal would allocate more money to BIE schools than they received in previous years, it is unclear how much of the money would trickle down to a school such as Bug-O-Nay-Ge-Shig. A December report from the White House noted that 27 percent of BIE schools are more than 40 years old and over $967 million is needed to repair them. A construction priority list of BIE schools from 2004 includes buildings that still need to be replaced, and funding would go to them first. While Bug-O-Nay-Ge-Shig is one of 63 BIE schools classified as being in poor condition, it's unclear whether it will make the cut. Jewell said on the call that the amount the administration requested for school construction help was "as far as we could reasonably go."
The BIE serves only a small portion of Native youth, as over 90 percent of this population attends regular public schools. On the whole, however, BIE students tend to perform worse academically than their peers.
In early January, Crystal Redgrave, the superintendent of the Bug-O-Nay-Ge-Shig School, told The Huffington Post that she hopes more money is allotted to Native schools for 2016 than in years past.
"Having and allowing and knowing that students and families in these communities have such poor services not only in education but health care and housing, having Congress and representatives know this, to me, now makes them responsible," Redgrave said at the time.
"Native youth are in a state of crisis, unfortunately we have all seen that firsthand," Education Secretary Arne Duncan said on the call. "Our native youth need and deserve dramatically better, not incrementally better."
The photos below of Bug-O-Nay-Ge-Shig School were provided by John Parmeter, who is head of the school's safety and security. Parmeter wrote the captions, but they have been edited and condensed for clarity.
PHOTO GALLERY
Bug-O-Nay-Ge-Shig School
Calling all HuffPost superfans!
Sign up for membership to become a founding member and help shape HuffPost's next chapter