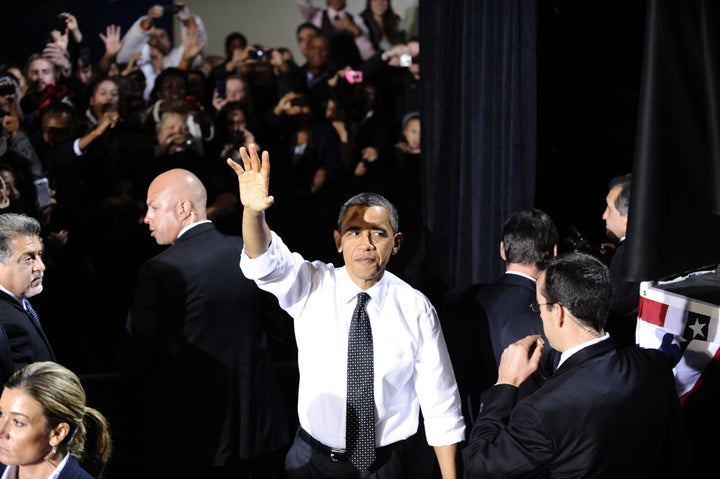 President Barack Obama's proposed budget for next year would reduce interest rates on federal student loans in an attempt to remove staggering burdens confronting graduates facing one of the weakest job markets in recent times.
The White House proposal would tie interest rates on student loans to the government's costs of funding the program. Most student borrowers with recent government loans are paying record relative interest rates on their debts, according to a Huffington Post review. Students now pay fixed rates set by Congress, while borrowing costs in the broader economy are at historic lows, allowing the government to profit on student borrowing.
Obama's budget proposal comes as a growing number of policymakers have expressed alarm at the rapid rise of student debt and the relatively high interest rates graduates pay. Newly-released meeting minutes from the Federal Reserve's rate-setting panel on Wednesday showed Fed policy makers expressing concern that "the high level of student debt" poses a risk to aggregate household spending over the next three years.
The Federal Open Market Committee joins the Consumer Financial Protection Bureau, Financial Stability Oversight Council, Office of Financial Research, and the New York Fed among government agencies that have identified high student debt burdens as threats to either financial stability or economic growth.
Although Obama's budget proposal may bring immediate interest rate relief to students taking out new loans this year, advocates and student debt experts argued that it would only be a short-term fix, because there is no cap on the interest rates students could face later. If the government's borrowing costs increase in upcoming years as the economy improves, as expected, student loan interest rates may rise above current levels.
"This is effectively a way of having an immediately low interest rate, but it will ultimately cost families more down the line," said Mark Kantrowitz, a financial aid expert and the publisher of Fastweb.com and FinAid.org.
Obama's plan would tie student loan rates to yields on 10-year Treasuries, which represent the rates investors demand to purchase government notes. The rates would reset each academic year, and would be fixed for the life of the loan.
The proposal would put the annual rate for Stafford loans, the main source of undergraduate funding, at 0.93 percentage point above the 10-year Treasury yield for students from low-income households, and 2.93 percentage points above that rate for other undergraduates. Graduate students and parents who take out loans to fund their children's education would pay 3.93 percentage points above yields on 10-year notes.
The yield on the 10-year note closed Wednesday at 1.8 percent.
If the proposal became law today, interest rates would drop substantially on Stafford loan programs and PLUS loans available to graduate students and parents.
At current rates, the neediest undergraduates would pay 2.74 percent for their loans, others would pay 4.74 percent, while graduate students and parents would pay 5.74 percent. That compares with present borrowing costs of 3.4 percent, 6.8 percent and 7.9 percent, respectively.
Interest rates on federal loans are set by Congress and have no relation to the rates the government pays to borrow. In recent years, the spread between the government's borrowing rates and the fixed interest rates students pay has grown to historically high levels.
As HuffPost reported Tuesday, White House budget documents show that the government's Direct Loan program has been estimated to earn taxpayers more than $101 billion in profit over the past five fiscal years because of the interest rate discrepancies.
Student advocacy groups have suggested similar reforms to federal loan programs in recent years, as student borrowers have faced high relative interest rates, even though homebuyers, businesses, and car purchasers are taking advantage of historically low borrowing rates. But many had suggested a cap on interest rates if the government's borrowing costs increased substantially -– a feature not included in the president's budget plan released Wednesday.
"All the projections we have right now show interest rates going up as the economy recovers," said Ethan Senack, higher education associate for the U.S. Public Interest Research Group, which is calling for broad changes in student lending programs. "This would keep interest rates low next year, but the caveat is that it does this on the backs of future students."
A Department of Education official, Carmel Martin, said Wednesday that instead of capping interest rates, the administration wants to expand a program that allows borrowers to tie monthly student loan payments to income.
That program, which pegs loan payments to 10 percent of discretionary income, now only affects borrowers who took out loans after 2007. The administration's plan would expand the program to all student borrowers.
"The pay-as-you-earn initiative is to ensure that regardless of what interest rate is on the loan, no borrower has to pay back an unmanageable amount of money," said Martin, the assistant secretary of education for planning, evaluation and policy development.
Groups such as the Institute for College Access and Success have suggested tying student loan interest rates to government borrowing costs. But they also suggest a form of "interest-rate insurance" that would give students the ability to refinance at lower rates if interest rates were unusually high when they first took out a college loan.
Obama's proposal closely matches an idea put forward by a trio of Republican senators on Tuesday, but it faces an uphill climb in the House of Representatives, where due to budget rules members have to identify a way to compensate taxpayers for the lost income that would accompany a plan that lowers student borrowing costs.
The plan comes as Congress faces a July 1 deadline to avoid interest rate hikes on subsidized Stafford loans. In the midst of the election last year, lawmakers approved a one-year extension of the 3.4 percent interest rate for low-income students who are eligible for the loans.
The subsidized loan interest rate will jump to 6.8 percent if lawmakers don't act in the next three months, adding about $1,000 in extra costs to students for the life of the loan. Many higher education experts are pushing for a broader solution that would move away from fixed interest rates, but it's unclear whether there will be time to come up with a comprehensive plan.
George Miller, the top Democrat on the House Education Committee, said that the student loan proposal would be "best addressed" as part of lawmakers' upcoming fight to reauthorize the Higher Education Act.
"Student loan interest rates, college debt and student aid in general raise complex questions that cannot be practically addressed in a few short months," Miller said. "Congress needs to examine long-term solutions."
Calling all HuffPost superfans!
Sign up for membership to become a founding member and help shape HuffPost's next chapter
BEFORE YOU GO
PHOTO GALLERY
10 Careers That Are Dying Out: BLS