"This means that for a couple that marries in one state where same-sex marriage is recognized and then moves to another state where it is not, the protection that Social Security spousal benefits provides to families is unavailable," says the budget proposal, which was released Monday. "Under this proposal, such married couples would have access to these benefits."
This proposed change to the Social Security Act was welcome news for lesbian, gay, bisexual and transgender advocates, who have been pushing for equal benefits.
"[Obama's] proposal to ensure equal Social Security benefits would fix a crucial gap in federal protections for same-sex couples," said Evan Wolfson, president of Freedom to Marry. "President Obama's leadership in helping bring the freedom to marry to all Americans will be a shining part of this president's legacy."
"Of course," he added, "the only way to ensure same-sex couples nationwide have all the protections of marriage is for the Supreme Court to put the country on the right side of history by ending marriage discrimination throughout the United States, leaving no family and no state behind."
In October 2014, Kathy Murphy sued the Obama administration over this issue. Murphy was a widow in Texas who was unable to access Social Security benefits after the death of her wife, Sara Barker, in 2012. The couple had been legally married in Massachusetts two years earlier.
Murphy applied for survivor benefits shortly after the Supreme Court ruled in United States v. Windsor that the law banning the federal government from recognizing same-sex marriages was unconstitutional. The ruling meant that same-sex couples were eligible for federal benefits.
"Soon after Windsor was handed down, Kathy applied to SSA [Social Security Administration] for survivor benefits and a lump-sum death benefit payment -- the same Social Security benefits commonly granted to other widows and widowers," Murphy's lawsuit said. "These benefits will be critical to Kathy in achieving financial security and in allowing her to live her remaining days in dignity. ... Sara earned these protections for her beloved Kathy through her years of work and contributions to the Social Security system."
Obama's budget will need to be approved by the Republican-controlled Congress.
Want more updates from Amanda? Sign up for her newsletter, Piping Hot Truth.
Before You Go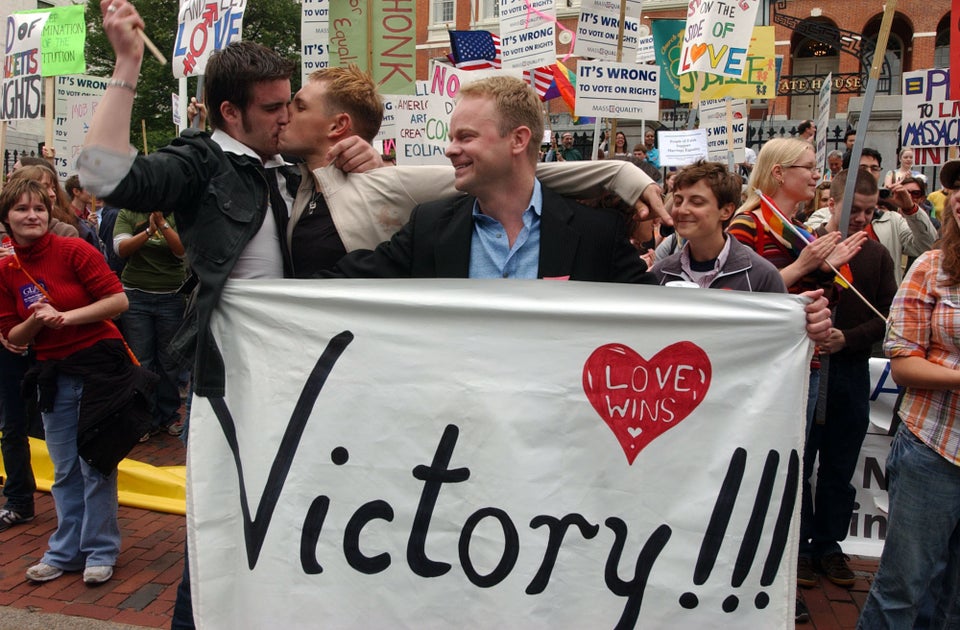 10 Incredible Improvements For LGBT People Since The First State Legalized Gay Marriage
Popular in the Community