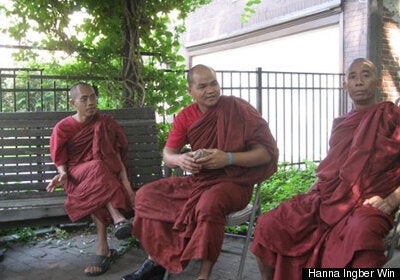 President Obama Tuesday called for the immediate and unconditional release of Burma's Nobel laureate, Aung San Suu Kyi, who stands trial on charges of violating her house arrest by allowing an American intruder to stay in her home.
"Aung San Suu Kyi's continued detention, isolation, and show trial based on spurious charges cast serious doubt on the Burmese regime's willingness to be a responsible member of the international community," according to a statement released by the White House. "By her actions, Aung San Suu Kyi has represented profound patriotism, sacrifice, and the vision of a democratic and prosperous Burma. It is time for the Burmese government to drop all charges against Aung San Suu Kyi and unconditionally release her and her fellow political prisoners."
On a recent trip to New York City, three Burmese monks who helped lead the 2007 protests known as the Saffron Revolution also called for the immediate release of Suu Kyi.
"For Burma to gain democracy without Aung San Suu Kyi is impossible," U Pyinya Zawta told the Huffington Post through a translator.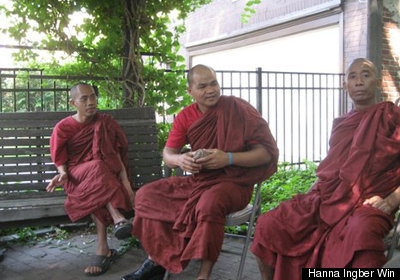 The monks, who fled Burma (also known as Myanmar) after a government crackdown on protesters and were resettled in upstate New York as refugees, said there have been no significant protests inside Burma against the trial, but that is only because people are fearful of being arrested. Burmese have shown their solidarity with Suu Kyi by gathering outside Insein Prison, where her trial is now taking place.
"People feel very strongly about the government trying to imprison Aung San Suu Kyi. They are holding back [from protesting] because of the government repression against them," U Pyinya Zawta said.
The monks said the junta, which has ruled Burma with an iron fist for decades, arrested Suu Kyi because it wanted to "eliminate" her as a political force by cutting her off from her supporters and the global community. Suu Kyi, whose National League for Democracy party won national elections in 1990 but was never allowed to take power, is considered a hero in the country and the leader of the democracy movement.
"They are in a hurry to set up a government without Aung San Suu Kyi and entirely exclude her from the political process," U Pyinya Zawta said. Suu Kyi, if convicted, faces five years in prison. She would therefore be locked up when the country holds an election in 2010.
Despite the international attention given to Burma because of the 2007 protests, the monks said the situation in the country has only gotten worse. The recent arrest of Suu Kyi is further evidence of greater repression.
"People are very angry with the government," U Pyinya Zawta said. "There is a great deal of repression and harassment."
The government restricts any type of organized activity, he said, giving as an example the harassment of a funeral organization that helps poor families. More severe repression is also seen in the length of prison sentences given to political prisoners. In the past, political activists would receive sentences of 10-15 years. Many of the ones who participated in the September 2007 protests were sentenced to 65 years in prison.
The monks said they want Obama to join forces with the United Nations and international community to pressure the Burmese junta to free Suu Kyi. That, they said, is the first step towards helping Burma. Obama cannot do it alone, they said.
Despite the government's brutal crackdown in 2007, the imprisonment of hundreds of monks and activists, the arrest of Suu Kyi and the heightened repression in the country, the monks said their movement remains strong. It's just underground.
The religious leaders said they continue to communicate with a network of monks and lay people who are still inside Burma and who are planning for the next chance to protest and bring change to their country.
"Those people [inside Burma] will do whatever they can, using any kind of opening or opportunity," U Gawsita said. "That is what they will sit and wait for."
In many ways, the situation now is not so different from the situation before the September protests. Those marches, though they appeared to the outside world like spontaneous bursts of chaotic energy, were planned and organized for a long time in advance. The government then made a terrible "mistake" of beating up a group of monks in Rakhine State in western Burma, and the movement suddenly had an opportunity to put its planning into practice, the monks said.
Those inside are waiting for another such opportunity, they said.
And those outside, like these monks, try to help the movement from afar. Using satellite phones and an Internet connection, they keep in touch with the ones on the inside and help them organize.
"Unless we carry on the movement then there is no future for Burma, so we take risks and carry on the movement," U Pyinya Zawta said.

For more information about these monks, please contact their organization, All Burma Monks' Alliance, via U Pyinya Zawta at thitsarko5@gmail.com.
Related
Popular in the Community