WASHINGTON -- President Barack Obama on Monday gave another push to Congress to let families keep their Bush-era tax cuts on their first $250,000 of taxable income, an idea that top Republicans immediately shot down.
"Pass a bill extending the tax cuts for the middle class, I will sign it tomorrow," Obama said during remarks at the White House. "Pass it next week, I'll sign it next week."
Flanked by about a dozen Americans who would benefit from the middle-class tax cut extension, Obama said tax cuts that people are currently receiving on income above the $250,000 threshold are "a major contributor to our deficit" that will cost $1 trillion over the next decade. They are also the least likely to create economic growth, he said.
"We can't afford to keep that up, not right now," Obama said. "I just believe that anybody making over $250,000 should go back to the income tax rates we were paying under Bill Clinton."
All of the Bush tax cuts are set to expire at the end of the year in the absence of congressional action.
The president didn't make much news at his event; he's been pressing Congress to extend cuts at the $250,000 threshold for months, and Monday's event seemed partially designed to draw attention away from the nation's sluggish job market. But Obama's call for a one-year extension of those cuts was more specific than his past requests. He also framed the issue of keeping tax cuts for the wealthy as a key difference between him and Mitt Romney.
"My opponent will fight to keep them in place. I will fight to end them," the president said.
Senate Majority Leader Harry Reid (D-Nev.) signaled Monday that he's ready to move forward with legislation to do exactly what the president wants.
"I will be discussing the next steps in the Senate with my caucus in the coming days," Reid said in a statement after Obama's remarks. "Republicans have claimed they want to reduce our deficit; in the weeks ahead, they will have a chance to do so by joining Democrats to vote to extend tax cuts for all middle class American families on the first $250,000 of their income."
House Minority Leader Nancy Pelosi (D-Calif.), who previously broke with Obama by calling for extending the Bush-era tax cuts on the first $1 million of income, threw her support behind Obama's pitch and took a shot at Republicans for trying "to hold middle-class tax cuts hostage to tax breaks for the wealthiest."
But Republicans were dismissing the president's call before he even made his remarks. An aide to Senate Minority Leader Mitch McConnell (R-Ky.) sent out materials earlier Monday that included McConnell's recent comments about the need to extend all of the Bush tax cuts, including those for the wealthy.
"What we ought to be doing is extend the current tax rates for another year with a hard requirement to get through comprehensive tax reform one more time," McConnell said Sunday on CNN's "State of the Union."
House Majority Leader Eric Cantor (R-Va.) said the House will vote in the last week of July to extend the Bush-era tax cuts for everybody.
"Small businesses who are struggling to make payroll and working families who have tightened their belts to meet their budgets cannot afford to be hit with a massive tax increase come January," Cantor said in a statement.
For all the back and forth between Democrats and Republicans about whether it would hurt small businesses to only extend the middle-class tax cuts, ABC's Jon Karl notes that both parties have a point.
The bottom line is that just 2.5 percent of small businesses would be hit with a tax hike. But 2.5 percent translates to 894,000 businesses, which is a significant number.
CLARIFICATION: This article previously stated that Obama was calling for an extension of Bush-era tax cuts for families making under $250,000 per year. He is in fact calling for the cuts to be extended for the first $250,000 of taxable income for all families.
Before You Go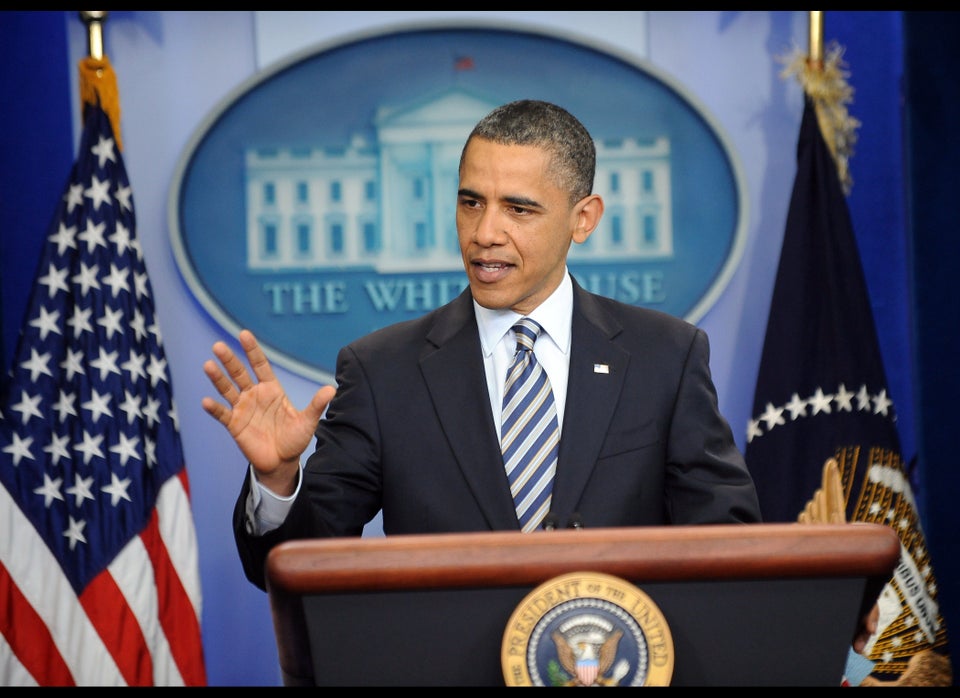 Barack Obama's Greatest Hits
Popular in the Community