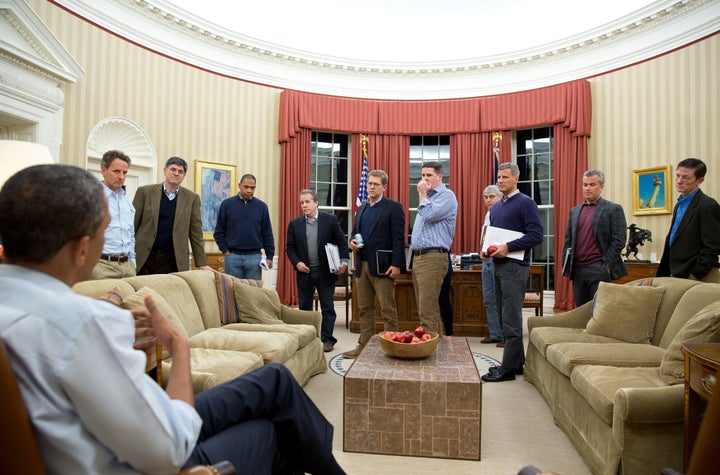 As President Barack Obama undergoes a large-scale retooling of his cabinet ahead of his second term, observers are taking note of a trend that appears to be keeping women out of high-profile positions in the administration.
Obama's most recent picks for prominent positions are all men. Former Nebraska GOP Senator Chuck Hagel was asked to serve as secretary of defense this week, while anti-terrorism advisor John Brennan was selected as the president's nominee for the powerful but non-cabinet role of CIA director. Sen. John Kerry (D-Mass.) was picked to succeed Hillary Clinton as secretary of state late last year, after U.N. Ambassador Susan Rice, a qualified candidate, was pressured by Republicans to withdraw her name from consideration.
The male-heavy trend continued on Wednesday, as reports emerged that Obama would select Jack Lew -- the fourth consecutive white male nominee -- to replace Timothy Geithner as treasury secretary. Hours later, Secretary of Labor Hilda Solis further underscored the issue when she announced that she'd be resigning from her post. EPA Administrator Lisa Jackson has also said she'd be stepping down ahead of Obama's next term.
A day before Solis announced her departure, The New York Times noted a White House picture of Obama consulting with a cadre of male advisers -- and senior adviser Valerie Jarrett, who is obscured in the photo -- in the Oval Office. While the White House responded with another photo featuring more women, the Times report went on to highlight the disproportionate appointment statistics at a number of federal departments:
The skew was widespread: male appointees under Mr. Obama outnumbered female appointees at 11 of the 15 federal departments, for instance. In some cases, the skew was also deep. At the Departments of Justice, Defense, Veterans Affairs and Energy, male appointees outnumbered female appointees by about two to one.
Though the optics of the gender equality issue are awkward for the president, CNN notes that Obama's overall record of diversity isn't as weak as it appears in the latest round of nominations.
Roughly 36% of Obama's Cabinet are women compared to 19% for Bush in his first term, according to the Women and Politics Center at Rutgers.

While Obama's record on diversity is also better than the much-discussed 20% female representation in the Senate, he would have to appoint more women to match Bill Clinton's record. Women represented 41% of his Cabinet in his second term.
The White House itself employs almost even amounts of men and women.
While Obama is now under pressure to find women -- perhaps "binders full" of them -- to fill the next wave of open positions, the administration is defending itself against mounting criticism.
Carney continued, saying that it "would be useful to wait and make judgments about this issue after the president has made the totality of appointments that he will make in the transition to a second term."
REAL LIFE. REAL NEWS. REAL VOICES.
Help us tell more of the stories that matter from voices that too often remain unheard.
BEFORE YOU GO
PHOTO GALLERY
The Obama Cabinet