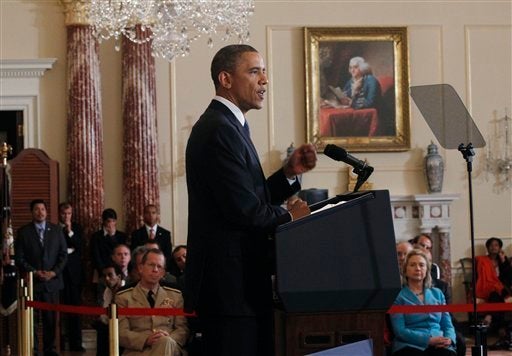 WASHINGTON -- The headlines made it clear. From New York to Tel Aviv, President Obama's call for a two-state solution between Israel and the Palestinians with borders based on the lines prior to the Six Day War of 1967 was a first for a sitting American president.
"The borders of Israel and Palestine should be based on the 1967 lines with mutually agreed swaps so that secure and recognized borders are established for both states," the president said toward the end of a broader speech on the Middle East. "The Palestinian people must have the right to govern themselves and reach their potential in a sovereign and contiguous state."
While the president's position that Israel's borders should return to the borders it had before it occupied the West Bank, Gaza and the Golan Heights marks a new government stance, the idea is hardly a breakthrough among experts and professional peace negotiators. At least one Washington think tank has already drawn several maps detailing possible swaps.
"It's somewhere between a big deal and no big deal," said Aaron David Miller, who spent 25 years as a Middle East negotiator for six U.S. secretaries of state. "And that is exactly what the administration wanted."
Obama's speech on the eve of Israeli Prime Minister Benjamin Netanyahu's arrival here for meetings comes at a low point in a "peace process" that has brought little peace while becoming bogged down in process.
In his remarks at the State Department, Obama took both sides to task for the continuing stalemate.
"Efforts to delegitimize Israel will end in failure," the president warned.
Alluding to Palestinian President Mahmoud Abbas' plan to ask the United Nations General Assembly in September to unilaterally recognize a state of Palestine, President Obama warned that "symbolic actions to isolate Israel at the United Nations in September won't create an independent state. Palestinian leaders will not achieve peace or prosperity if Hamas insists on a path of terror and rejection. And Palestinians will never realize their independence by denying the right of Israel to exist."
But while President Obama noted the bond with the Jewish state is "rooted deeply in a shared history and shared values," he added that "precisely because of our friendship, it is important that we tell the truth: The status quo is unsustainable."
Obama noted "a growing number of Palestinians live west of the Jordan River" and stated flatly in words not often heard uttered by American presidents that "the dream of a Jewish and democratic state cannot be fulfilled with permanent occupation."
Analysts said the president broke new -- and, from the Israeli perspective, controversial -- ground by focusing first on borders and security and leaving the stickier issues of Jerusalem and refugees for later, an approach the liberal pro-Israel group J Street has been advocating for since last year.
Obama appeared to suggest he was willing to push back against a long-time Israeli demand that any peace agreement allow it to keep troops stationed along the Jordanian border.
"The full and phased withdrawal of Israeli military forces should be coordinated with the assumption of Palestinian security responsibility in a sovereign, non-militarized state," Obama said.
Daniel Levy, a veteran Israeli peace negotiator now at the New America Foundation, said, "Obama seemed to make clear that a sovereign Palestinian state means no permanent Israeli presence in the Jordan Valley or at Palestine's external borders with third countries."
University of Maryland Middle East expert Shibley Telhami said Obama's "very important wording" does not seem to preclude the possibility of international peacekeepers along the Jordanian border.
Robert Satloff, of the right-leaning Washington Institute for Near East Policy, wrote that Obama's statement that a Palestinian state should have borders with Egypt, Jordan and Israel "implies categorical American opposition to any open-ended Israeli presence inside the future Palestinian state," a departure from previous understandings during the Clinton administration.
"In certain Israeli circles, notably much of the media commentariat and business elites, the particulars of the Obama speech will be considered an admonition to Netanyahu and evidence of Netanyahu's failed policy and diplomacy," Levy said.
Indeed, before boarding a plane for Washington, Netanyahu reiterated that "the defense of Israel requires an Israeli military presence along the Jordan River."
Obama's speech "is going to create a fair amount of awkwardness and upset in what already is a contentious relationship with Netanyahu," Miller said.
"The Israelis are not going to be happy with Obama's push on the peace process," said Reva Bhalla, a Middle East expert at the research group Stratfor. "But it's not like the peace process is going to go anywhere." With settlement building continuing on the West Bank, an uncertain partner in Egypt and Hamas and Fatah agreeing to form in a unity Palestinian government, the prospect for renewed talks are "dead in the water, even as things intensify in the lead-up" to the September UN session, Bhalla said.
Abrams said Obama's decision to delay negotiations on Jerusalem and refugees was unrealistic. "A successful negotiation will require trade-offs, so reducing the number of issues on the table may actually make success harder," he wrote. "But it is possible that the White House understands all this, and was mostly seeking to park the issue for the coming year through some 'balanced' rhetoric. They may have achieved that goal."
Calling all HuffPost superfans!
Sign up for membership to become a founding member and help shape HuffPost's next chapter