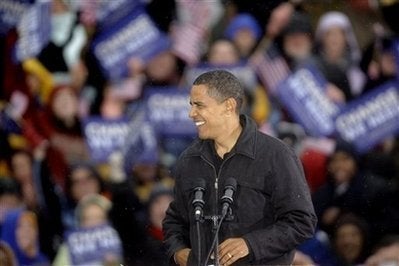 The Obama campaign is, not surprisingly, ecstatic with the decision by Florida's Republican Gov. Charlie Crist to extend early voting hours in his state -- a decision that most every political observer predicts will help the Democratic nominee in this mega-swing state.
"We applaud Gov. Crist for responding to the overwhelming enthusiasm shown by Florida voters during this election season. To this point, an estimated 2 million Floridians have already cast a ballot over the last eight days," reads a statement from Florida Obama-Biden State Director Steven Schale. "It is critical that everyone who is eligible and eager to vote be able to participate and have their voice heard. And now with the extended hours, thousands more will have that opportunity."
Democrats were pining for Crist to make the move for days, reasoning that the limited amount of time for Floridians to cast early ballots would effectively limit the vote totals that were trending Obama's way. Indeed, the peculiarity of Crist's decision is why he -- a McCain ally -- made it in the first place. A Republican strategist in the state told Politico that, "He just blew Florida for John McCain."
The extension will mean that votes will be cast 12 hours a day, not eight. So far, George Mason University has calculated that more than 2 million Floridians have cast early ballots. Of that total, 44.7 percent have been for Democrats and 40 percent for Republicans. If Obama were to keep these margins through November 4th, it could create a distance between him and McCain that the Republican ticket can't overcome.
Observers in the Sunshine State said they weren't necessarily surprised by the Governor's decision even if it seemed likely to hurt his good-friend.
"It just reflects from the get-go that he has always been into expanding the electorate. It is consistent with his approach. I think he is just in touch with the kind of demographics that our state has," said Susan MacManus, a political science professor at the University of South Florida.
"I just think that Gov. Crist is a person who tries very hard to represent all of the people. And he knows that even if this is not of the best interest of Republicans, it is in the best interest of Florida as a state and as a whole," said Joyce Cusack, Democratic Leader pro tempore of the Florida House of Representatives.
But the practical implications of extending early voting were hard to dismiss. In addition to providing voters with a greater window of time to cast ballots around their work schedule, the move promises to help lesson lines on Election Day itself. And, while the Republican ticket traditionally is bolstered by absentee ballots, the general rule in this scenario is that the larger the vote totals the more likely it is that Obama can pull off the victory.
Crist, in a hasty arranged press conference Tuesday afternoon, hitched his decision to respecting the sanctity of the right to vote. "Many have fought and died for this right," said the McCain ally who has, this cycle, proved willing to buck his party's interest.
Schale echoed the refrain: "We encourage Floridians to continue casting their votes before Election Day, either at an early voting location or by mail, and to participate in this election - because voting is democracy in action."
UPDATE: Obama deputy campaign manager Steve Hildebrand, who was recently dispatched to Florida for the last weeks of the race, told the Huffington Post's Seth Colter Walls that the campaign sent a couple of go-betweens to speak to Crist about expanding the hours for early voting locations.
"We had a couple of key supporters make a suggestion to him, to advance the premise that Florida elections need to be run very smoothly," Hildebrand said. "And that three or four or five hour waits for people to vote is not a smooth process."
Hildebrand declined to identify the individuals who took the Obama campaign's message to the Governor, saying: "this was not a pressure deal by any stretch. The Governor was incredibly cooperative, and recognized that this was best for the election process."

Popular in the Community